GLOBALNISTA Makes Parisian Tour Travel Accessible and Chic! –
For Black Female Travelers with Mobility Differences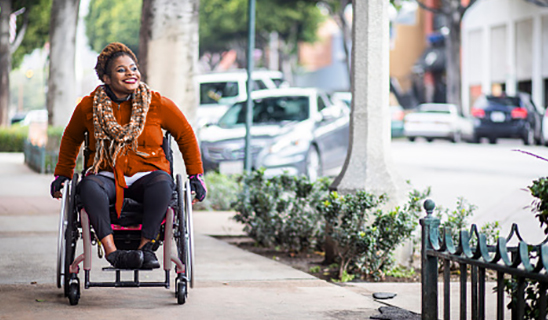 Los Angeles, CA —When you envision dream trips to Paris, you think of scaling the Arc de Triomphe. Ascending the Eiffel Tower. Strolling from room to room at the Musée du Louvre in search of the Mona Lisa and browsing chic Left Bank boutiques for the latest haute couture.
But until now, most tour creators haven't tried to make such getaways accessible to travelers with mobility differences. Introducing AccessAble Tours from Globalnista.
Later this year, from Oct. 19-25, six women will travel with Fleacé Weaver, founder of Globalnista (formerly BlackGrilTravel.coma), a private travel club for fun-loving travelers that creates extraordinary experiences for extraordinary Black women, on the inaugural AccessAble Tour to Paris. As she's done for several years, Weaver has celebrated her own birthday by creating one of her company's famed international "birthday tours" filled with surprises for those who travel with her. In years past, they've taken place in Egypt, Dubai, Portugal and Senegal. Believing that birthdays are about acknowledging the birth of a new life, Weaver is choosing 2021 to celebrate the birth of Globalnista AccessAble Tours in Paris along with six differently abled travelers.
She's a true believer that global travel needs to become more accessible to everyone, regardless of how they experience the world.
"We were the first to create international group tours that connected African-American women," says Weaver, who's been called the "Pied Piper of African-American female travel." "I have always wanted to do the same for Black women with mobility differences. I am beyond excited that this dream is finally becoming a reality.
"A woman may move around the world differently than other people, but that doesn't mean that she is different. Even if she uses a wheelchair, she still may be able to travel independently, but like so many of the fabulous women who take Globalnista tours, she'd like to see the world with a travel buddy. And she wants a high-energy tour with a lot of life and glamour to it. That's where our AccessAble Tour comes in. As we always say about our getaways, these are NOT your grandmother's tours!"
Weaver says that the words of American nurse Andrea Dalzell, whose job involves caring for COVID-19 patients, sums up the mission of AccessAble: "I can do anything you can do, I'm just in the seated position," says Dalzell, whose Instagram handle is TheSeatedNurse.
After all, part of Weaver's goal is to educate people that just because a woman uses a wheelchair, it doesn't mean that she's old or depressed. The female travelers attracted to AccessAble Tours are dynamic, happy and thriving. Their only limitations, says Weaver, are in the minds of other people.
As she does with all Globalnista global tours, Weaver has crafted a bespoke suite of experiences for AccessAble Tours' debut in Paris – including a welcome dinner, orientation, and a first look at Paris by Night. To ensure these women feel like queens, they'll tour Paris from the sidecar of a vintage motorcycle – paying homage to Globalnista's "Bella Italia" tour signature activity of whisking Black female travelers through the streets of Rome with their very own Vespa drivers. In Paris, the AccessAble ladies will take the experience one step further with a photo shoot alongside the bikes, all dressed up in 1950s-inspired glamour-girl attire.
This AccessAble Tour features a privately guided visit to the Musée du Louvre, as well as a stop at the Palais Garnier. Also planned is a pilgrimage to the second floor of the iconic Eiffel Tower. More world-class art is on the agenda, as the women will visit the Musée Rodin to see "The Thinker" and other works. The travelers also will make their way to the Arc de Triomphe and will have free time to explore the famed Champs-Élysées for shopping and sightseeing.
A day trip to the dazzling Château de Versailles (thanks to round-trip accessible transfers) also is in store – along with a guided tour of the palace and free time to explore at their own pace. But the pièce de résistance of their Versailles adventure is a photo shoot in the famed Hall of Mirrors, the most famous room in the palace. The AccessAble travelers are encouraged to dress elegantly and bring along their own "crown" or tiara for the shoot. Later that evening, Weaver and Globalnista will celebrate the ladies in style.
All these experiences come with the travelers' choice of 3- or 4-star Parisian hotels. Those who choose to use power chairs can either bring their own or rent them in Paris, paying a supplemental fee for their own private transfers throughout the 6-day tour.
And while Paris is the first stop on the AccessAble Tour, it won't be the last. Italy and Senegal are already in the works.
Our primary goal is empowering Black women," says Weaver, "and travel is our means of doing that." Through Globalnista experiences, Weaver has helped inspire a legion of ladies to fall in love with international travel For the Black women who travel with her, globetrotting is truly transformational. It's all about Weaver's belief in the power of global travel to radically reshape Black women's lives, both while they're on the road and when they return home.
ABOUT GLOBALNISTA
Globalnista is a private travel club for fun-loving travelers that creates extraordinary experiences for extraordinary women. Our goal is simple: exposing Black women to the beauty of the world and the world to the beauty of Black women. We create unique customized group tours that are developed by "Black Women for Black Women." They are designed for young-at-heart, well-heeled urbanites interested in exploring new lands while indulging in the local culture, international cuisine, retail therapy, and exciting nightlife. As Globalnistas, we are not bounded by one country. We are Global citizens with hearts and minds that transcend race, geography, and cultural borders. We see the world not as a background for "I was there" selfies, but as an opportunity for cultural immersion and personal growth while sharing with others. Our lives are open to a world where the love of ourselves and with others has limitless possibilities.