A Message from the Executive Director
Our great Mundelein restaurants and small businesses are struggling during the public health crisis we are currently experiencing.  Many of these businesses are able to operate safely under the current shelter-in-place guidelines and are offering alternatives such as curbside pick-up, carry-out, drive-up service, on-line ordering, etc.  The MCC Board and staff encourages you to follow the public health directives, and, if you can, look for ways to also safely support the Mundelein business community in whatever ways you can.   
Please do what you can.  Stay safe.  We hope to see you at one of our upcoming community events. At this time, we are hard at work planning for the Spring and Summer events.  All events are subject to change should the public health restrictions continue.  Please watch for updates on our website or Facebook page.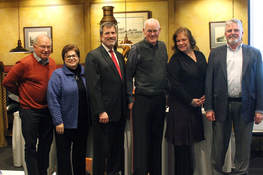 On February 5th MCC held its annual membership dinner at Dover Straits Restaurant.  Approximately 50 MCC members and guests attended.  The featured event of the evening was the annual awards presentation.  The Debbie Mullen Volunteer of the Year Award was presented to two long-time volunteers:  Ray Mullen and Ray Semple.  Both men have been our Santa at Santa's Cottage each Holiday Season for many years.  Chris Piazzi accepted the Trig Watson Business of the Year Award on behalf of Mundelein Community Bank.  The Dr. Chester Ciecko, Organization of the Year Award was presented to the Mundelein Community Emergency Response Team (CERT). 
The 2020 Board of Directors was also sworn in by Executive Director, Terry Skriba:  Sybil Schecter-Kelly (President), Nancy Piasecki, Chris Piazzi, Gary Gunther, Gerry Brin, Mike Flynn, and Ray Mullen (Members). 
The first MCC event of the season will be Park on Park — Wednesday, May 13th.   Back for its 20th season, this popular series of downtown classic-car show nights are held on the second Wednesday of the month May thru September from 5 pm to 9 pm. Centered at the intersection of Park and Seymour Streets, Park-on-Park features pre-1977 cars of all types, music, food, and fun for car owners and spectators alike.  On a good night over 500 will come to downtown Mundelein, and 2,000 visitors will take in the sights.
Sponsorship opportunities are still available for the 2020 season.  If interested, please contact sponsorship director Pete Christie, 847-838-3049 to discuss available options.  For a list of 2019 sponsors see
http://www.parkonpark.org/
.
Mundelein Craft Beer Festival 2020
The 9
th
annual Mundelein Beerfest returns to Village Hall Plaza, 300 Plaza Circle, on Saturday, June 13
th
, from 1 pm to 5 pm.  Tickets are ON SALE NOW - $45 in advance ($50 at the door), designated drivers $15.  Attendees must be 21 years old or older.  Tickets are available on line at
www.eventbrite.com
or in person at Tighthead Brewing Company, 161 N. Archer Ave., Mundelein, the event co-sponsor. 
Mundelein Beerfest is one of the premiere beer festivals in the area, featuring over 40 craft brewers (each with multiple beers), live music, food, fun and games.  The event is limited to 2,000 attendees which allows for ample room to move around the grounds, space for tasting, eating, and socializing with friends.  Covered tasting and seating areas provide a comfortable environment for this Rain or Shine event. 
Beerfest is the primary fundraiser for Mundelein Community Connection.  We hope you will join us.  Business sponsorship packages are available.  For more information on sponsorships, membership in MCC, or about the fest, please contact Terry at 847-970-9235.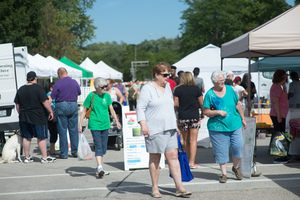 The 2020 Farmers Market will open on Friday, June 19th from 3 pm to 7 pm, and return every Friday through September 25th.  The Market will once again be situated on Park Street in the heart of downtown; but, this year there will be a little twist.  In order to maintain easy car access for customers to the restaurants at the west end of Park Street, the market layout will be shifted slightly east.  It will start at the alley on Park Street and extend eastward to Chicago Ave. The intersection at Park and Seymour will be closed. 
Presently we have confirmed 20 full-time and 3 part-time vendors.  Space for non-profit groups, music, and guest vendors will be eliminated.  Alcohol purchased from Tina G's, Park Street, or Greg's Old Town Tap is allowed in the market area, provided wristbands are obtained from the seller.
Sponsorships are available at the $100, $500 or $1,000 levels.  If you are interested in being a sponsor or a vendor please call Terry at 847-970-9235.   The Farmers Market is a source of great pride for the community.  Each year the market grows in terms of popularity and scope.  We hope you will join us.  Watch our Facebook page for future updates and new vendors.  
Around Town (Community News)
Mundelein Heritage Museum to Reopen
The Mundelein Heritage Museum has long been a landmark in the Village. Once a freight station built in1926 for the Soo Line Railroad, it was moved to its current location on Noel Drive in 1983 through a public/private initiative. It was converted into a museum by the Historical Society of the Fort Hill Country and opened in 1986 The museum, which has been closed for nearly two years, will reopen when the current public health restrictions are removed. The hours of operation will be Saturdays, from
1-4 pm; and Wednesdays, from 4-7 pm. Volunteers are needed to serve as docents, researchers, and more. Docent applications will be available soon at www.mundelein.org.

The Grand Reopening celebration, originally scheduled for May 30 th , has been postponed. A new date has not been determined, but will hopefully be in the late summer or early fall at the museum. The event will feature a ribbon cutting ceremony, music, tours, new exhibits, games, food and beverages from noon until 5 pm. Tighthead Brewery will brew an original, "Historic Lager" beer to commemorate the occasion. The event is FREE and open to the public.
 13   Park-on-Park                                                                                                                                                                    
 30   Mundelein Heritage Museum Grand Reopening

 JUNE
 3     Networking, Village Hall
 10   Park-on-Park
 13   Craft Beer Festival
 14   Bike Rodeo
​ 19   Farmers Market                                 
 26   Farmers Market       
Support Local C-19 Heathcare Heroes and Restaurants
Looking to make a Difference?
The Green Oaks, Libertyville, Mundelein, Vernon Hills (GLMV) Chamber of Commerce has launched
a
"GLMV Helping Healthcare Heroes"  
fundraiser
to help feed
local
healthcare
 heroes as they respond to the COVID-19 pandemic.
During these challenging time,
frontline workers need our support and local restaurants need our patronage.
Funds collected will
provide
local
medical professionals
with individually packed meals from various GLMV member restaurants.
Approximately

30-50

me

als at a time will be purchased and

delivered to Advocate Condell Medical Center

, and o

ther front line medical teams.
The meals
will be delivered to a safe location for healthcare workers to
enjoy
during their shifts.
All of us can
make a difference, even in small ways
. We are extremely thankful for the dedication and work of our healthcare teams and generous support of our community,