The Pure Water Occasional for December 29, 2014
In this last Occasional for 2014, you'll hear about Rex's new cap, China's new North-South Transfer project, Mineral Wells' new water rates, Ho Chi Mihn City's new wastewater treatment plant, and new information about plastic microfibers in the deep, deep sea. Then there's the greenest way to buy stuff and the browning of America's golf courses. Hear about the antibiotics overload in Chinese rivers, nitrates in America's salad bowl, and ammonia in Delhi's tap water. Learn how water is lost in America's small water systems, why manual filter control valves are sometimes better, who is suing Dupont over water pollution, and, as always, there is much, much more.
The Pure Water Occasional is a project of Pure Water Products and the Pure Water Gazette.
To read this issue on the Pure Water Gazette's website, please go here. (Recommended! When you read online you get the added advantage of the Gazette's sidebar feed of the very latest world water news.)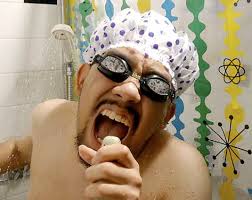 High Levels of Antibiotics in China's Rivers
By Liu Sha
Drug threatens health of millions, ecosystems
An excessive amount of antibiotics is present in China's major rivers, exposing millions of nearby residents and local ecosystems to grave risks.
China Central Television (CCTV) reported Thursday that various types of antibiotics have been found in water tested from the Yangtze, Huangpu and Pearl rivers, as well as in tap water in Nanjing, East China's Jiangsu Province.
The report said the high concentration of antibiotics was created by illegal discharges by Shandong Lukang Pharmaceutical, one of China's largest drug producers, and the abuse of antibiotics by poultry farmers. The situation was exacerbated by ineffective supervision by local environmental protection bureaus.
The drugs can cause bacterial resistance to antibiotics in humans and damage ecological systems.
Although authorities have not released the exact number of people that could be affected, the rivers tested have long been major water sources for central, eastern and southern China.
According to the report, Shandong Lukang Pharmaceutical has been discharging polluted water containing over 50,000 nanograms per liter of antibiotics, which is 10,000 times above the antibiotic concentration in untainted water.
The report also found that in Nanjing's Lishui district, a major poultry farming area in Jiangsu Province, duck farmers have been giving ducks excessive amounts of antibiotics and dumping duck feces into the nearby river.
Most of the farms are not equipped with pollution processing systems. Rivers and ponds nearby have become severely polluted with the concentration of antibiotics reaching 60 nanograms per liter, CCTV reported.
In a water sample taken randomly from a Nanjing resident's house, two types of antibiotics were detected. The concentration of amoxicillin, a drug that is used to treat ear or bladder infections, was 8 nanograms per liter.
A media officer from the Nanjing Water Group Thursday told news portal thepaper.com that the city's tap water meets national standards. However the media officer admitted that there is no requirement to test for antibiotics in tap water, and there is no equipment to detect antibiotics at pumping stations.
Jia Weile, deputy director at the Beijing Academy of Ecocivilisation, told the Global Times that excessive amounts of antibiotics in water will cause drug resistance and reduce the effectiveness of drugs.
In the long-term, pollution in surface water will contaminate soil and groundwater and enter the food chain, he said.
Xiao Yonghong, an expert at the National Health and Family Planning Commission, told CCTV that drug-resistant bacteria will freely circulate between humans and the environment without preventative measures.
According to a report published this May in science journal Chinese Science Bulletin, China's surface water contains 68 kinds of antibiotics.
In rivers like the Pearl, which empties into the South China Sea, and Shanghai's Huangpu River, every liter of sampled water was found to contain several hundred nanograms of antibiotics, compared with less than 20 nanograms in water in developed countries.
Seventy percent of all drugs produced in China are antibiotics, compared with 30 percent in Western countries, the Xinhua News Agency reported. At least 15,000 tons of drugs expire and end up in trash bins every year, said Yu Feng, a professor with the China Pharmaceutical University in Nanjing.
According to Ministry of Agriculture regulations, farmers can only purchase antibiotic drugs with a prescription from a veterinarian. However, drug stores in Nanjing reached by the Global Times admitted that they sell prescription drugs freely to farmers.
One store owner said that the farmers buy various kinds of antibiotics to solve the drug resistance problem. "Duck farmers won't eat ducks fed with those drugs," he said.
CCTV also quoted an anonymous source as saying that Lukang, one of the four largest antibiotic producers in China, receives a secret notice every time before a "random" inspection from the local environmental protection bureau.
"Production will be suspended to cover up the pollution … Once the inspectors leave, the factory will resume operations as usual," the source noted.
Source: Global Times.
Pure Water Gazette Fair Use Statement
Golf courses conserve water as fairways turn from green to brown
By Nancy Szokan December 23, 2014
Gazette Introductory Note: This article is really good news. If golfers can learn to play on courses that aren't lush green, so too, perhaps, can footballers and baseballers. After that maybe people can learn to hold a backyard barbecue on a lawn that's brownish or take their kids to play in a city park where the color of the grass reflects the season and recent weather conditions. When you think of it, having golf courses and cemeteries that are eternally green is like living in a bubble. Life is richer when you experience change, and you don't really appreciate green grass unless it's sometimes brown.--Hardly Waite.
You know that climate change is scaring people when no less an authority than Golf Digest says, "The new reality for American golf is that water is far too precious to be squandered on golf courses."
That's how Ron Whitten begins his piece praising two "iconic" American courses that have implemented "startling and instructive" water- ­conservation programs.
U.S. Open golf tournament in Pinehurst, N.C.
Pasatiempo Golf Club is located in Santa Cruz, Calif., which is going through an extended drought; mandatory water restrictions have shut off irrigation on at least the first 75 yards of each fairway, and roughs are yellowed and thin. "Pace of play has improved because there's little time spent looking for balls in high rough," Whitten writes.
More impressive is Pinehurst No. 2, in North Carolina, which has cut its water consumption from 55 million gallons in 2009 to 15 million this year. When it hosted the men's and women's U.S. Open championships in June, television viewers saw fairways that were yellowish or even brown instead of green, lined with "vast stretches of exposed sand."
The fairways stayed brown until it rained, under Pinehurst's new policy: "Let nature dictate the course conditions."
Source: Washington Post.
Pure Water Gazette Fair Use Statement
Water News for the week ending December 28, 2014
Drought and fracking made almost everyone's list of top 2014 news stories. Reno Gazette-Journal.
Kale and hearty: The salad bowl of America turns toxic. As nitrates seep into aquifers in California's Salinas Valley, a group of scientists is promoting a pilot program that has the potential to improve water quality and be replicated across the country. An excellent Al-Jazeera piece about the "nitrification of the Salinas Valley" by commercial fertilizers.
Areas of Delhi have had to turn off water because of high levels of ammonia. Some areas of the city have experienced ammonia levels as high as 2.5 mg/L (where the acceptable maximum is 0.2 mg/L). The ammonia spike is attributed to an "abnormal rise" in contaminants in raw water. Z News.
The city of Mineral Wells, TX announced that it is raising its water rates 60% to pay for projects that will supply the city with adequate water supplies. One of its water sources, Lake Palo Pinto, is only 10% full. Citizen Ginny Milliken protested vigorously. Lake Country Sun.
The World Bank approved $450 million in loans for a wastewater treatment project in Ho Chi Mihn City in the Socialist Republic of Viet Nam. The plant will process untreated wastewater that is currently being discharged untreated into the Saigon river. The World Bank.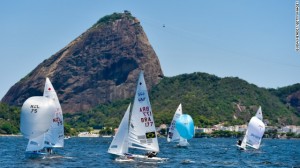 Sailors had previously warned of filthy waters, which are now known to contain a super-bacteria known as KPC.
Researchers have found an antibiotic-resistant "super bacteria" in the waters where Olympic sailing will take place. Sailors have complained of filthy water for some time, but officials downplay the risk. Seventy per cent of Rio's sewage is dumped into the bay where Olympic sailing will take place. BBC.
Plastic microfibers building up in deep sea sediments. After researchers found plastic litter even in some of the remote reaches of the Arctic Ocean a few years ago, it's probably not surprising to learn that the deep sea is becoming a collecting ground for plastic waste.
A section of China's South-North Water Transfer Project
Water From China's South-North Transfer Project Flows to Beijing
Within a few days, water that has traveled more than 800 miles for two weeks in one of the world's most ambitious, and controversial, engineering projects is expected to begin flowing through Beijing faucets.
The water began its journey from upper reaches of the Han River, the biggest tributary of the Yangtze, on Dec. 12 through the central route of the South-to-North Water Diversion project, the second of three routes in a major effort to transfer water from China's south to its arid north. It was collected in the Danjiangkou Reservoir in Hubei Province before being moved to the capital, where it is expected to provide nearly a third of the city's annual water needs. New York Times.
West Virginia man sues DuPont for contaminating his drinking water
A West Virginia man has filed suit against chemical company DuPont for contaminating his home's drinking water. 52-year-old Scott Chapman of Letart sued DuPont in West Virginia federal court Friday.
Chapman alleges that the company discharged the chemical C8 into waters surrounding its Washington Works Plant west of Parkersburg. More than 4,000 similar lawsuits have been filed against DuPont in Ohio federal court and Wood County Circuit Court in West Virginia.
A C8 Medical Monitoring Program was created in 2005 under terms of a class-action settlement following a lawsuit claiming that Ohio and West Virginia waters were contaminated with C8.
A separate science panel found probable links between C8, thyroid disease and testicular and kidney cancers.
DuPont uses C8 at Washington Works but plans to stop making it next year. West Virginia Public Broadcasting.
No such thing as safe fracking in Florida. A recent study at Duke University found that 92 percent of water and drilling fluids remained deep underground. Are these substances that we want to inject into our groundwater or allow to be anywhere near our aquifer? There is no such thing as safe fracking.
Where does the water go? More than half of a small town's water goes unmetered and unbilled. An interesting study of what happens to municipal water.
A Green Dilemma for the Holidays:
Better to Shop Online or In-Store?
By Crystal Gammon
The conventional wisdom has been that shopping online is environmentally preferable to going to a brick-and-mortar store. But a new study suggests it's not quite as simple as that.
Gazette Introductory Note: The green dilemma presented here is a lot like the environmental nitpicking that goes on with such issues as paper vs. plastic at the supermarket, real vs. artificial for Christmas trees, or burial vs. cremation when the whole thing winds down. The real answer is usually hardly mentioned or at best played down: the best tree is no tree, the best bag is no bag, and from the environmental perspective the worst choice of all at the very end is to put off dying. Holiday purchasing is, of course, so complex an issue that a mere consideration of how the package gets to your home is only one of dozens of factors that would have to be considered to come to a rational decision. My own answer is that whether you drive to the mall to pick up the baseball cap for your cousin or have it delivered in a UPS truck is largely unimportant; what is important is whether you should buy the cap in the first place. There are lots of alternatives to buying things. We need to be brave enough to explore them rather than simply caving in when the merchants, brick-and-mortar or online, start ringing the bells of Christmas. Bah, Humbug!-- Hardly Waite.
As holiday packages arrive at doorsteps and gifts pile up under Christmas trees, environmentally-minded consumers may wonder, what's the most carbon-conscious way to shop — online or in-store?
Various studies in recent years have suggested that online shopping typically packs a lower carbon punch than shopping at brick-and-mortar stores. But new research published online in the Journal of Cleaner Production suggests the story is more complicated than that.
Cyber Monday sales topped $2 billion this year, making it the heaviest online shopping day ever.
"Consumer travel and behavior is critical," said Patricia van Loon, a logistics researcher at the international business school INSEAD and lead author of the study. The key, she said, is to minimize the number of miles driven per item — whether by the shopper, a local delivery van, or a FedEx truck.
A typical online order, with goods delivered by truck, has a carbon footprint roughly three times as large as a brick-and-mortar shopping trip, according to van Loon's analysis, which looked at U.K. shoppers buying household goods. That's because brick-and-mortar shoppers typically buy many more items at once than online customers, she said. Moreover, online shoppers will often make extra trips to the store anyway — to pick up items they forgot to order, return unwanted ones, or to browse and test products — a factor previous studies largely ignored.
On an item-by-item basis, however, online shopping usually does win out, van Loon's analysis shows. Purchasing a single item online and having it delivered by truck has roughly half the carbon footprint as driving to a local store to buy it, she found. Yet her calculation is based on driving — the results would be different in a bicycle-centric country like the Netherlands, the study points out, or in a place like Manhattan, where pedestrians and public transportation dominate.
Clearly, online shopping continues to boom. Amazon, the United States' largest online retailer, did nearly $75 billion in web-based sales last year, including the 37 million items — 426 per second — it sold on Cyber Monday. This year, total online sales on that day in the U.S. grew by 17 percent, to over $2 billion, making it the heaviest online shopping day ever.
To maximize efficiency, van Loon said, consumers generally should buy online and should plan orders so that each contains as many items as possible. "In that case, online shopping ... can be even better than walking to the store," she said, because warehouses tend to be more energy-efficient than local stores.
But numbers-crunching aside, what should a carbon-conscious shopper do?
"Give yourself more time to plan," recommends Darby Hoover, a senior resource specialist with the Natural Resources Defense Council. She said planning ahead can allow consumers to choose more flexible shipping options — "Do you really need it to get there tomorrow?" — and to buy from companies with environmentally friendly policies, such as minimizing packaging.
And if waiting longer for a product is not an option, Hoover said, "focus on efficiency and using less stuff, and bring that approach to whatever decision you're trying to make."
Source: Environment 360 (Yale University).
Pure Water Gazette Fair Use Statement
There's a lot more involved in determining the carbon footprint of Rex's new cap than whether you bought it from Amazon or at the pet store in the shopping center.--Hardly Waite.
Manual Filter Controls: A case where simple is sometimes better
by Gene Franks
Backwashing water filters used for removal of sediment, chlorine, chemicals, iron, hydrogen sulfide odor and many other water contaminants are regulated by control devices that range from simple to very complex. The main function of the valve is to control the time and duration of backwash (where water is reversed in the filter tank to clean and resettle the media bed) and rinse (where water is pushed downward through the media at a fast rate to rinse and settle it after the backwash).
These functions can be controlled by fully electronic or electrically driven mechanical timing devices that regenerate the filter at preset times and for preset durations. The electronic versions are more versatile than the mechanical and offer many more options. For example, an electronic controller can be set up to regenerate the filter every other Sunday at 3:51 AM, backwashing for 6 minutes then rinsing for one minute. Depending on the product, mechanical timers offer fewer options. With the most popular mechanical control (the Fleck 5600), for example, you could choose to regenerate every day, every other day, every third day, fourth day, every sixth day, or every 12th day, but you could not choose to regenerate every Sunday or every eighth day. With the standard 5600 you also have no control over duration of the functions: it's a 15 minute backwash and a 10 minute rinse whether your filter needs this much time or not. (Unless you're running an iron filter or have very sandy well water, you probably don't need this much time, but the filter is preset to accommodate the "worst case" user so even clean city water gets a 15-minute backwash.)
Totally Manual Control
A less frequently used control valve is the totally manual (non-electric) Fleck 2510 control pictured below.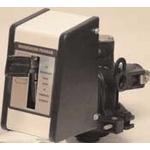 This control valve requires no electricity and no programming. It has a three-choice selection lever that send water to the home (Service position), backwashes the filter, or rinses the filter.
This very simple valve not only costs less, but it works better in some situations than more expensive controllers. Here are some examples.
Remote areas where there is no electricity.
If you have electricity, but it isn't dependable. It's easier to manually regenerate a filter than to repeatedly reset an electric control system.
Seasonal homes or homes where the inhabitants travel frequently. It's easier to backwash your filter manually than to constantly reset an automatic system to fit your schedule.
When backwash duration requirement might change. Some wells take on large amounts of sediment after a rain, or a city water filter might pick up a large amount of dirt when there is city water line maintenance,. At such times, it's easier to simply give the filter its needed backwash manually than to reprogram your electronic controller.
If price is important. Substituting a manual backwash control can cut several dollars off the purchase price of a standard backwashing filter.
If saving water is important. If you want to backwash your clean city water carbon backwashing filter once a month for five minutes only (not an unreasonable schedule). you can save almost 300 gallons per month, as compared with a standard electro-mechanical control valve!
You can find a manual controller as well as a variety of automatic controllers here.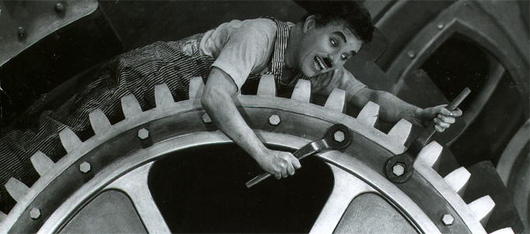 Please visit our RO Parts Page for tanks and accessories. We also have dedicated parts pages for countertop water filters, undersink filters, and aeration equipment. We stock parts for everything we sell.
Thank you for reading. Please come back next week.
Places to Visit on Our Websites in the meantime.
Garden Hose Filters. Don't be the last on your block to own one.
Model 77: "The World's Greatest $77 Water Filter"
"Sprite Shower Filters: You'll Sing Better!"
An Alphabetical Index to Water Treatment Products
Our famous whole house Chloramine Catcher
Pure Water Occasional Archive: Sept. 2009-April 2013.
Pure Water Occasional Archive: April 2013 to present.
Write to the Gazette or the Occasional: pwp@purewaterproducts.com
Please Visit
The Pure Water Gazette – now now with an up-to-the-minute feed of the latest water news.