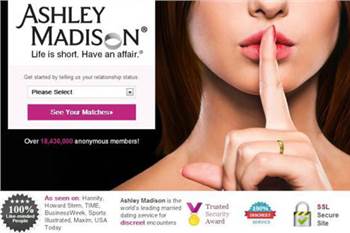 July 26th 2015 Newsletter
How Many Oklahoma Politicians Were or Still Are Members
of the Adult Friend Finder and AshleyMadison.com websites?
Back in May of this year a story erupted about the Adult Friend Finder website being hacked and the data being put online for sale for about $17,000.00. There are copies of the data out there that have had the credit card data redacted but the copy for sale has the complete payment info.
In addition to Adult Friend Finder and AshleyMadision.com the company also runs a website called Established Men where rich men pay for prostitution or young girls that have been trafficked, another website called Cougar Life, another site called Man Crunch for gays, Swappernet for swingers, and a final site for overweight dating.
Once the story leaked it didn't take too long to find a copy of the data, over 3.9 million email addresses complete with date of birth, zip code, IP address and sexual preference. The fifteen spreadsheet files have some records indicating payment type and are of course searchable via email address. And yes, we have a staffer slowly going through the information using known alternate email addresses for local and state politicians. However someone has already done this and they found :
· High ranking officials in every U.S. government agency
· Six state Governors
· 16 members of Congress, most looking for BDSM, 3 looking for gay encounters
· 2 Senators
· Countless Congressional aides
· Two of the 14 largest mega churches had pastors looking for anonymous gay encounters
· 1,420 executives of Fortune 500 companies
· 230,000 rank and file employees of Fortune 500 companies
· 120,000 employees of the federal government
Then another pervert site, AshleyMadison.com was hacked this month and exposed about a week ago in an online manifesto outlining why they hacked the site and demanding that the parent company of Ashley Madison shut the website down. Already 2,500 names have been leaked online, yes we have a copy and yes we are digging through it as well but with 37 million members the odds are that few if any Oklahoma politicians are going to be found in the intial 2,500 names.
Both Adult Friend Finder and Ashley Madison are sites where single and married people post ads looking for random sexual encounters.
Recall the exposure of then state representative Colby Schwartz last year after an ex girlfriend came forward with information about Schwartz including allowing the Sooner Tea Party team to go through her computer hard drive to gather documentation including some really, really, filthy messages from Rep. Schwartz.
A well known white hat hacker then hacked both websites and a few others belonging to the parent company Avid Media, finding personal information for 50 million perverts, verifying that the original hack was easily done. Thirty minutes was all it took for this hacker to gain access to their computer system…simply by calling a secretary and asking for the password.
Then a site called washeonashleymadison.com popped up for a bit and then disappeared and around 37 million perverts including no doubt some Oklahoma politicians are sweating it out waiting to see if the site shows back up or if the information erupts elsewhere. Shortly after the company announced it might know who the hacker was a 40 mb package of data was posted along with the manifesto explaining why the hacker was trying to shut down AshleyMadision.com. To complicate matters the website had a feature where the perverts could pay a fee to have their content removed and their profile closed yet even after the fee was paid the Avid Media company retained all the information on other servers so despite the payment for privacy the data is included in the 37 million person data base dump.
The Reddit online community has a massive thread composed of members of the Ashley Madison.com website and to read the comments makes you smile. These men and women are freaking out knowing that the nastiest details of their perverted lives might wind up spattered all over the internet.
Below is the manifesto left online by the hackers, actually it is a whack a mole job for the hackers to keep the data online and you have to be dedicated and quick to download the data before the Avid Life Media team finds it and asks the server owner to scrub the information. (The links posted in the manifesto have all be shut down)
Avid Life Media runs Ashley Madison, the internet's #1 cheating site, for people who are married or in a relationship to have an affair. ALM also runs Established Men, a prostitution/human trafficking website for rich men to pay for sex, as well as cougar life, a dating website for cougars, man crunch, a site for gay dating, swappernet for swingers, and the big and the beautiful, for overweight dating.
Trevor, ALM's CTO once said "Protection of personal information" was his biggest "critical success factors" and "I would hate to see our systems hacked and/or the leak of personal information"
Well Trevor, welcome to your worst f***ing nightmare.
We are the Impact Team. We have hacked them completely, taking over their entire office and production domains and thousands of systems, and over the past few years have taken all customer information databases, complete source code repositories, financial records, documentation, and emails, as we prove here. And it was easy. For a company whose main promise is secrecy, it's like you didn't even try, like you thought you had never pissed anyone off.
Avid Life Media has been instructed to take Ashley Madison and Established Men offline permanently in all forms, or we will release all customer records, including profiles with all the customers' secret sexual fantasies and matching credit card transactions, real names and addresses, and employee documents and emails. The other websites may stay online.
So far, ALM has not complied.
First, we expose that ALM management is bullshit and has made millions of dollars from complete 100% fraud. Example:
-Ashley Madison advertises "Full Delete" to "remove all traces of your usage for only $19.00"
-It specifically promises "Removal of site usage history and personally identifiable information from the site"
-Full Delete netted ALM $1.7mm in revenue in 2014. It's also a complete lie.
-Users almost always pay with credit card; their purchase details are not removed as promised, and include real name and address, which is of course the most important information the users want removed.
-Other very embarrassing personal information also remains, including sexual fantasies and more
-We have all such records and are releasing them as Ashley Madison remains online.
Avid Life Media will be liable for fraud and extreme personal and professional harm from millions of their users unless Ashley Madison and Established Men are permanently placed offline immediately.
Our one apology is to Mark Steele (Director of Security). You did everything you could, but nothing you could have done could have stopped this.
This is your last warning,
Impact Team
We are not opportunistic skids with DDoS or SQLi scanners or defacements. We are dedicated, focused, skilled, and we're never going away. If you profit off the pain of others, whatever it takes, we will completely own you.
For our first release, and to prove we have done all we claim, we are listing *one* Ashley Madison credit card transaction for each day for the past 7 years, complete with customer name and address (oneperday.txt) and associated profile information (oneperday_am_am_member.txt and oneperday_aminno_member.txt, selected rows from our complete dump of the AM databases). We are also releasing a hash dump and zone file for both domains, select documents from your file servers, executives' google drives, and emails, and the Ashley Madison source code repository. Also, since Ashley Madison stopped using plaintext passwords, we're also releasing the swappernet user table, which still has plaintext passwords:
http://imgur.com/8gQs8KV
https://bitbucket.org/TheImpactTeam/ashley
https://bitbucket.org/TheImpactTeam/ashleymadisondump
https://gitlab.com/ImpactTeam/ashley
https://gitlab.com/ImpactTeam/ashleymadisondump
https://launchpad.net/ashley
https://mega.nz/#!f4smmDCa!YM7eJE2uxDvjGhxPERYk5tgBgeRyZoEYc9d0JMFUCP0
1 example from this dump: "PERNELL GRAZETTE", with profile ID 23288650, who spitefully paid for Ashley Madison the day after valentine's day in 2014, lives at 10 charlotte st. Brockton, MA in the US, with email UPFRONT73@AOL.COM. He is not only married/attached, but is open to a list of fantasies from Ashley Madison's list: |29|44|39|37|7|, a.k.a. "Cuddling & Hugging", "Likes to Go Slow", "Kissing", and "Conventional Sex". He's looking for 'A woman who seeks the same things I seek: passion and affection. If you have such desires then we will get alone just fine','|54|11|9|' which means "Good Communicator", "Discretion/Secrecy", and "Average Sex Drive". He also says "I have only two personal interests on this site. Making sure that You are comfortable with me should I be so fortunate to hold your attention and making sure I take the role of discretion to an artform. I mean isn't this why we are here, to be as discreet as possible?" From the login table, we know his user ID is 'Heavy73' and password hash is '$2a$12$ndvz/F.EXyJKRYkrErX/w.EDgzF7cNkJcQvNeDGQylEMHRw2COLZO'.
As another, profile ID 48040 is listed as a "paid delete", which means a few of his profile text boxes are gone, but from purchase records we know it is "RICKIE RAMRATTAN" from "5499 Cosmic Crescent" "Mississauga","ON" "L4Z3P8" whose fantasies are |7|40|17|34|33|37|38|48|36|42|43|50|44|32|39|29|49|18|, which includes "Likes to Give Oral Sex", "Likes to Receive Oral Sex", "Light Kinky Fun", "Role Playing", "Erotic Tickling", "Erotic Movies", "Good With Your Hands", "Sensual Massage", and "Dressing Up/Lingerie" among others. You must be glad you paid for your profile to be deleted, huh?
Too bad for those men, they're cheating dirtbags and deserve no such discretion. Too bad for ALM, you promised secrecy but didn't deliver. We've got the complete set of profiles in our DB dumps, and we'll release them soon if Ashley Madison stays online.
And with over 37 million members, mostly from the US and Canada, a significant percentage of the population is about to have a very bad day, including many rich and powerful people.
Well, Noel? Trevor? Rizwan? What's it /going to be?
As a service to Oklahomans, we will search the available data bases for politician's email addresses if asked. The politicians are going to be using throwaway email addresses to be sure but their IP address is going to shine like a beacon with the proper search through our data bases so in addition to sending us the email address you want checked also include the guy's IP address which is easily found using
this website tool
on the internet.'
From the beginning of the Tea Party movement we have seen so many corrupt politicians and so many that were cheating on their spouses like Rep. Colby Schwartz, Rep. Charles Ortega, Rep. Dan Sullivan, and Rep. Leslie Osborn. We've heard the torrid stories about Governor Fallin and seen Oklahoma senators fall like dominoes over drunken driving, theft, or having sex with lobbyists. Nothing would surprise us anymore and we would not be surprised to find that 20% of our 151 state legislators have or did have accounts on one or more of these websites.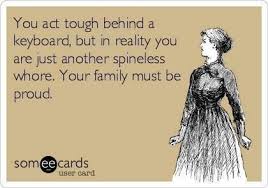 The Oklahoman Editorial Board is Scared
but not Scared Enough to do their own Dirty Work
The Editorial Board of the Oklahoman must be terrified or they were simply scraping the bottom of the barrel of journalistic integrity when they published a story last week claiming that the Oklahoma Republican Party wasn't bankrupt when the previous chairman Dave Weston slithered away in defeat.
Calling it the third "public controversy in as many months" the article claimed that Brogdon was "critical" of the Pledge of Allegiance, and then chastised Brogdon for not winning more of the 2014 U.S. Senate vote. Petty politicking until Rick Green, the author of the story, made allegations that Brogdon didn't provide specifics when Brogdon sent out the fund raising letter a few days after assuming the office of Chairman.
Green quoted the outgoing chairman Dave Weston calling Brogdon a liar:
"The wild claims of large debts have yet to be substantiated by him. It's just evidence he loves to shoot from the hip. There's no filter, there's no buffer in place."
Weston continued on stating that Brogdon was divisive, neglecting to mention the many instances of Weston closing off access to new precinct officials simply because Weston wasn't sure they were fellow RINOs.
Dragging out another vocal critic of the conservative GOP Chairman the article made it clear that State Senator David Holt thought Brogdon has been decisive and has failed as a party leader, claiming that Brogdon had somehow harmed the Republican Party..\
The massive debts left by outgoing RINO chairman Dave Weston were amply documented by Brogdon, online, and in this very newsletter. The article by Rick Green was simply a regurgitation of the previous two manufactured "scandals" and outright lying by Dave Weston, devoid of any credible journalistic integrity.
So far we have seen the character of those arraying themselves Brogdon, flinging themselves against the man's solid popularity in the GOP like bugs on a windshield. We saw the character of Oklahoma County Chairman Darren Ward and his multiple legal problems, the use of an obviously unstable young woman to damage one of Brogdon's employees, and who could forget the brazen attack by Vice Chairman Estela Hernandez who has used her positions in the Oklahoma Republican Party to go against the Party Platform by encouraging illegal aliens. Indeed the woman employs illegal aliens in her business.
What all of these people have in common is that they know in their bones that they are living a lie, suborning the values of the Republican Party while lying to those that vote for them or pay their public salaries. They are all terrified of the day when Brogdon has become entrenched enough that he can turn the conversation to the real problem in the Republican Party; the unwillingness of elected Republicans to follow the Party Platform.
We are going to be digging into Senator David Holt's past and into his voting record. He likes to run his mouth. He likes to harm good men to further his political career. He shows the signs of the typical political sociopath and it is high time he shut his mouth or suffers the consequences for his loutish behavior.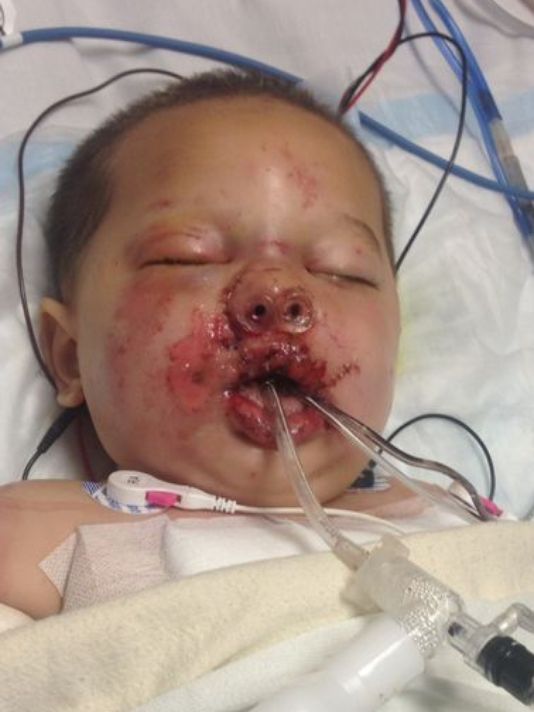 Sickening Behavior
Georgia Deputy Sheriff Indicted for Lying on a Search Warrant,
Not for Blowing Open a Toddler's Chest and Face
Former Habersham County Deputy Nikki Autry was indicted by a federal grand jury last week after providing false information for a search warrant. The incident happened over a year ago but a local grand jury found no fault during the no knock raid that severely damaged an infant laying in his crib.
The invading force had thrown a flash grenade into 19 months old Bounkham "Bou Bou" Phonesavana's play pen, blowing open his chest and face, burning his body, and ripping the toddler's nose from his face. The child's family was temporarily staying at the home after their own home had burned.
Emotional interview with the mother of "Bou Bou" Phonesavanh
A local grand jury found that the raid was "hurried and sloppy" but declined to charge any of the officers involved in the raid. Local prosecutors had applied for a no knock warrant, claiming that Deputy Autry had a reliable informant stating that they had bought drugs at the home. As it turned out the informant was new and it was actually a roommate of the informer that claimed that meth was being sold. Autry knew all of this but fabricated the story and didn't confirm foot traffic to or from the home.
In February the parents of the toddler filed a federal lawsuit in Gainesville Georgia seeking damages for the toddler during the attack. Three other children, ages 3, 5, and 7 were sleeping in the room at the time of the 3 am raid along with the parents. The local police chief claimed that there were no indications that children were present in the home and that they would have done something different.
The County quickly offered a settlement on the lawsuit, nearly one million dollars, but the family's attorney hasn't accepted the settlement. Obviously the settlement is intended to taint the jury pool prior to the trial "in exchange for protection of the officers and the county" according to County Commissioner Andrea Harper. The County is trying to bar additional damages against the County or the individual officers involved in the raid knowing full well that the toddler's medical bills will reach one million dollars, not including future medical bills or the fact that the child will live his life grossly disfigured.
The target of the no knock raid wasn't present at the home and was arrested at another location.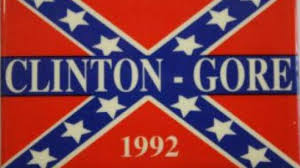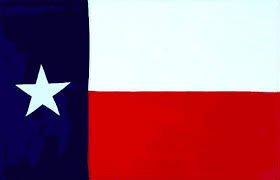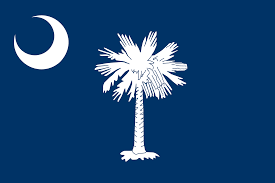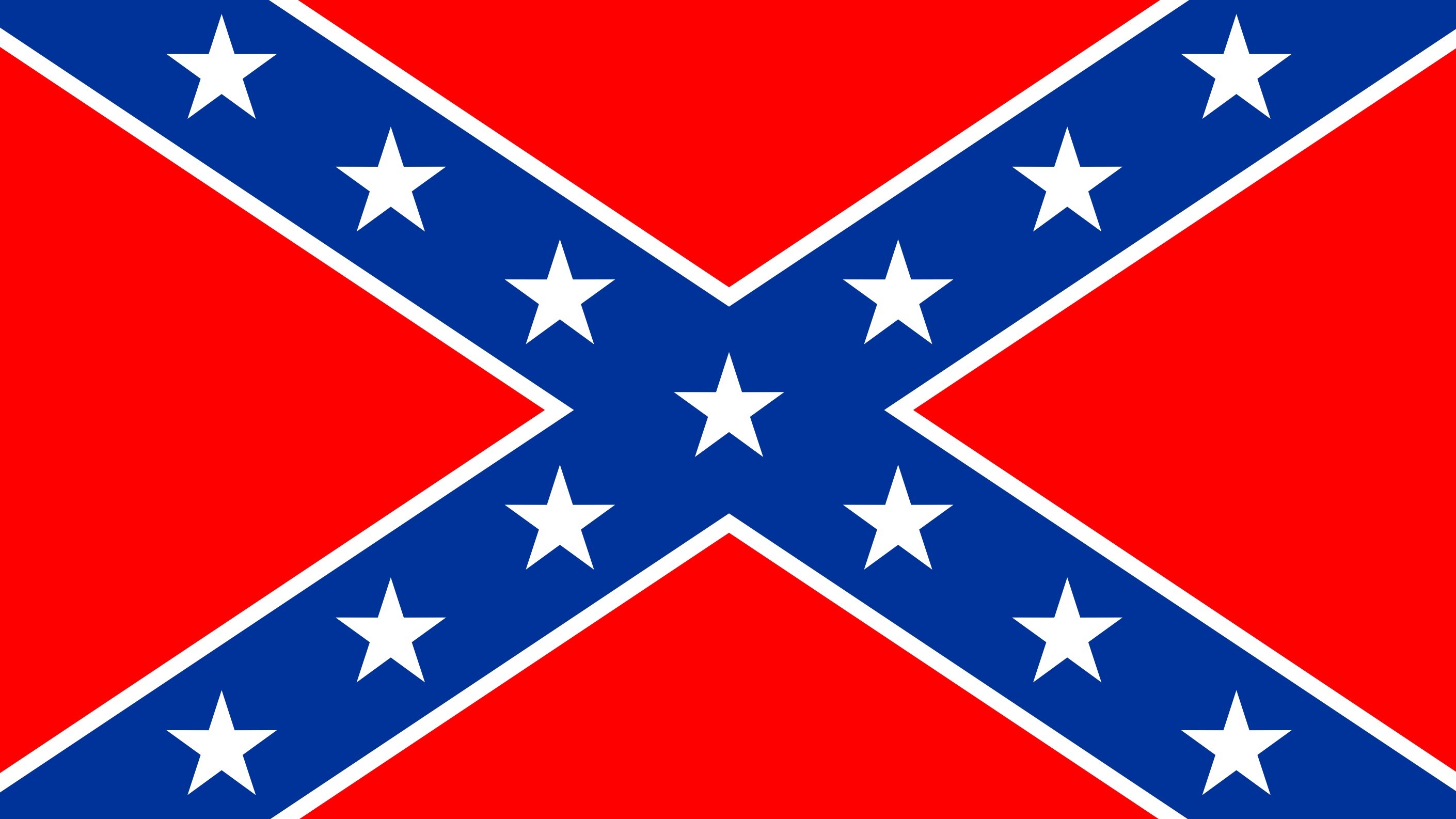 They Haven't got Your Guns Yet
A shooting accord in Charleston, South Carolina, but it was much more than the murder of nine innocent parishioners at a Historic African American Church. It lit a fuse in this country that took its wrath out on the history of this Nation. It also put on vibrant display the penchant for the liberal hate mongers of this nation to re-write history. How soon did they forget that the very emblem they sought to relegate to the back halls and storerooms of museums has it been since they were so very proud to run and win on a ticket that displayed that very image. How many stopped to ask if the South Carolina State Senator who was murdered in that church would or did vote on even putting that flag up. Check your records. He voted for the Confederate Battle Flag to be raised at the Capital. Should his wishes be shamed now by his very own party? We think not.
Directly below the Clinton/Gore Campaign Banner there are the images of three flags. The Texas State Flag, the South Carolina State Flag and the Southern Cross more commonly known as the Confederate Battle Flag. But they are not alone. A simple google search would reveal that there are well over thirty different flags of the Confederacy. The flags just mention retains some of their Confederate State Flag imagery. But no one anywhere mentions the actual Confederate National Flag being banned. Most people have no idea what it even looks like or how many there were. There were a total of four National Flags of the Confederacy in various color schemes. So why pick on a Battle Flag that both white and colored troops fought under. It's a simple answer Ignorance of Historical Fact and too damn lazy to learn.
As in any war, the winner gets to write the History Books. If a person truly wants to learn, they can do the research and also get the other side of the story. For decades people have been taught that the Civil War was about freeing the slaves. It wasn't. Like all wars, it was about money. The first article of interest we found was this

Confederate History - Dispelling The Myths

. We know that people are going to say sure right this is all Confederate propaganda. That's fine. We highlighted an excerpt from this article and ask you to explain this

Lastly, and

most

importantly, why did

NORTHERN

States outlaw slavery

only

AFTER the war was over? The so-called "Emancipation Proclamation" of Lincoln

only

gave freedom to slaves in the SOUTH!

NOT

in the North! This pecksniffery even went so far as to find the state of Delaware rejecting the 13th Amendment in December of 1865 and did not ratify it (13th Amendment / free the slaves) until 1901!.
If you read the entire article above, you'll find that all of General Robert E Lee's slaves were freed in 1862. He actually never bought or sold a slave. His were inherited. General Ulysses S. Grant held his slaves until the 13th Amendment was ratified. Strange how that works out isn't it.
The next article of interest we found was this
Opinion: What to consider as we lower the Confederate flag - Opinion: Guest Writers - NorthJersey.com
. This article pretty much hit the nail right on the head. Within hours of the mass shooting at the AME Church, calls were out by administration officials bemoaning the lack of progress in Congress on Gun Control. They went after the next best target. The Confederate Battle Flag that the shooter had been photographed with. The question in this story not asked is if the shooter had been holding the American flag or the Delaware State Flag would the reaction have been the same. Our guess is no, because remember Liberals are writing the history and that includes all the race baiters out there.
You might ask what we mean by race baiters. Stories like this
Black Mississippi flag supporter dies in car crash after argument - Telegraph
. Here we have the story of a proud African American male who supported the Battle flag and he was murdered by his own fellow African American haters because the flag was part of his heritage. You can't get much more despicable than that. This grows from the neglect in the History books of teaching the children that yes African Americans did fight for the south as well as Chinese, Hispanics and other races.
The next article we came across was this
Calls to Drop Confederate Emblems Spread Nationwide - The New York Times
. In this article we first had to consider the source. The New York Times has lost its claim to being a legitimate, unbiased newspaper many years ago. They probably polled their own staff to come up with this opinion. There is a reason we say that.
The next article of interest is this
Majority see Confederate flag as symbol of pride, not hate | TheHill
. This poll conducted by CNN/ORC showed that fifty seven percent (57%) feel it evokes Southern Pride while only thirty three percent (33%) feel it's racist. We would make a judgement call here on the New York Times, also known as the Grey Lady, and say Grey Lady down for the count
The next article we found was this
Confederate flag flies again in Marion County, Florida
. Less than two (2) weeks after the Liberal History re-writers start tearing the Confederate Battle Flag down, it's starting to make a reappearance. We must borrow a few words from the Charlie Daniels Band here and say
" The Souths going to do it Again."
In closing we must say that people need to stop and think before they take any type of action on anything. Tearing down the Southern Cross, better known as Confederate Battle Flag, accomplished nothing. The knee jerk reaction by retail outlets to stop selling products with it on anything has just driven your customers elsewhere. You forgot the basic laws of economics, Supply and Demand. If people want the merchandise and you don't have it, they'll take their business elsewhere.