I am excited to have been elected by the Board of People with Disability Australia (PWDA) to represent you and PWDA as Acting President until November. Craig Wallace's excellent leadership of PWDA means that these are big shoes to fill but I am honoured to have the faith and support of my colleagues to undertake this.
I am proud to be working alongside Kristy Trajcevski as Acting Vice-President, Stuart Mawbey as Secretary and Suresh Rajan as Treasurer. I was elected to the PWDA Board in 2014 and have been part of our work to provide strong governance and high quality advocacy and leadership in our calls for justice, the NDIS, social inclusion and accessibility for people with disability. Our members continue to build a vital organisation, by being an essential part of PWDA and focusing on changing how people with disability are viewed, both socially and politically. Keep this up!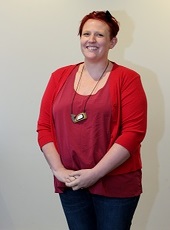 Photo: Acting President Bonnie Millen
Over the remaining months of 2016, we will continue to confidently and energetically lead the organisation and its work. As a member of the Australian Cross Disability Alliance we will be strident in advocacy projects to address violence against people with disability and continue our calls for a Royal Commission to properly investigate this human rights crisis. We will further analyse and support the national roll out of the NDIS. We will continue to ensure the experiences of children with disability are included and understood by the Royal Commission into Institutional Responses to Child Sexual Abuse.
I am excited to be stepping into the role of Acting President of PWDA, to further build our representation of the disability community to ensure that there is 'nothing about us, without us.
As required under the PWDA constitution a full election, where members can nominate and vote for the President and PWDA Board Directors, will be held in September - October. Updates on how to nominate and vote will be made available to members in September. Between now and then, please encourage people in your networks to join PWDA and become involved.
Please get in touch with me if you want to ask me anything.
---