Welcome to CMCA(UK)
Welcome to the Spring edition of the CMCA(UK) newsletter. CMCA(UK) has been busy in the first quarter of 2016 with further developments being made with V-Guard our under vehicle inspection system, increased NATO Codification activities and reaching the 10 year milestone of working with Rolls-Royce. To stay up to date with all CMCA(UK) related news go to
www.cmcauk.co.uk
. You can also find us on
Twitter
,
LinkedIn
and
Google+.
Shining a light on Codification with UKNCB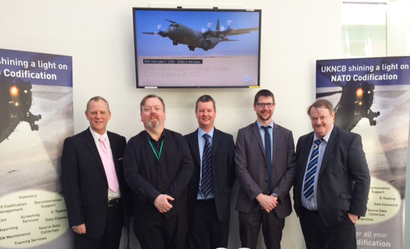 CMCA(UK)'s Gary Harman (centre) during the Codification Roadshow at Abbey Wood with UKNCB's Martin Soltysek, Edward McGuire, Richard Ireland and John Shannon.
CMCA(UK) is the sole supplier of NATO Codification in the UK on behalf of the UK National Codification Bureau (UKNCB) and back in February CMCA(UK) and UKNCB, held a Codification Roadshow within DE&S at Abbey Wood with the aim of 'Shining a Light on Codification,' to assist with all technical and administrative queries relating to the NATO Codification process. The four day event proved to be a huge success with interested parties queuing up in their hundreds to speak to our subject matter experts on a myriad of topics relating to Codification. The roadshows have been planned to help MOD Project Teams understand the importance of Codification and the critical role it plays both in terms of its contribution to through life management and in optimizing the size and cost of the DE&S inventory. Speaking of the event CMCA(UK)'s Codification Director Gary Harman comments, "The NATO Codification Roadshow was a great success! Working alongside UKNCB and promoting UK Codification was really rewarding especially as we had in excess of 1600 visitors to the stand over the four days, which was remarkable. I'm really looking forward to our planned future events with UKNCB and continuing to provide guidance and advice on NATO Codification to MoD and industry."
UKNCB Team Leader Richard Ireland adds "I'm delighted by the popularity of the Codification Roadshow event and it has been very satisfying to help so many of our customers with their queries."
Watch this space for the next planned codification event but in the meantime you can contact CMCA(UK) Codification Project Manager
Chris Baker
with any queries relating to Codification.
DPRTE 2016 Success for V-Guard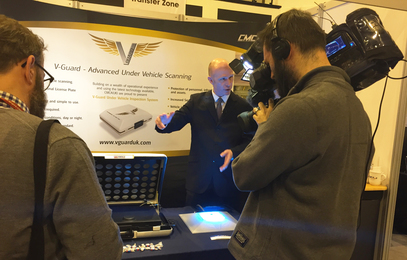 Following the success of DPRTE 2016 on March 16th, which saw a constant stream of interested parties stop by at the CMCA(UK) stand to discuss our product and services (including a couple of film crews!), the CMCA(UK) team are back in the office following up on a multitude of enquiries. CMCA(UK)'s Project Manager Andy Johnson said of DPRTE;
"Although we've visited DPRTE numerous times in previous years this was the first time CMCA(UK) has exhibited and we didn't know what to expect, but I have to say we've been very pleasantly surprised by the amount of interest generated. DPRTE has proved an ideal platform to promote the V-Guard under vehicle inspection system and our core services to a varied audience from both MOD and industry. Some of the team managed to slip away to take advantage of the various presentations and keynotes going on in the knowledge transfer zones and came back with positive reports, so all in all the day was a huge success and we're pleased to have been a part of it."
CMCA(UK)'s Darren Topley was interviewed at DPRTE for BBC News Wales and our company technical guru, Andy Johnson was interviewed to demonstrate V-Guard for a BFBS pilot Television programme similar to BBC Click series.
To find out more about V-Guard contact
Andy Johnson
and for further information on CMCA(UK)'s services and solutions contact
Antony Elliott
.
Note: The DPRTE piece, which includes V-Guard, will be broadcast on The Military Tech Show on Forces TV on Monday 18th April at 1930 (

Sky channel 264, Virgin 277 and Freesat 652).
CMCA(UK) introduce Reservist Policy in line with Government Plans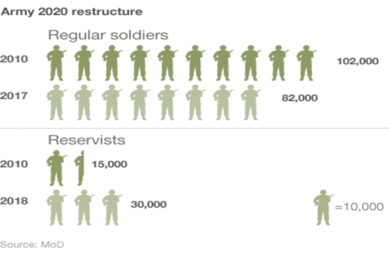 CMCA(UK) recognizes the vital role of Britain's Reserve Forces and the valuable contribution that Reservists make to our defence, communities and the workplace. We fully support our employee's membership of the Reserve Forces and have introduced a Reservist Policy, in line with the Government's intention to reshape the UK's defence and security forces by increasing the role of reserve soldiers.
In 2013 the government planned to mitigate the impact of the reduction in regular Army numbers by increasing the size of the newly named Army Reserve, formerly known as the Territorial Army. Over 10 years some £1.8 billion pounds is to be invested in the Reserves, whose numbers are expected to grow from around 20,000 to 30,000 by 2018. Pledging that Reservists will be 'more closely aligned' with the regular army, so that they can be called out for anything that the Armed Forces might be.
The Ministry of Defence has said that in future almost all military operations will need the support of the Reserve Forces.
CMCA(UK) are proud to employ a team of ex-service personnel alongside our army reservists, who add specialist knowledge and expertise to our expansive portfolio.
May we take this opportunity to thank you for your time and for reading our newsletter, Please don't hesitate to contact us regarding any of our services or to see how we can help you. Contact our Business Development Manager Antony Elliott on;
+44 (0)1905 458 307 or
Antony.Elliott@cmcauk.co.uk
.
CMCA(UK) will be on the road again in April exhibiting at the Security & Counter Terror Expo. Counter Terror Expo is the largest international security event to mitigate threats, protect against terrorist attacks and understand modern day risks. The event will enable over 9,500 buyers and suppliers from the entire security sector to connect within counter terrorism, law enforcement and corporate security and is a fantastic platform for CMCA(UK) to present its V-Guard security system before its official launch later this quarter.

CMCA(UK) Optimise Internal Workforce

Following the decision by CMCA(UK) to venture into manufacturing with the development of our

V-Guard

under vehicle inspection system, and in recognition of the continued growth achieved following the award of National and International contracts.

CMCA(UK) has undergone some restructuring to ensure that plans and resources are optimised to meet the business outputs. Further details on the revised team roles and responsibilities can be found on our website.

Our objective is to be recognised in the UK and internationally as the leading provider of innovative, effective and cost-efficient Equipment Support solutions including Materiel Management and Cataloguing, NATO Codification, Materiel Procurement, Obsolescence Management and Specialist Materiel Storage. The emphasis is very much on growth and strength.

CMCA(UK) launched the Apprenticeship Scheme in 2014 to invest and develop in future employees, through recruiting young people with the aim of adding value to the business whilst supporting the local economy. The apprenticeship scheme at CMCA(UK) is about picking up a range of new skills and gaining experience that you wouldn't be able to get anywhere else.

We're pleased to report the scheme has been a success and as our first apprentice Oliver is embarking on his final few weeks of training he looks back on the past 18 months with us.

CMCA(UK) were tasked by a customer to develop a metallography laboratory to cover the grinding and polishing of test samples prior to being analysed using a scanning electron microscope. The purpose of this is to characterise the materials making up electronic components, with the focus on semi-conductors in critical applications. Establishing a database of baseline measurements of the materials allows potential changes, if any, to be predicted over time, which is critical for long term storage of obsolete components.

As a result of increased volume of work involving the support of our customers Inter-Metallic Compound (IMC) testing programme, CMCA(UK) identified the need to further increase our capability in this area with additional staff resource.