If you have problems in displaying this email correctly then please view the online archive where you will find this edition along with previous newsletters - ONLINE EMAIL ARCHIVE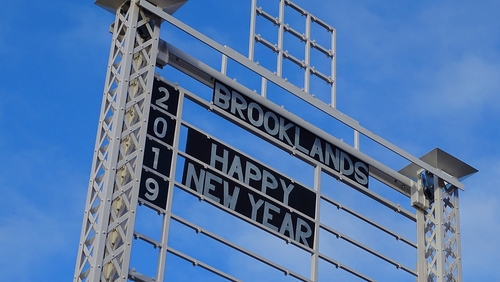 It may be a little late to wish you this sentiment as we are already rushing headlong into February but it is worth reflecting on the fantastic New Year's Day event which launched 2019 in stunning fashion. 8000 visitors and over 1500 vehicles made Brooklands the most popular classic place to be in the country on New Year's Day and the huge number of new Memberships reflected that as well. We also reflected on 2018 and in the end of year round-up counted nearly 40 BTM events ranging from some great talks at home to European road trips. 2019 is looking equally as good and you can see the burgeoning list of BTM events below - that, of course, is in addition to the great range of events hosted by the Museum itself - Mini Aces, Science Clubs, Writing Workshops, Photography Courses through to major events such as Auto Italia and the Double Twelve. This year there are some variations and we are particularly looking forward to the Vintage Festival in May, British Marques Day in April and Brooklands Relived in August.
The BTM kicked the year off with a unique event celebrating the McLaren MP4/4 and are now looking forward to our family event on 24th February when the History Tellers visit Brooklands with tales of the Dambusters and Motor Racing Spies. We also ventured into the world of comedy for the first time at Brooklands by linking up with the Gag House Comedy Club and it really was a sold-out and hilarious evening. The Shaky Byrne and Steve Parrish motorcycle event on Valentine's Day is completely sold out so we can expect another great evening there as well.
For Club Level members and their guests there is a great new Sunday carvery lunch starting on 24th February. . This is a highly recommended lunch in the Blue Bird room and you can see some pictures below of the "trial run" last year. Ideal for family and friends.
All in all it is looking like another brilliant year to enjoy your Brooklands membership to the full.
COMING UP WITH THE BTM.....
We are looking forward to our first Family Event of 2019 on February 24th. The History Tellers will be with us in the Napier Room to perform two fun and informative plays with Brooklands connections. Firstly they will be looking at Barnes Wallis and the Dambusters which takes place in the very building that Barnes Wallis actually worked. Secondly they will be telling the stories of Motor Racing Spies, many of whom raced at Brooklands before getting involved with wartime espionage. This will be ideal for young families and most suitable for those over 7 yrs of age - book now and bring your youngsters' friends as well!

Unfortunately the Connaught cars event on 9th May has been cancelled but luckily Roger Farmer has stepped into the breach and will give a fascinating talk about the adventures of motor racer Betty Haig.

We can announce some new events taking place in the summer - a visit to Nigel Webb's private Museum about Mike Hawthorn (as seen recently in Classic Car Weekly); a trip on a Steam Train from Bodiam to Tenterden in Kent plus visits to two museums - "Steam, Museums & Morgans". A self-drive weekend "rally" in the Cotswolds at the Wyck Hill House Hotel with tours taking in history and technology.

There is a talk on a new Water Speed Record attempt - Quicksilver, and a talk on Bugattis from the Bugatti Trust plus a look back at The Italian Job fifty years on, where we hope to welcome a special guest. Just click on the links below for more information about all of these. We are also welcoming motorcycling legend Phil Read MBE to the Brooklands stage in the Spring so keep an eye out on our website for a confirmed date for that in March or April - it's bound to be another sell-out event.
THE HISTORY TELLERS/ MOTOR ACES

See Barnes Wallis & the Dambusters as you've never seen them before in this 30 minute play aimed at the 7s and over.

Our team of history tellers will also be looking at the role of Motor Racing Spies during the war, many of whom raced at Brooklands.

This event takes place at the location that much of the action happened - Brooklands of course!.

Don't miss out - come and join in the fun in this great event for families.
BATTLE OF BRITAIN BUNKER

COACH TRIP

SOLD OUT

MOTORCYCLE LEGENDS: SHANE "SHAKEY"BYRNE

BATTLE OF BRITAIN & OPERATION SEA LION

FAMILY EVENT: THE HISTORY TELLERS

BRITISH TOURING CAR CHAMPIONSHIP

CASTLE COMBE TRACK DAY: CARS

BETTY HAIG: A LIFE BEHIND THE WHEEL

(replaces the Connaught Cars story)

THE SELF PRESERVATION SOCIETY

1969 - MAN ON THE MOON & MORE

SOLENT SPITFIRES & STEAMSHIPS

COTSWOLDS WEEKEND
COMING UP IN FEBRUARY AT THE MUSEUM.......
CLASSIC BREAKFAST

The usual wintry mix of classic cars and bikes and warming English Breakfast
A workshop for girls aged 8-14yrs making a "drawdio" pen

A workshop for children aged 8 -14yrs making electronic dice

The last Torchlight Tour of the Winter season

For the under 5s - craft, stories, dance, song

KIDS HALF TERM ACTIVITIES

18th -21st February

Children's activities including kids tours of Concorde, caar rides and a Wellington Workshop

SHARP SHOTS PHOTOGRAPHY COURSE

Two photography courses for children aged 7-11yrs and 12-15yrs

Royal Aeronautical Society Lectures

How to engineer a low cost spacecraft including SSTL'd story so far and future missions

WRITING MEMOIR & FICTION WORKSHOPS

February 26th - THE SHORT STORY

March 26th - POLISHING TO PERFECTION

Click here for the Museum

Brooklands was at the heart of the deveopment and manufacture of Concorde. 2019 marks the 50th Anniversary of the maiden flights of Concorde in both France and Britain. The Museum will be marking both of these dates with special Concorde events - a Golden Jubilee celebration on 2nd March featuring a two-course lunch, presentations from Concorde crew and more plus a Golden Jubilee Gala Dinner on 9th April. For more information and how to book please click below:-
NEW YEAR'S DAY

Records were tumbling at the beginning of the year with around 8000 visitors descending on Brooklands to take part in or simply to savour the atmosphere as 1500 classics filled the Museum to the brim. Surrounding roads were busy as people tried to get to the popular event and car parks soon filled up and at one point the gate for classics entering had to be closed for a short while as there simply was no more space to squeeze any more in!. With such a large gathering there was a huge array of disparate machinery to view including a new "moderns and sports car" section in the adjacent Heights car park. The Paddock area concentrated on pre-war, behind the Clubhouse were scores of motorbikes, clubs camped out on the Finishing Straight and the rest of the site hosted every make of classic you might care to think of.
DRIVING TESTS

It was a cold day when the VSCC came to brooklands for their annual Winter Driving Tests. A strong field of around 70 cars took part skidding around the cones laid out in various configurations around the Museum. The slightly damp surface taxed the entrants but made for some great spectating.
| | |
| --- | --- |
| The McLaren MP4/4 is frequently considered the best F1 car ever made. The story behind that and the 1988 F1 season where it completely dominated with Ayrton Senna and Alain Prost at the wheel was a golden time in F1 and McLaren history. Our panel for this evening were right at the heart of it all in design, engineering and publicity. Steve Nichols, Matthew Jeffreys and Richard West were interviewed by Simon Taylor in a fascinating evening of F1 history full of personal stories about the car and its iconic drivers Senna and Prost. | Simon Taylor, Steve Nichols, Matthew Jeffreys & Richard West |
| There were a good number of McLaren employees in the audience and we got them together for this picture at the end of the evening. | Steve Clarke hands Richard West a piece of Brooklands Track |
From the BTM Office.......

We weathered 2018 pretty well with only a tiny drop in Membership levels over the course of the year and that has now been counteracted by a really good start to the year. The New Year's Day event saw 71 new memberships taken, mainly by our very busy Outreach team in The Paddock. That was an exceptional number and the best NYD recruitment ever and just nudging the best single day's recruitment at Emergency Services Day in 2016. A huge welcome to all the new Members and we hope you enjoy your time with the BTM. We'll be drawing some conclusions form the Christmas Membership survey this month and will be sharing some of the results with you in the Bulletin so keep an eye out for that. It's only the second time in ten years that we have conducted a survey of Members so it should be interesting to see what you think about Brooklands and the BTM.

BTM.tv

It's been a quiet period for BTM.tv over the festive season but we have produced the Morris Minor and Frazer -ash BMW videos which are on Vimeo and You Tube. We also filmed the McLaren MP4/4 event which is available to view and listen to as a podcast on Soundcloud should you wish. We have some exciting projects in the pipeline including a documentary looking back at Brooklands motorcycle events in addition to the normal event recordings and Spinning Wheels programmes.

Mike Dawes with his Frazer Nash BMW in a Spinning Wheels episode

SPINNING WHEELS

We now have 11 programmes recorded focussing on owners and their vehicles plus several "vox pop" interviews with owners at Brooklands events. Now we would like to record some more for 2019 so if you would like to be involved with your own classic, vintage or modified vehicle then please get in touch. The aim is to show the wide range of interests that our members have from motorbikes to rat rods and everything in between.

Contact Tim in the BTM office if you would like to be featured at
SUNDAY CARVERY

New!

Brooklands Sunday Carvery Lunch

Dining in the beautiful Bluebird Room with table reservations available.

For Club Level members and their Guests

3 Courses Children under 16yrs £13.30

Our chefs ready to carve

A large selection of sweets
Larger Groups

If you wish to bring a larger group of seven or more people for lunch in the Members' Bar please let Hospitaltiy know by email or phone so that a suitable table can be reserved for you.

email hospitality@brooklandsmuseum.com or 01932 858005

Piano Bar

Chris Bass has been playing piano in the Members' Bar during 2018 and entertaining diners with a range of popular melodies. He will be back in 2019 and we are pleased to welcome him back on:-

Please note that the February 22nd date has been cancelled

Club Level Parking for February

Normal parking is in the main Museum car park behind MBW during the week and on the Museum site at weekends unless there is an event on as below. Parking will then be in the appropriate bays near the Museum side entrance in The Heights off Wellington Way. Please follow event signage and the directions of any Marshals on event days and busier times.

17th Feb - Classic Breakfast - On site but as directed.
| | |
| --- | --- |
| Brooklands Museum is delighted to announce the arrival of the Hawker Siddeley Hawk G-HAWK/ZA101 which has been gifted by BAE Systems plc. Delivered by road from Samlesbury, Lancashire, on Wednesday 23 January 2019, it will go on permanent display at the Museum after reassembly in the next few weeks. It can currently be found in the Vimy Pavillion. | |
| | |
MEMBER ONLY MUGS!

First batch of mugs nearly sold out!!

These lovely blue and green mugs have fluffy clouds drifting across them with Concorde and the Napier-Railton zooming across land and sky. It's the BTM logo of course and would look really good hanging on your mug tree.

You can buy them now for £6 plus VAT and p&p on our online shop or call into the BTM office during the week.

Several members have been asking about the Bulletin Binders as they fill up their current ones.

We have ordered a small quantity for those that may like them.

T

here are plans for the Bulletin to change to a larger format in the future and we will be ordering new binders in the new size when that happens.

Phone the BTM Office to order 01932 857381 ext 226

BEANIES

Now the cold weather is with us you might need to warm your ears and we have the ideal item - BTM beanie hats! They come in black, blue & green and we have several in stock at the moment. There is also a new bright red baseball cap available along with the blue, black & green ones.

Avaialble online or from 01932 857381 ext 226

Why not check out our full clothing range here:-
01932 857381 ext 226 Monday to Friday
timmorris@brooklandsmuseum.com
Newslettter created and written by Tim Morris
All uncredited photos copyright Tim Morris / Brooklands Museum unless otherwise stated.
Credited photos copyright respective photographers.