The Pure Water Occasional for April 28, 2014
In this late April Occasional, you'll hear about Erin Brockovich, Pluspetrol, hexavalent chromium, Donana National Park, and Duckweed. Oil spills in the Amazon, the mysterious quacking noise in the Southern Ocean, Shreveport's dam dilemma, and the bad water problem in Santa Anna County. As usual, the devastating drought in California, cancer in Vietnam, and burning water in Texas. You'll hear about the rape of Picher, Oklahoma, fracking in Denton, Texas, the growing use of sewage as fertilizer, and how the Red Cross purifies water in Uganda. You'll learn why sticking with the ordinary is an advantage when you buy a water filter, and, as always, there is much, much more.
The Pure Water Occasional is a project of Pure Water Products and the Pure Water Gazette.
To read this issue on the Pure Water Gazette's website, please go here.
Water agencies should invest in cancer prevention
Editor's Note: The piece below throws light not only on the important issue of Chromium 6 but also addresses the dilemma faced by water suppliers around the world who must deal with public demand for safe but inexpensive water.--Hardly Waite.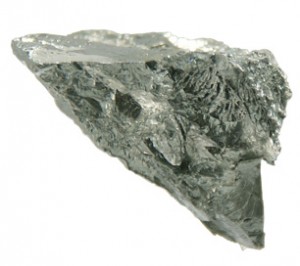 Chromium
Treatment of drinking water to comply with the new standard for hexavalent chromium proposed by the California Department of Public Health could more than double water rates in the Coachella Valley.
In the long run, if it prevents higher rates of cancer, it would be worth it. The proposed standard of 10 parts per billion (ppb) is the first state limit on hexavalent chromium in the nation.
Hexavalent chromium, also known as chromium-6, is a carcinogen. The 2000 movie "Erin Brockovich" focused attention on the toxic heavy metal that tainted the water through industrial pollution in the Mojave Desert town of Hinkley. But in parts of the Coachella Valley, chromium-6 seeps into our aquifer naturally as serpentine rock along the San Andreas Fault erodes.
Local water officials say 100 wells in the valley exceed the new standard. Every well in Indio and Coachella and about half of the Coachella Valley Water District wells exceed the standard. In Desert Hot Springs, three of the Mission Springs Water District wells exceed it. The Desert Water Agency appears to be unaffected. More than 100 water systems in the state will need to upgrade water treatment.
CVWD officials estimate the cost of building treatment plants could reach $500 million. It will be the largest public works project in the valley's history, according to Steve Bigley, CVWD's director of environmental services. Leaders vow to keep costs as low as possible, but it is expected to add between $7 and $50 to monthly water bills. The average monthly bill is now $35.
Where to set the standard
State officials have been debating the chromium-6 maximum containment level for years. The year after "Erin Brockovich" came out, the California Legislature enacted a law requiring the standard be set by Jan. 1, 2004. The debate continued far beyond that deadline until, in 2012, a judge ordered the state to set a new standard by August.
Standards have long been established for total chromium-3, which is good for you, and chromium-6, which is not. The U.S. Environmental Protection Agency standard is 100 ppb and California's current standard is 50 ppb. In 2011 the Office of Environmental Health Hazard Assessment established a "public health goal" of 0.02 ppb specifically for chromium-6. The standard of 10 ppb is 500 times greater than that goal. The level of 10 ppb is roughly 10 drops in a 10,000-gallon pool.
Brockovich, the former legal clerk whose crusade against Pacific Gas & Electric led to a $333 million settlement in the 1990s, expressed dismay that the state didn't set the limit at 0.02 ppb. Other environmental groups agree.
State Public Health Director Ron Chapman issued a statement saying, "The drinking water standard for hexavalent chromium of 10 parts per billion will protect public health while taking into consideration economic and technical feasibility as required by law."
Does it cause cancer?
In a meeting with The Desert Sun editorial board last year, local water officials pointed out that Coachella Valley residents have been drinking the water for a century and there has been no evidence of higher cancer rates. Higher rates weren't found in Hinkley, either.
However, in 2008 the National Toxicology Program concluded there was clear evidence that chromium-6 caused cancer in lab rats. A toxicology review by the EPA concluded that chromium-6 in drinking water is "likely to be carcinogenic to humans." It is listed as one of 800 suspected cancer-causing chemicals in California's Safe Drinking Water and Toxic Enforcement Act of 1986.
A report by the World Health Organization released in February estimated that cancer rates would surge 57 percent over the next two decades. Steps to slow that rise make sense.
Give us time and work together
The Office of Administrative Law has 30 days to approve the standard. Once approved, it will take effect on July 1. The state needs to give the water districts enough time to design and build the treatment plants.
Fortunately, CVWD is already using ion-exchange technology in a plant to remove arsenic near Mecca. That process also removes chromium. And the district is conducting two federally funded research projects to test new technologies.
All the Coachella Valley water agencies should work together to meet this challenge and protect the health of our residents.
More about Chromium 6 from Pure Water Products.
Source: The Desert Sun.
Pure Water Gazette Fair Use Statement
Indigenous protesters occupy Peru's biggest Amazon oil field
Water News for the Week of April 28
At last, the cause of the bizarre quacking noise in the Southern Ocean around Antarctica has been solved.
Health effects from West Virginia chemical spill underestimated. The West Virginia water contamination that resulted from a chemical spill in the Elk River had more widespread health effects on local residents than previously estimated.
Louisiana presses Shreveport to test Cross Lake gates . As dams age, they can become a financial liability and a public health threat. Cross Lake is pictured above.
Water pollution causes cancer villages in Vietnam. Officials have admitted that water pollution in Vietnam has gotten out of its control, creating serious repercussions for both individuals and communities. It is estimated that 9,000 Vietnamese die every year because of unsafe water and unhygienic conditions.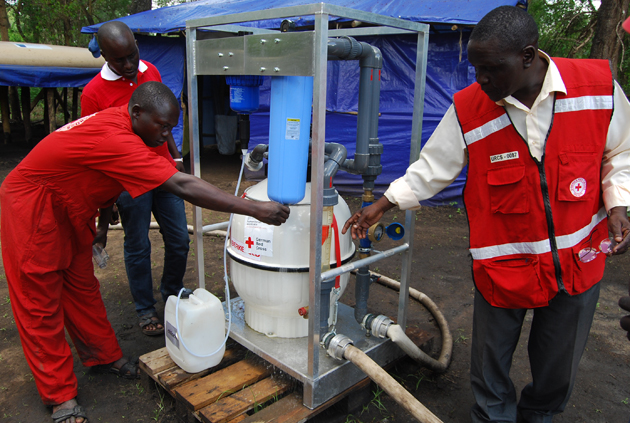 Red Cross Water Treatment Plant
With mini water treatment plants installed, thousands of South Sudanese refugees in Rhino, Nyumanzi, Ayilo and Mungula camps in the West Nile districts of Arua and Adjumani now have some relief in sight.
The Uganda Red Cross Society (URCS), a fortnight ago installed four mini water treatment plants in the respective camps, which provide up to 80,000 litres of clean water daily to the refugees. In the camp, refugees have individual accounts of how the water treatment plants have turned around their lives.
"We used to line up for three hours at the borehole to draw water but now it takes less than an hour and my children report to school in time," said Magdalena Gaba, a mother of four living with her family in Rhino camp. Gaba was speaking to journalists during a tour of the camp on April 8. Read the rest.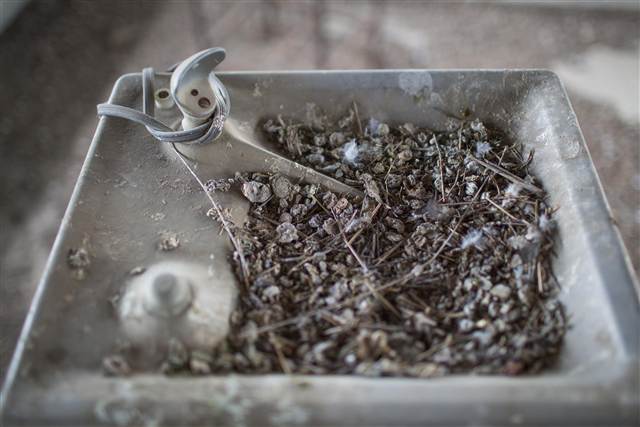 This abandoned drinking fountain hints of the condition of things in general in Picher, Oklahoma today.
Last residents of Picher, Oklahoma won't give up the ghost (town). Thirty years and hundreds of millions of dollars since work began to clean up this former lead and zinc mining boomtown, progress is still being measured in inches or feet. The site is part of the 'Tri-State Mining District,' which covers 2,500 square miles in Oklahoma, Kansas and Missouri. This is a familiar case of a mining company that exploited the land and moved on to leave the government to foot the bill for the cleanup.
Reports knocks Santa Cruz County water quality. A new state report detailing neighborhood-level pollution problems across California paints a grim picture when it comes to local water quality.
Use of sewage as farm fertilizer causing a stir in Box Elder County. One man's land application of bio-solids to boost pasture yield is another man's spreading of sewage sludge too close to the neighbors. A small group of determined opponents of the practice appear ready to fight on despite another round of government assurances of no danger.
In California drought, big money, many actors, little oversight. In the middle of one of the worst droughts in California's history, no one knows exactly how many agencies supply the state with water.
Monterey County schools near high levels of pesticides, state report says. Monterey County has the highest percentage of schools near the uppermost concentration of potentially harmful pesticides in the state, according to a state report released Friday.
Spain's wetlands wonder is under threat for a second time in 16 years. Doñana National Park, a haven filled with rare birds and wildlife survived a toxic flood. Now, tourism, an oil pipeline, demand for water and the return of mining have left it on a knife edge.
Texas: When fracking comes to town. In northern Texas, where many people earn a living in the energy industry, those who live closest to one of the Barnett's 18,000-plus active gas wells say the promise of natural gas as a cleaner alternative to coal and oil is overshadowed by the day-to-day reality of living with noisy drilling, foil air and fears for their health. Local readers will see some Denton places and faces in this excellent AlJazeera America study of fracking in our area.
Manure spraying under scrutiny. Scott Murray did not want to leave the home in rural Juneau County where he and his family had lived for more than 20 years. But with the house surrounded on three sides by manure irrigation systems, life had become a nightmare.
Who pays to clean up Delaware's industrial pollution? The Delaware City Refinery has offered new hope and jobs for a state that has limped out of an economic downturn. But it has come at a cost, as refinery owner PBF Energy continues to face violation notices and pressure over its outdated wastewater permit and problems with its treatment plant.
Drought covers 100% of California for first time in 15 years. A prolonged period of below-average rainfall has put the entire state of California under some level of drought, ranging in severity from moderate to exceptional, for the first time in 15 years.
Flaming water: Texas homeowner takes on a gas company. Steve Lipsky, an entrepreneur and businessman, lives to the west of Fort Worth in a sprawling Mediterranean-style dream house. Since he found methane contaminating his water well, he has waged a legal battle against the gas company Range Resources.
Company suspected of dumping radioactive waste in Montana ordered to stop. A Louisiana trucking company believed to have illegally dumped radioactive waste in an Eastern Montana landfill for nearly two years has been ordered to stop by state officials.
Duckweed is cleaning up ponds, lagoons. Duckweed is the subject of an experiment at the N.C. Museum of Natural Sciences that shows how the plant virtually eliminates pollution by removing nitrogen and phosphates from water.
The Advantages of Being Ordinary: Why Standard Sized Water Filters Are Best
Things get to be standard for a reason. -- Latvian Proverb.
If you own one of the many popular drinking water systems that use uniquely sized replacement filters--Aquasana, Brita, Multi-Pure, and Pur, for example--the total number of replacement cartridges you have to choose from are one.
That's because the manufacturer has made the filter so that it will accept only one cartridge size--the size that the manufacturer alone makes. This practice is known in the industry as proprietary sizing. The purpose is to assure the maker that you can buy only his cartridges. It also relieves the maker of the need to provide variety. One-size-only normally also means one-style-only. Whether your water is disinfected with chloramines, chlorine, or nothing at all, you get the same filter cartridge. If your water has lead or no lead, fluoride or no fluoride, it's the same cartridge.
If, on the other hand, you own a drinking water system that uses a standard 9.75" X 2.5" filter cartridge, you can choose from literally scores of different cartridge styles, and you can even buy a cartridge from a manufacturer other than the one who made the filtration system. This size, which we call Size 1 for convenience, is the most commonly made filter size. Almost anyone who makes water filters makes some cartridges in this size.
The standard-sized undersink filter above accepts three standard-sized cartridges. This arrangement offers both volume and variety. Standard-sized cartridges are sold in a competitive environment, which promotes both quality and economy.
Below are some examples of standard-sized cartridges that will fit all standard-sized filtration units, countertop filters, undersink filters, reverse osmosis units, add-on filters, and even garden hose filters.
For an idea of the cartridge choices you get when you stick with a standard size, take a look at the cartridge offerings in 9.75 X 2.5 on Pure Water Products' main website:
Standard cartridges come in two general styles--radial and axial. These can be interchanged. In other words, if you purchase a water filter with a standard sized axial cartridge, you can replace it with a radial cartridge. The pictures below will explain.
The standard filter shown above is a "radial style" cartridge. This means that water to be filtered passes through the outside wall of the filter cartridge and works its way into the core. The cartridge, therefore, has a very large filtering surface.
There are also many "axial style" cartridges that fit in standard housings as well. These interchange with radial filters and no modification of the housing is needed. Axials work differently. Rather than flowing through the side of the cartridge to the center, with axials water enters one end of the cartridge and flows the entire length of the cartridge to exit the other end. Cartridges of this type are often called "media" cartridges, since they use granular filter media. Most specialty cartridges (fluoride, nitrates, arsenic, etc.) fall in this category. Granular carbon cartridges as well are almost always axials.
We stock axial media cartridges for reduction of lead, fluoride, iron, chlorine/chloramines, hydrogen sulfide, nitrates, and arsenic, as well as cartridges to deionize water (remove all "TDS"), increase pH, soften, and prevent scale by sequestration.
We also stock sediment reduction cartridges in this size from 20 microns down to 0.35 microns and in all three popular sediment styles--wound string, spun poly, and pleated poly.
Our regular cartridge menu provides details about all our cartridges, in all sizes. The Size 1 offerings described above are here. And if you know the part number of the cartridge you're ordering, we now have a very compact listing of cartridges that makes ordering online fast and easy.
Above is the latest addition to our standard-sized carbon block selection. We've added two new Filtrex coconut shell carbons. Above is the ChloraGuard model, a coconut shell catalytic carbon block filter for chlorine, chloramine, and general chemical reduction. See details on our page and on the manufacturer's spec sheet.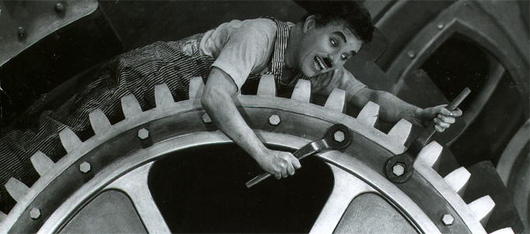 Please visit our RO Parts Page for tanks and accessories.
Thank you for reading. Please come back next week.
Places to Visit on Our Websites in the meantime.
Garden Hose Filters. Don't be the last on your block to own one.
Model 77: "The World's Greatest $77 Water Filter"
"Sprite Shower Filters: You'll Sing Better!"
An Alphabetical Index to Water Treatment Products
Our famous whole house Chloramine Catcher
Pure Water Occasional Archive: Sept. 2009-April 2013.
Pure Water Occasional Archive: April 2013 to present.
Write to the Gazette or the Occasional: pwp@purewaterproducts.com
Please Visit
The Pure Water Gazette – now in an easier to navigate format.