*BIG ELECTRIC GROOVEYARD LABOR DAY + BACK TO SCHOOL DISC SALE*
As our way of saying a million Thanks to our good musical brothers and sisters
worldwide, we are offering a special "BIG ELECTRIC GROOVEYARD LABOR DAY
+ BACK TO SCHOOL DISC SALE " of 10 discs for $100 (USD) for a limited time only.
(Includes FREE shipping - All non-US orders will ship Air Mail

without

the jewel cases)

This "Sweet Deal" applies to any 10 discs of your choice from the Grooveyard Records
site and also applies to DOUBLE DISCS + DVD's. You can order several copies of each
disc if you want. Limited to items currently in stock only - no backorders.

This offer is available starting today (9.4) and expires Weds. (9.6.12).
You can easily place your order through our site (See Link/Info Below).
(When you place your order, please use the DISC CODES).
As an added BONUS with this killer deal we will be including a (((FREEBIE))) copy of our

way-kool GROOVEYARD RECORDS: "Best Of" (Vol. 1) (The Sound Of Guitar Rock) disc.

If you "missed the boat" on any of our killer heavy guitar discs, now is the time
to tune in. Our discs make perfect musical gifts for yourself and for your loved
ones who heavily dig and know what time of day it is when it comes down to REAL
guitar music. These discs are CHEAPER than MP3 downloads, so treat yourself
to the best guitar music out there in Guitar Land direct from the Grooveyard.

DIG DEEP & SMELL THE KILLER GUITAR ROCK MOJO
WITH GROOVEYARD RECORDS.


Click the (((BIG ELECTRIC GROOVEYARD LABOR DAY + BACK TO SCHOOL DISC SALE )))
link below or check out the main page on our site to take advantage of this Special Deal.
Feel free to order more than one 10 pack "Sweet Deal" to take advantage
of this AWESOME offer/deal available from the Grooveyard.

(((BIG ELECTRIC GROOVEYARD LABOR DAY + BACK TO SCHOOL DISC SALE)))
Use your PayPal account or Credit Card to place an online order.
If you want to place an order through mailorder
or if you have any questions - contact us at:
grooveyard@juno.com
***********************************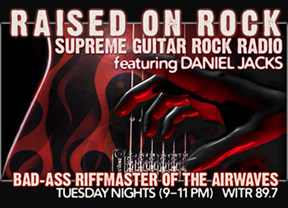 (((

GROOVEYARD RECORDS @ RAISED ON ROCK - INTERNET RADIO GIG - 9.4.12

)))
In association with our "good musical brother" Daniel Jacks @ ::RAISED ON ROCK::,
the Grooveyard is hosting an online internet radio gig featuring killer Guitar Rock
tracks/riffage
from our Awesome new Grooveyard Records discs TOMORROW Night
(9.4.12) @ 9 PM to 11 PM (EST). You can stream this show online. (*See Below).
We will be jammin' six string hard and spinnin' bad-ass, killer tracks/riffage from


the

outstanding new Grooveyard Records discs featuring STONE MACHINE,
PETER MARTINSSON GROUP, etc. with an emphasis on the hard & heavy guitar
rock side of Grooveyard Records that will rock your good six string jam:house.
Plus we will be doing a GROOVEYARD FREEBIE Disc giveaway or two so make sure
to tune in and smell the serious guitar rock riffage. (((FREEBIES RULE)))!!!



We'll crank up the bad-ass, killer bluesy heavy guitar jams to Eleven so turn up

the


volume and dust off your air guitars 'cuz it's time to Rip it Hard with the Grooveyard




@ the Riffage that matters!!! Tear yourself away from Facebook & Youtube

for
5 minutes and Rock Guitar Heavy with the Grooveyard and Raised On Rock!!!
Make no mistake, Guitar Rock is our Religion. Thanks a million heavy guitar riffs
for showing the Grooveyard & Raised On Rock your # one good LUV & SUPPORT!!!



*To be part of this monumental Guitar Rock "musical event", tune in @

http://witr.rit.edu/
or click the RAISED ON ROCK poster (below) for a direct link to the radio station/gig
to stream this killer heavy guitar gig on your computer @ real time. Feel free to
give us a phone call at the studio hotline during the gig @ 585.475.2271
Don't be shy, give us a (((BUZZ))) with your (((FEEDBACK))).
The grOOveDaWg & Daniel Jacks would dig hearin' from ya!!!

If you love serious blues-based heavy guitar rock, do yourself a big favor
and

make sure to tune in and jam with the grOOveDaWg & Daniel Jacks.




Courtesy of (((Raised On Rock))) radio @ WITR 89.7 FM.





***PREPARE TO ROCK GUITAR HEAVY***
Raised On Rock is an awesome internet radio show dedicated to premium


lead guitar dominated heavy rock music. This killer radio gig is the brain-child
of

Daniel Jacks and the man

is a true RIFFMASTER OF THE AIRWAVES!!!



If you dig bad-ass, serious Heavy Guitar Rock,

make sure to

tune your computer


to Raised On Rock every Tuesday nite from 9:00 p.m. to 11 p.m. (EST)


to stream in plus get a solid dose of bad-ass, serious heavy guitar rock riffage.
Big, Electric Daniel Jacks is all about the rock and delivers the heavy guitar "goods"
every Tuesday nite on the "mighty" Raised On Rock. Be good to your "earHOLE"
and tune in & jam with Daniel Jacks on a weekly basis to Rock with the Best.

For more info on RAISED ON ROCK radio, tune into the link above.

(((Grooveyard Records is a Proud Sponsor of Raised On Rock)))

**************************************************
WE HAVE RECENTLY UNLEASHED (((GROOVEYARD RADIO)))
TO THE WORLDWIDE HEAVY GUITAR MASSES VIA THE INTERNET.
YOU CAN HEAR TONS OF KILLER BBB JAMS + RIFFAGE @ GROOVEYARD RADIO.
PLUS WE HAVE ALSO RECENTLY ADDED KILLER NEW TRACKS TO THE PLAYLIST.
THANKS A MILLIION TIMES OVER FOR TUNING IN AND SHOWING US
YOUR EXCELLENT LUV & SUPPORT @ KEEPING THE ROCK ALIVE!
TUNE IN AND JAM GUITAR HEAVY WITH US @
************************************
***FOR THOSE ABOUT TO ROCK...WE SALUTE YOU***

::REAL GUITAR ROCK LIVES @ THE GROOVEYARD::
::RAISED ON ROCK KICKS HEAVY GUITAR ASS::
::GROOVEYARD RADIO & RAISED ON ROCK::
::JAM GUITAR HEAVY @ THE INTERNET::

(((KEEP THE ROCK ALIVE)))

YOU ARE RECEIVING THIS E-MAIL BECAUSE YOU ARE A SERIOUS HEAVY GUITAR FREAK
AND YOU KNOW WHAT TIME OF DAY IT IS WHEN IT COMES DOWN TO "REAL" GUITAR MUSIC
IF YOU DO NOT WISH TO RECEIVE THE GROOVEYARD E-MAIL NEWSLETTER
LET US KNOW AND WE WILL TAKE YOU OFF OUR MAILING LIST
THE GROOVEYARD RESPECTS YOUR PRIVACY
BE KOOL AND RIP IT HARD