Greetings & Blessings to all,
Welcome to our April/ May edition. We hope it finds you and yours on the pig's back, as fit as a fiddle and happy as a lark. If this is your first issue, many thanks for joining us - and please feel free to share our musings and meanderings with your family and friends.
Meanwhile...
This time last year, Herself had health issues and the past several weeks have been a repeat of the same - with different symptoms. Getting old is not for sissies! All is well at the moment, but we can do without visits to the ER! There's been a barrage of tests to try and determine what's going on but thus far we still don't have a definitive answer. Please say a prayer that whatever it is, it's easy to treat and cure!
ONWARDS
HAPPY FIRST DAY OF THE CELTIC SUMMER
A repeat of our mini essay from last year: Did you roll naked in the May morning dew. Deliver surprise May baskets to the neighbours? Eat Nettle Soup to keep away the rheumatics? Place primroses across your threshold to protect the house from the antics of "the good people?" You didn't? God willing, you survive all of the Mayhem! Also, pinch punch, first day of the month, White Rabbit. Where this odd phrase comes from, Herself doesn't know, except that her mother always said it and naturally, her children just had to put the words into action. We're sure it's said for good luck, but if you have a different explanation, we'd love to hear it.
HAPPY MOTHER'S DAY
While Mothering Sunday has come and gone in Ireland & the UK, most countries will be celebrating her special day on May 10. So...to all the moms, mums, mams, mammies, maters and mothers:
Lá an Mháthair faoi shona dhuit
Pronunciation: law ay-leh on waw-hirr fwee hun-ah gwitch
ANNUAL FUND RAISER AND DRAWING
A pastor got up one Sunday to preach and announced to his congregation: "I have good news and bad news. The good news is, we have enough money to pay for our new building program." The pastor continued, "The bad news is, it's still out there in your pockets.
"
That intro kind of sums up the results of this year's fund drive. We did get some very nice donations, but overall, the number of contributions were way down compared to previous years. What's worrisome is that many familiar names are missing from the list which makes us wonder if all is well. We pray that it is and perhaps our request was overlooked somehow. In any event, go raibh maith agat to all of you who did help us out. And by now the lucky winners of our drawing should have received their book or CD.
Have you visited our Irish Culture & Customs FaceBook page yet? Each morning, we try to find something Irish of interest, so we hope you'll stop by for a visit soon - and give us a "Like" too.
http://www.facebook.com/pages/Irish-Culture-and-Customs/327211532200?fref=ts
Enough of the blather, on with the update!
IN THIS ISSUE
LINKS
QUOTE
BIT OF THE WIT
JOKE
DID YOU KNOW
RIDDLE
THE WEEK THAT IS
LEAVE THEM LAUGHING
SPONSOR: Please visit our good friends, Lollysmith
Mother's Day is right around the corner - And right after that are First Communions, Graduations, Weddings and more. Find the perfect gift for every occasion at Lollysmith! Anne Jacobs from California says: "LollySmith is my favorite place to shop online. Every order has come in a timely manner. I love the selection and the quality is excellent. I will continue to shop at LollySmith and recommend this store to my friends." See what Anne is talking about here: http://www.lollysmith.com/
LINKS:
An Irish Mother
https://www.youtube.com/watch?v=N5z4ghZmkoI
A mother's love is a blessing
https://www.youtube.com/watch?v=_4R7E4mNX5E
What Irish Mothers Say
https://www.youtube.com/watch?v=m-kvto8XYNU
Gentle Mother
https://www.youtube.com/watch?v=BWj4oN-mi84
A grand collection of Irish Mammy features
http://thedailyedge.thejournal.ie/irish-mammies/news/
In pictures: Bluebells carpeting Northern Ireland
These photos were taken in 2012 - but the same magical carpets of blue can be seen every year from April through June
http://www.bbc.com/news/uk-northern-ireland-18251402!
ED. NOTE: Did you know that woodlands in the UK and Ireland are said to be home to between 30 and 50% of the world's population of the common bluebell? We didn't either!
QUOTE
"All women become like their mothers. That is their tragedy. No man does. That is his."
Oscar Wilde, The Importance of Being Earnest, 1895
A BIT OF THE WIT
Herself's Dublin born mother would say to a dawdling Bridget on a Sunday morning
"You'll be so late going to Mass you'll meet yerself coming back"
JOKE
Three sons left home, went out on their own and prospered. Getting back together, they discussed the gifts they were able to give their elderly mother. The first said, "I built a big house for our mother. "The second said," I sent her a BMW with a driver." The third smiled and said, "I've got you, both beat. You know how Mom enjoys the Bible, and you know she can't see very well. I sent her a parrot that can recite the entire Bible. It took 20 monks in an Irish monastery 12 years to teach him. I had to pledge to contribute $100,000.00 a year for 10 years, but it was worth it. Mom just has to name the chapter and verse, and the parrot will recite it."
Soon thereafter, Mom sent out her letters of thanks: " "Seamus," she wrote the first son, "the house you built is so huge. I live in only one room, but I have to clean the whole house." "Sean," she wrote to another, "I am too old to travel. I stay home all the time, so I never use the BMW. And the driver is so rude!" "Dearest Donal," she wrote to her third son, "You were the only son to have the good sense to know what your mother likes. That chicken was delicious."
SPONSOR: Please visit our good friends at the Irish Lottery
In operation since 1988, it's one of the oldest online sites in the world. With subscribers in 89 countries it is also among the most reliable. Jackpots are never lower than US $1,500,000 and are frequently worth in excess of US$5,000,000 Here's the best part - you don't have to live in Ireland to play and all winnings are Tax Free! Play from the comfort of home here:
http://www.irishlotto.net/
DID YOU KNOW:
1.
Two signers of the American Declaration of Independence, William Whipple and John Hancock had Irish mothers?
2.
Catherine McCarthy, known as the "jolly Irishwoman of the Lower East Side" was the mother of notorious outlaw Billy the Kid?
3. Co. Cork-born Mary Harris Jones, one of America's early labor champions, is also known to many as "Mother Jones"?
SPONSOR: Please visit our friends at the Celtic Attic
Would you like to get 5.00 off your order at the Celtic Attic? Place an order between now and May 15 and use code 5off on orders of $25.00 or more, to get 10% off any size order use code tenp. We will send you a link to a survey when your order is completed so you can give us your thoughts on our new shopping cart and our website in general
http://www.celticattic.com or http://www.acelticcalling.com/ ;
Also, we are giving away a Celtic Summer Basket.You only need to enter once and you are automatically entered in this contest as well as our normal monthly contest for 2 Irish Pendants.
http://www.celticattic.com/contact_us/free_giveaway
For phone Orders, please call: (360) 531-1107 10am to 5pm PST Week Days
RIDDLE
First off, the answers to our series of riddles for the St Patrick's Day edition:
Q. What would you get if you crossed Quasi modo with an Irish football player?
A. Halfback of Notre Dame
Q. What do leprechauns like to barbecue?
A. Short ribs
Q. How can you tell if an Irishman is having a good time?
A. She's Dublin over with the laughter!
Q. Why can't you borrow money from a leprechaun? A. because he is always a little short...
Q. Why are leprechauns so hard to get along with?
A. because they're a bit short tempered
Q. What is a nuahcerpel?
A. Leprechaun spelled backwards
Congratulations to Karyn Hannigan who was first in with the answers. Well done, Karyn!
And now for our next brain bruiser:
Q.
F
rom what number can you take half and leave nothing?
THE WEEK THAT IS
1. Shopping Section: Naturally, we hope you and yours will do all of your shopping for products related to Ireland through Irish Culture & Customs and and the advertisers in our newsletter - not just at the holidays - but all year round. For every sale, we make a small commission which goes a long way toward helping us cover the expenses of maintaining the web site and sending the newsletter. Many thanks in advance for your kindness!
http://www.irishcultureandcustoms.com/Shop/1Shop2.html
2. Daily Headlines: We keep two week's worth of headlines and links here: And we try to keep it all positive:
http://www.irishcultureandcustoms.com/01News/Home.html
ED. NOTE: In the right-hand margin on this page, you will also find links to many Irish newspapers, a link to the weather, and a clock showing Irish time.
3. Article: May - the month of mirth and merriment
http://www.irishcultureandcustoms.com/ACalend/MayMonth.html
4. Article: The May Day Dew - should you roll naked in it?
http://www.irishcultureandcustoms.com/ACalend/MayDew.html
5. Article: How to prevent Mayhem
http://www.irishcultureandcustoms.com/ACalend/Mayhem.html
6. Article: Beltane Bonfires & Nettle Soup
http://www.irishcultureandcustoms.com/ACalend/Mayhem.html
7. Article: Marry in May & Rue The Day
http://www.irishcultureandcustoms.com/ACalend/Mayhem.html
8. Article: The Bright Flames of May
http://www.irishcultureandcustoms.com/ACalend/MayFlames.html
9. The Irish Kitchen: Recipes in Celebration of Spring
http://www.irishcultureandcustoms.com/2Kitch/rSpring.html
10. Basic Irish: May & the Month of Mary
http://www.irishcultureandcustoms.com/3Focloir/Lessons9.html#Gael35
11. Kids Ireland: The Story of Bottle Hill
http://www.irishcultureandcustoms.com/1Kids/BottleHill.html
12. Music Review: The Ultimate Guide to Irish Folk
http://www.irishcultureandcustoms.com/AMusic/Ramoutar/IrishFolkGuide.html
So there you have it until we write again If you're celebrating a birthday, anniversary or other special event between now and then, we hope it's an occasion filled with love, joy and laughter. And if you were married in April or May here are the special verses:
Marry in April if you can, Joy for maiden and for man
Marry in May and rue the day
ED NOTE: One old Irish superstition holds that May is an unlucky month to get married in, because of its association with the Virgin Mary. This superstition seems to have lost its power, however, since May is now one of the most popular wedding months for Irish people. And, whenever we quote the verse for May, we always receive a slew of responses from readers who tied the knot in May and are VERY happy! !
Until next time, if you live in Ireland and the UK, we wish you and yours a safe and happy Bank Holiday weekend; if you're in the states as well as many other countries, don't forget Mother's Day; and last but certainly not least, we extend to all of our readers everywhere the sentiments in this lovely old Irish blessing:
May green be the grass you walk upon
May blue be the skies above you
May many be the joys that surround you
And may true be the hearts that love you
And as they say in Ireland, mind yourself!
Slan agus beannacht,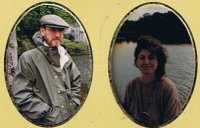 Bridget & Russ
Get down on your knees and thank God you're still on your feet.
Téigh ar do ghlúine is bí buíoch le Dia go bhfuil tú fós ar do chosa.
DID SOMEONE FORWARD THIS ISSUE TO YOU
?
Subscribe for FREE!
Send an email to: bhaggerty@irishcultureandcustoms.com
OR click on this link:
http://www.irishcultureandcustoms.com/Newsletter.html
An oldie but so good, it's well worth repeating: An Irish mother's letter to her son
Dear Son,
Just a few lines to let you know I'm still alive. I'm writing this letter slowly because I know you can't read fast. We are all doing very well.
You won't recognise the house when you get home - we have moved. Your dad read in the newspaper that most accidents happen within 20 miles from your home, so we moved. I won't be able to send you the address because the last Irish family that lived here took the house numbers when they moved so that they wouldn't have to change their address.
This place is really nice. It even has a washing machine. I'm not sure it works so well though: last week I put a load in and pulled the chain and haven't seen them since.
Your father's got a really good job now. He's got 500 men under him. He's cutting the grass at the cemetery.
Your sister Mary had a baby this morning but I haven't found out if it's a boy or a girl, so I don't know whether you are an auntie or an uncle.
Your brother Tom is still in the army. He's only been there a short while and they've already made him a court martial!
Your Uncle Patrick drowned last week in a vat of whiskey in the Dublin Brewery. Some of his workmates tried to save him but he fought them off bravely. They cremated him and it took three days to put out the fire.
I'm sorry to say that your cousin Seamus was arrested while riding his bicycle last week. They are charging him with dope peddling.
I went to the doctor on Thursday and your father went with me. The doctor put a small tube in my mouth and told me not to talk for ten minutes. Your father offered to buy it from him.
The weather isn't bad here. It only rained twice this week, first for three days and then for four days. Monday was so windy one of the chickens laid the same egg four times.
We had a letter from the under-taker. He said if the last payment on your Grandmother's plot wasn't paid in seven days, up she comes.
About that coat you wanted me to send you, your Uncle Stanley said it would be too heavy to send in the mail with the buttons on, so we cut them off and put them in the pockets.
John locked his keys in the car yesterday. We were really worried because it took him two hours to get me and your father out.
Three of your friends went off a bridge in a pick-up truck. Ralph was driving. He rolled down the window and swam to safety. Your other two friends were in back. They drowned because they couldn't get the tailgate down.
There isn't much more news at this time. Nothing much has happened.
Your loving Mum
P.S. I was going to send you some money but I had already sealed the envelope.