Happy New Year!!
We are officially in winter now. This time of darkness can be a challenge, but it also holds gifts. Here's a poem I wrote about this time of year:
"In the dark
All Life is beginning.
The dark soil holds seeds
And they lie waiting...
In the darkness of the womb,
A child waits to emerge.
The seeds and the child are taking form
In the Darkness.
The Dark gives them birth
And they come into the Light.
In the darkest part of the year
New beginnings take their time
To find their true form,
To manifest in the coming season of light."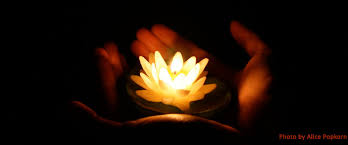 Location: 305 Glenwood Drive, Chapel Hill, NC

Fee: $15 drop in or $10 per class when purchasing a 5 class pass.

 

Class topics for December:

 

Jan. 3:

 "Prismatic Color"

Yoga for the Electromagnetic Field (aura)

Raja Yoga Meditation

 

Jan. 10:

 "Nature's Support"

Complete Workout for the Elementary Being (HarAerobic Kriya)

Taatva Balance Meditation

 

Jan. 17:

 "Creating a Blissfully Happy Day"

Yoga for Active Bliss and Ultimate Peace

Meditation for Active Bliss and Ultimate Peace

 

Jan. 24:

 "Spiritual Dance"

Yoga to Renew Your Nervous System and Build Stamina

Group Meditation with Punjabi Drums

 

Jan. 31:

 "Conscious Eating"

A Conscious Eating Meditation

 

Who:

This is an excellent class for anybody who eats food. 

 

What: Bhoj Kriya - Bhoj (food) Kriya (how to eat it)

As this translation implies this meditation is all about learning to eat food. Typically, in our modern society, we do not devote time and attention to how we eat and digest food. Our food, when eaten properly as taught in this meditation, will enhance your health and vitality through proper digestion and assimilation. 

 

During this kriya you will learn… 

 

 

mental preparation and prayer

 

 

eating slowly and consciously

Why:

For your health, for your self. Take this time to experience and discover why Yogi Bhajan said "eating slowly is one on the best meditations on this earth."

 

What to Bring:

Bring a wash cloth and your favorite food that you can eat with your hands.

 

"Bhoj Kriya, done correctly, makes you healthy, mentally powerful, physically sturdy, and spiritually absolutely very beautiful and saintly. "

-Yogi Bhajan

This class will be taught by Elke/Keval McCalla, KRI certified instructor, and organic farmer living in Lousiburg, NC.  Come and experience her expertise in this beautiful practice for mindful eating!

 

 

 Workshop Series that Accompanies Teacher Training continues with:

 

"Journey Through the Chakras"

January 12, Saturday, 10 am - 1 pm

This class will give you an experience of your energy centers, using sound, movement, color, and more!

"Awakening to Your Ten Bodies"

January 13, Sunday, 8 am - 12 pm

You know you have one body, come learn about the other nine!

We'll do yoga to awaken you to your ten bodies, explore these concepts, and delve into your personal numerology!

Sign up for both workshops and save - $80 for both.

To pre-register by January 9, contact HarDarshan: 919-257-7814 or hardarshan@matashaktiashram.org

 

February 10, Sunday, 10 am - 5 pm

Learn about your three functional minds and a journaling technique to help you know your own mind to get to know yourself on a deeper level. You will practice many different versions of meditation in the Kundalini tradition: silent, and with mantra, mala meditation, gong meditation, moving meditation, and more! A delicious raw vegan lunch is included in the registration.

Fee: $90

Reserve your space by February 5

hardarshan@matashaktiashram.org. 919-257-7814

 

 Sacred Feminine Workshop!

Sunday, March 3  1 - 4:30

Fee: $75, includes art supplies, tea, and snacks.

save your space by March 1 by contacting HarDarshan: hardarshan@matashaktiashram.org

 

 

Kundalini Yoga Teacher Training, Level One          

                   

 

 

Level One Kundalini Yoga teacher training takes place each year in Chapel Hill and is held one weekend per month from September - June. Our current course is under way, but it's not too early to apply for September 2019!

Contact me for more info:

hardarshan@matashaktiashram.org

 

 Level 2 Training

rescheduled for April/May!

If you are certified Level One, this is your opportunity to dive deeper into your practice and understanding of the sacred science of Kundalini Yoga. This module, one of 5 needed to become a 500 hour level instructor, is my favorite!

new dates are: April 27, 28, 29 and May 3, 4, 5.

It's not too early to claim your space in this life changing course - it's already filling up!

Pre-registration fee is $900 by Feb. 1,

$995 by March 1, and $1100 by April 1.

This fee includes a comprehensive manual, a set of 4 DVDs of Yogi Bhajan's lectures and meditations, lunches, and snacks.

 

 

this month's wisdom quote




..."our intellect can help in our evolution only a part of the way. But when it presumes to judge what is beyond its domain, it must be put in its place"




 

 

this month's recipe for health and happiness!

You will need a juicer to make this recipe.

This comes from Anthony William's newest book: "Liver Rescue" and is a great way to wake up and nourish your liver, one of the most important organs in your body!

Simply run all the ingredients through a juicer and enjoy!




2 cups coarsley chopped pineapple

1 cup loosely packed parsley

 

 




 

   

For psychotherapy services: 

www.sacredlistener.com

(Next HSP class will be held on December 12)

 

Service Opportunity

Mata Shakti Ashram welcomes your support! How can you help?

Time and Talent: help with yard and garden maintenance, upkeep of classroom and workshop/training spaces, vegetarian raw food prep, help with social media and technology. Talk to your friends and personal community about Mata Shakti Ashram, for we are truly "grass roots"!

Finance/Funds: Donations of money to assist Mata Shakti Ashram pay the overhead cost for the current space, pay guest teachers, and provide some scholarships to those in need. Let us know how much you are willing to pledge monthly or yearly over the next year to 5 years, as we prepare the non-profit status. Every donation will receive a class pass to share with a friend to acquaint them with the ashram.

Thanks to Kevin Millar, Lisa Brown, Sahej Anand Kaur, Jennifer Pittman, Lindy Hoeft, Joni Liebel, Michelle Hill, Sat Inder Kaur and Karta Purkh Singh of Kansas City's Param Tirath Ashram, Elke Dickerson, Ranpreet Kaur, Shirin Negmodjanova, Connie Boston, Mary Radulescu, Barbara Lynn Freed, Updesh Kaur, Florence, Wasalisa Davison, Harbhajan Khalsa and Ashley Jackson, who have already given their support!

Sacred Listener, Transpersonal Counseling and Kundalini Yoga, Chapel Hill, NC