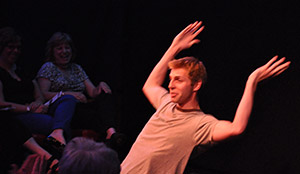 We humans tell stories to remember, to understand, to connect with each other. Connecting with each other has never been more important than it is right now. And that's what our workshop experience is all about: connecting.
If you've been thinking about taking our
Art of Personal Narrative workshop, now is the time to act.
There is one more spot in our series that starts on Tuesday, April 11, 2017. Don't miss this exciting opportunity -- your last chance until next Fall -- to discover and craft a personal story and deliver it in its true from: fresh, open-hearted, revealing.
This workshop is open to new and returning participants. The only requirement is that you have experienced at least one Urban Tellers® show and can commit to all of the session dates: Tuesdays 4/11, 4/18, 4/25, 5/2 (+ an individual session), Friday 5/5 (Urban Tellers® show) and Saturday 5/6 for our final group session and debrief.
The 3:1 teacher-student ratio allows for a great deal of individual attention and is a reflection of our commitment to your success. Call 503-284-2226 to find out more.
Everyone has a story that deserves to be heard. Tell your story. Be heard.