A
nd one more link your editor couldn't resist including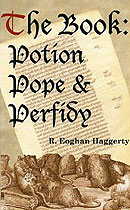 RUSS' BOOK - GREAT LAST MINUTE GIFT
It took many years to make its debut, but finally, The Book: Potion, Pope & Perfidy is now available on Kindle. If you'd like to check it out, just visit amazon's Kindle store
http://www.amazon.com/s/ref=nb_sb_noss?url=search-alias%3Ddigital-text&field-keywords=russell++haggerty
Naturally, we're hoping it will be a best seller - with your help, it would be off to a very good start! And thanks in advance for taking a look!

So there you have it until we write again. We'll take our leave with this lovely old blessing:
May God grant you lightness in your step, a smile on every face you meet;
Loved ones gathered at your hearth, and at your door, good folk to greet;
A holy hymn upon your lips, a window candle burning bright,
And may the Good Lord bless your heart and come to dwell there Christmas night.
And as they say in Ireland, mind yourself!
Slan agus beannacht leat!
Bridget & Russ
Get down on your knees and thank God you're still on your feet.
Téigh ar do ghlúine is bí buíoch le Dia go bhfuil tú fós ar do chosa
IrishBlessing/For every storm, a rainbow
http://www.youtube.com/watch?v=bPsA8QEOEKw

DID SOMEONE FORWARD THIS ISSUE TO YOU
?
Subscribe for FREE!
Send an email to: bhaggerty@irishcultureandcustoms.com
OR click on this link:
http://www.irishcultureandcustoms.com/Newsletter.html
Grandsons Beckett and Dashiel making merry! May it be so for you and yours!