Laroo Bookings & Management
Trumpet player Saskia Laroo celebrates 40th anniversary with the new album Trumpets Around The World
"The Dutch Lady of Jazz" is what trumpeter Saskia Laroo has been affectionately called by the press and fans for years. On this new album release tour, she will present her highly anticipated eighth album "Trumpets Around The World", with which she will also celebrate three milestones at the same time: the new release, 40 years 
on stage
as of this year
, 
25 years
 leading the Saskia Laroo Band, and 
25 years
 since the start-up of Laroo Records. On the protean "Trumpets Around The World", Laroo skillfully combines her mastery of trumpet, bass, and saxophone with forays into funky dance, hip hop, modern grooves, singing and rap, wielding her candid improvisational style, inspired by influences and cultures from all over the world.
Tour schedule for 2020 - some highlights 
(subject to change)
Jan 10: Netherlands: Jazzclub Dizzy, Rotterdam
Jan 26: US: Baby Grand Jazz Series @ Hartford, CT
Feb 19: Netherlands: De Observant live, Amersfoort
Feb 21-23: India: World Jazz Festival @ St Andrews College, Mumbai
April 19: Netherlands: Beauforthuis, Austerlitz
May 16: Netherlands: Amersfoort International Jazzfestival
May 21-31: Thailand: Hua Hin Music Festival
Aug 22: US: Sigourney Square Festival, Hartford, CT
Sep 11: Netherlands: Leusden Jazz
Sep 25-27 Moldavia: Ethno Jazz Festival, Chisinau

Laroo's album was first launched November 1, 2019 in the Netherlands

and celebrated with a concert that evening of the Saskia Laroo Band 

at Het  Concertgebouw, Amsterdam. 

The American release was November 15th and celebrated with a Black Friday concert of the Saskia Laroo Band on November 29th at performing arts center The Buttonwood Tree, Middletown, CT

Now she further celebrates the new album with a release tour of "Trumpets Around The World" with a concert program of the Saskia Laroo Band, a music evening full of jazzy tunes, modern grooves, hiphop and dance. Saskia Laroo and her band take the audience on a music trip from bossa to reggae, funk and blues, all combined with her jazzy trumpet.

Saskia Laroo; the Lady Miles Davis of Europe
The "Lady Miles Davis of Europe" – as she's coined in America by press and public - is one of the few women trumpet players ranked internationally at top level for over four decades and has as well been leading her own bands nearly as long. Laroo plays with her bands at large and small festivals, concert halls and clubs in locations all over the world such as, among others, Thailand, Burundi and the United States. Her music itself is often like a journey driven by not only pure jazz, but also by influences from hip hop, dance and world music, melded as if those styles have always belonged together.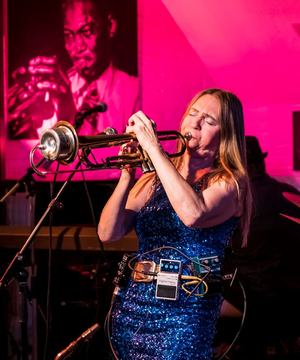 Laroo has played with jazz greats such as Rosa King, Hans and Candy Dulfer, Toots Thielemans, George Coleman, Slide Hampton, recorded with Teddy Edwards and Billy Preston. She has also done dance crossovers with DJ's 100% Isis, Ken Ishi and Ronald Molendijk. Laroo released eight CDs and a DVD on her own label. She has won several prizes, including the Indian peace prize "Karmaveer Puraskaar" in 2010.
 
About the celebration of her milestones, Laroo says: "I always prefer to look back on my last concert; performing is always a whole new experience. But if I may mention a highlight, I think of how special it was to play in South Korea in 2017 at the KF Cheonggyecheon Music Festival in Seoul. It was an honor to be asked as a Dutch representative. "
Laroo Bookings & Management, Laroo Records and Cultmix Foundation release and support the music of trumpeter/bandleader/composer Saskia Laroo from Amsterdam, the Netherlands. Laroo Bookings features this multi instrumentalist who has released 8 albums and celebrates 40 years of performing and touring around the world presenting her signature blend of pop, dance, jazz and world music. Laroo Management develops Saskia's concepts for bringing audiences together and aiming for cultural conciliation with music.