Dear friends and neighbors,

 

Hope you are enjoying and making the most of this gorgeous weather!  Augusts are typically slow for municipal activity, but we know Hoboken is anything but typical.  Last week I told you about significant positive steps the City Council and administration took relating to our waterfront, affordable housing and eScooters.  This week, there is still more news on improved recycling rules,

an upcoming 15th street safety meeting, the end to Nixlegate (hopefully), and more...
The City announced this week that it is changing from single stream recycling to double stream recycling.  The new recycling laws go into effect on September 3rd, with enforcement beggining two months later.  Glass / plastic / aluminum will be picked up Mondays and paper / cardboard on Thursdays.  Click
HERE
for the details including how you can pick up information and
free recycling bins at the Municipal Garage
.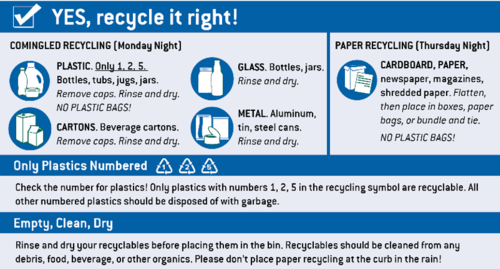 How and why? During the budget process, Environmental Services Director Gonzalez indicated that our current single stream recycling was incredibly inefficient in terms of both contributions to landfill and cost to the City.  By switching to double stream - which effectively separates paper / cardboard from plastic/aluminum and glass - it will save taxpayers approx. $200K/yr and ultimate allow for more waste to be recycled and kept out of the landfill.  Win win.  
AUG. 20TH - 15TH STREET SAFETY WITH HPD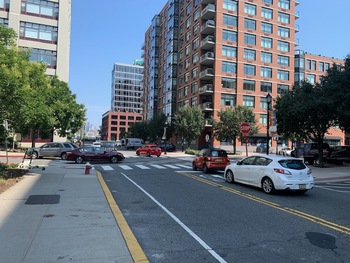 I am hosting a 15th Street Community Meeting with representatives from Hoboken Police for us to discuss your safety concerns and their enforcement initiatives:
| | |
| --- | --- |
| When: | Tuesday, August 20th |
| Time: | 12 noon |
| Where: | Meet on the sidewalk near ChocoPain on 15th |
| Who: | Lt. John Petrosino, head of Traffic Enforcement for Hoboken PD and Sgt. Francisco Rosa |
I know that this meeting is not convenient for everyone.  But I have 100% confidence that those who will come will be capturing the experiences of those who cannot make it and we will all report back to everyone what transpires.
As a reminder, once the construction at 15th and Hudson finishes, the intersection will have a new three way stop.  I also was updated yesterday that before the new school year starts the new flashing pedestrian lights at 15th and Garden will be installed.  If possible, please let me know (click for email) if you can join.
TAXPAYER FUNDED POLITICKING NO LONGER ALLOWED
Could this be the end to Nixlegate??? If Hoboken City employees want to fundraise, campaign or politick for any candidate - whether for me, for the mayor, or for anyone else running for office, let them do so on their own dime, and on their own time. Who wouldn't agree to this?  The Council voted 7-2 in support of common sense legislation I co-sponsored
with Councilman DeFusco to amend and improve the City's
Code of Ethics
to prohibit public employees from
using taxpayer-funded, public property (think computers, City Hall, nixle system, copiers, cell phones...) to campaign or politick.  It also prohibits these activities to be performed doing working hours.   
Additionally we closed a loophole in our Ethics Code that surprisingly had previously allowed City employe

es to use city owned computers, phones and stationary to fundraise. You can read the
Hudson County View article

and see the questionable pushback from City Hall.  You can click

HERE

to read the ordinance

.
AUG 19 - COFFEE WITH A COP AT FOX HILL!
 

One of my favorite new Hoboken traditions put on by Hoboken Police Chief Ken Ferrante and his HPD team!  And I am thrilled that he is hosting this one on

Monday at 8am in the community room at Fox Hill (311 13th St)

, one of Hoboken's senior buildings. 

 

The event is open to the public so if you are someone who is, say concerned about safety along Willow and including the intersection of 14th... this is a good place to ask questions!

 
8/29 SPAGHETTI WITH FRIENDS & SAVING LIVES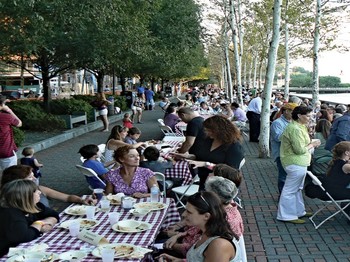 Another awesome tradition is Hoboken's 14th annual Spaghetti Dinner Block Party.  Resurrected in 2005 to celebrate Hoboken's 150th Birthday. 
| | |
| --- | --- |
| | Thursday, August 29th |
| | |
| | Waterfront walkway between Pier's A&C |
| | Hundreds of your neighbors |
| | To support Hoboken Volunteer Ambulance |
| | $25pp/adults; $10-15 for kids and seniors   |
| | |
Tickets must be purchased in advance at www.Hobokennj.org/register OR at City Hall, 94 Washington Street. Friday, August 23 is the last date to purchase tickets.
PARK IMPROVEMENTS AND BEFRIENDING A PARK
I brought your questions along pertaining to the 2nd ward parks.  Although we didn't address all of them at the meeting, I have since raised and will follow up with our Director of Environmental Services but here is the update:
Shade structures to help shield the playground areas at Harborside and Maxwell parks – the City is planning to possibly reuse those from the Pop Up Park at the new 7th and Jackson park, but will then also consider these two parks.
Dog park updates for Elysian and Maxwell – I was told Maxwell is being considered for 2020 upgrades and that they are studying what can be done for Elysian, which is more complex and involves drainage.
Shade tree in Elysian park to replace the one that died is being looked into.
Pilot program for early morning offleash play at Elysian is being considered.  The area being considered is the far back area of the park beyond the basketball courts.
JEFFERSON PARK
There was a lot of discussion about the Jefferson St. Park and Boys and Girls club basketball court and as a result the City has scheduled
a second public meeting
on Wednesday, 8/21 at 7pm.  The plans here are more extensive and include expanding opening hours of the basketball courts and adding striping for three pickle ball courts (that are being displaced from the pop-up park).  If you play in Hoboken's pickle ball league, are an HoLa parent, or someone who frequents the Jefferson St. Park I would encourage you to attend the meeting.
FRIENDS OF THE PARKS
After several years of discussions, the City is getting ready to introduce a park conservancy type program where neighbors who love their parks can become more involved in the future of their parks.  And yes, it is also a way to raise private funds to invest in our public parks which some of you have already told me you would like to do.  This is not a new concept and exists in many cities, most notably NYC.  Nothing is yet set in stone but I believe the first two parks being considered are Elysian and Church Square Park.  If you are interested in getting involved in this, please let
me
(for Elysian) and Councilwoman
Jen Giattino
(for Church Square Park) know.
As always, please feel free to email me or call me at 201/208-1674 to discuss what you have read or anything else that is important to you.  Thank you to those of you who have asked how you can help with and have already contributed to my re-election campaign.  I will send out more information soon, but if you are interested in supporting me just let me know!
Have a great weekend and join me in welcoming back (and some for the first time) Stevens' students who are moving in this weekend!