I've loaded the car with guitars, gear, clothes—after figuring out what to take and what to leave behind on our cross-country, "Island to Island" tour. We started out from the island of Alameda and will eventually reach our eastern-most island destination of Martha's Vineyard.  Soon after that, we will be playing at the Tidewater Friends of Folk concert series in Virginia Beach—the gig that started this whole thing.
After playing at First Street Café in Benicia this Saturday, my friend and brilliant accompaniest Peter Andrews and I headed out -- and we will return on October 4th.  We will be driving nearly 10,000 miles, crammed into a Toyota Prius.  Our first stop was in Sacramento—for brunch to celebrate my mother's and sister's birthdays. That's where Peter and I both grew up and played in a teen rock band together. After brunch, we headed up to a gig in Reno on Sunday night.
September has always been my favorite month. Somehow the sky seems bluer, and the air seems lighter. It is the time when baseball games mean something. The sun is just a little bit lower and the daylight is softer and warmer, as if reaching from a campfire. Even though the calendar doesn't think so, it has always been a month of beginnings for me. As a kid, there was the start of a new school year—which was exciting for the first week or so. I first went to the Sisters Folk Festival in September 2005 and going up to Sisters every year has marked the beginning of my "music" year. And now, the road trip.
Of course I am not as well prepared as I would like to be. We have very few hotel or room accommodations laid out. We are going to trust that everything will work out along the way. I had a long list of "to do" items, but I only got halfway through the list. We already ran into the first snag—there are no more spaces for cars on the ferries to Martha's Vineyard, so we will leave the car on the mainland and carry-on our gear. I guess it is time for me to tear up the rest of my "to do" list, take a deep breath and enjoy the rest of the (very long) ride. Hopefully my lack of detailed preparation will be a good thing—sometimes I am so focused on my plans and my list that I miss out on the moment. I am leaving with the advice a good friend once gave me "Show up—pay attention—speak the truth—let go of the outcome."
That's it for this month.  Hope to see you soon!
Peace and joy,
Steve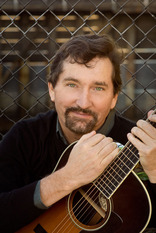 PRE-VIEW OF OCTOBER 28TH  THURSDAY, 7-9pm SHOW AT THE COFFEE GALLERY IN ALTADENA, CA.
The Coffee Gallery is one of the sweetest and most intimate venues in Southern California. It is legendary among acoustic musicians and fans. I will be playing there with Chris Kokesh and Peter Andrews. Seats are going fast so call (626) 794-2424 for a reservation if you would like to attend. Their website is
www.coffeegallery.com
Here's the write-up from their website: There's magic when Steve Meckfessel and Chris Kokesh come together. Steve is one of those under-the-radar songwriters that when you discover him you think, 'Lucky me!' Steve's music is often compared to that of James Taylor, Jackson Browne and Cat Stevens. Chris toured for ten years with the iconic Misty River band. Her first solo CD, 'October Valentine', is turning hearts and heads and is currently No. 20 nationwide on the Folk DJ charts. Special guest Peter Andrews is a guitarist/composer with a long list of film, TV and recording credits. Don't miss them!
Tuesday,
August 31
in
Montrose, CO
. 7-9 pm.  Belly Restaurant & Bar
Sunday,
September 5
in
Akron, OH
.  Ray's Pub
Thursday,
September 9
Aquinnah, MA
. 7:00 pm. Lang Gerhardt House Concert
Friday,
September 10
in
Bethlehem, PA
.  7:30 pm. Aronson House Concert
Tuesday,
September 14
in
Ashland, VA
. 
Ashland Coffee House
- Songwriter Showdown (solo)
Wednesday,
September 15
in
Knoxville, TN
. 10:00 pm.
WDVX Knoxville Radio Show - Writer's Block
Thursday,
September 16
in
Asheville, NC
.  7:30 pm.
Firestorm Café & Books

Friday,
September 17
in
Wilmington, NC
.  9:00 pm. 
Bottega Art & Wine
Saturday,
September 18
in
Concord, NC
. 7:00 pm.
Diversity Den Café
Sunday,
September 19
in
Tybee Island, GA
. 2:00 pm.
Savannah Folk Music Society
Monday,
September 27
in
Nashville, TN
. 
Bluebird Café
open mic
Tuesday,
September 28
in
Norman, OK
. 7:00 pm. Cafe Plaid
Wednesday,
September 29
in
Norman, OK
. 8:00 pm.
Othello's
Friday,
October 1
in
Durango, CO
. 5:00 pm. Durango Café
Saturday,
October 2
in
Salt Lake City, UT
. 
South Valley UU Society
Steve Meckfessel  •  Alameda, CA