GI Coffeehouse West Coast Tour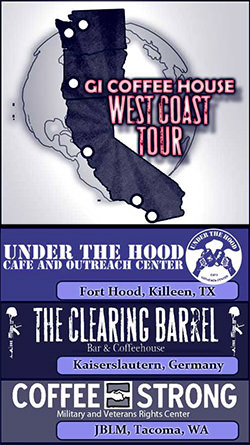 February 13 - March 1, 2014
Courage to Resist is co-sponsoring an exciting GI Coffeehouse Tour on the west coast, kicking off Thursday in San Diego and ending up in Seattle on March 1.
The tour will feature the work of Under The Hood GI Cafe in Killeen, Texas (Fort Hood), Coffee Strong in Lakewood, Washington (Joint Base Lewis-McChord), and The Clearing Barrel GI Bar and Coffeehouse in Kaiserslautern, Germany, center for U.S. military installations in Europe with the Ramstein Airbase and Landstuhl Medical Center. 

The purpose of the tour is to remind people about the importance of ongoing GI outreach efforts and to raise much needed funds for the three GI cafes/outreach centers.
The tour will feature speakers from all three GI Coffeehouses.  Coffee Strong will be represented by its co-coordinator, Alex Bacon, a Coast Guard veteran, and other volunteers.  Under The Hood will be represented by Iraq veteran Malachi Muncy, its manager, by Ryan Holleran, recently discharged from the Army at Ft. Hood, and by Lori Hurlebaus, former manager and president of the Board of Directors of Under The Hood.  The Clearing Barrel will be represented by German peace activist Meike Capps-Schubert, flying in to California all the way from Kaiserslautern, Germany.
Thurs., Feb. 13: San Diego, CA
Fri., Feb. 14: Fountain Valley, CA
Sat., Feb. 15: Los Angeles, CA
Sun., Feb. 16: Ventura, CA
Wed., Feb. 19: San Jose, CA
Fri. & Sat., Feb. 21-22: San Francisco, CA
Tues., Feb. 25: Ashland, OR
Thurs., Feb. 27: Eugene, OR
Fri., Feb. 28: Portland, OR
Sat., Mar. 1: Seattle, WA
For more information about each event, visit:
gicoffeehousetour.org
---
War resister Sara Beining fund drive underway
In only 72 hours, over 100 supporters have raised nearly $3,000 to help Sara face military prosecution for her courage to resist. Please consider assisting Sara reach $7,500 for legal and related fees. Feb. 7, 2014 update.
"After deploying to Iraq in 2006 and spending a year as an analyst in Baghdad, my (now EX) husband and I went AWOL, suffering from PTSD. My ex-husband received an other than honorable discharge after he was apprehended in 2010. I am now facing charges and General Court Martial - the highest level of court martial and the harshest penalties received for going AWOL. I am a mother, a college student, and a organic gardener. I need help raising money for my lawyer to fly in for the pre-trial hearing as well as the trial, as well as funds for purchasing the "dress blues" - Army service uniform - for trial."