To ensure that my newsletters arrive safely, please add my email address to your address book.
March 2023 

IN THIS ISSUE:
4 Amazingly simple A's to ANCHOR your message so it will be remembered and repeated!




Speaking is an opportunity to be forgotten or remembered. I assume that we all opt for the latter. As a presenter/speaker, you have an important message to share so you can better others' lives. If you wish others to act on your message, it is imperative that it's memorable. There are 4 anchors we can use in order for our messages to be anchored in our audiences' minds.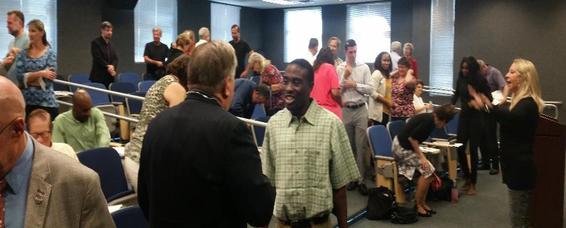 Pic taken during my opening keynote: "Somewhere OVER the Rainbow"
 on Feb.16, 2019 at Keiser University in Fort Myers, Florida!
An Activity to Anchor my message is being used with the audience.
***(If they DO it, they are more likely to remember the point than if we simply TELL them the point!)***
Quotation of the month:
 "What is loose is lost, what is tight stays in sight!"
- Craig Valentine
4 A's to ANCHOR your message so it will be memorable!
Anecdote

:

is a story. A personal story, which has taught you a life lesson, is the most common anchor but not the only one. Stories make points stick because if they remember a well told story, they'll likely remember the point.
Analogy:

is the use of comparison. Compare something a general audience knows to something they may not know. It clarifies the point succinctly and precisely. If a picture says 1000 words, then an analogy says 1000 pictures. (ie comparing the experience of change to an experience of a hurricane to some people). Peter Legge, author, speaker compares one's life journey to a runway at an airport, where the tarmac WILL run out; consequently, we need to value and make the best of our time on the tarmac! Maybe the use of the word 'crabs' to represent negative people and so on.
 

Acronym:

is a new word created by using the first letter of a word to help people remember a successful formula or process. Some speakers use acronyms in their roadmap as in: "You will be reach cohesiveness within your group by discovering the importance of TEAM"

(see below)
 

 

Do you remember a teacher using the acronym

H.O.M.E.S.

to help you remember the names of the 5 Great Lakes? Can you name them?

 

 

 

Are you familiar with the LOL that is used online to represent Laugh Out Loud?

 

 

 

What about a speaker helping people aspire to greater heights? They may suggest that the audience invest in a T.E.A.M  formula, an acronym for the qualities necessary to reach their potential...Tenacity, Enthusiasm, Attitude, Mentoring Isn't it easier for people to remember an acronym rather than hear a number of steps to a process?

Next time you speak, ensure your speech is tight by tying your points to anchors so they will be remembered, repeated and acted upon!
Until then, successful speeches to you !
____________________________________________________________________
Individual Speech Coaching or Group Instruction
call 416 489 6603 (Toronto) Leave a message with phone number; I'll 
respond within 48 hours
Let's first discuss your needs or those of your group
 (no fee for consultation) 
 

   

 

 

Kathryn MacKenzie, M.Ed. DTM




Presentation Skills Instructor/Author

 

 Keynote Speaker/Coach





Was this newsletter passed on to you by a subscriber?

Want to MAGNIFY your speaking skills?




Then I invite you to visit my website: www.kathrynmackenzie.com and SUBSCRIBE to my FREE monthly 'Keys to Your Speaking Success' newsletter.




Email: kathryn@kathrynmackenzie.com | Phone:

416.489.6603




 

© 2023 All rights reserved