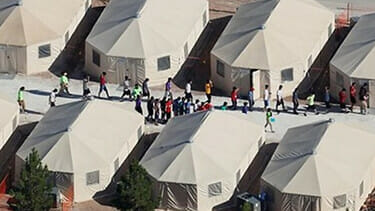 US Military Ordered to Host Massive Immigrant Concentration Camps
We believe that all military personnel have a moral and legal obligation to refuse to comply with any order that involves collaboration with these camps.
Actual concentration camps are in the process of development at military bases across the Southern United States. This isn't the first time in US history that facilities are being constructed and used to imprison large numbers of a persecuted minority in a relatively small area with inadequate facilities (the definition of a concentration camp). Previous examples of this are now infamous, such as the so-called Japanese internment camps. We're now on the brink of adding a new chapter to this dark history.
Potential locations have been identified as:
Tornillo Port of Entry, Texas - capacity 360 teenagers CURRENTLY ACTIVE
Goodfellow Air Force Base, Texas - capacity 45,000
Fort Bliss, Texas
Dyess Air Force Base, Texas
Little Rock Air Force Base, Arkansas - capacity 20,000
Camp Pendleton Marine Corps Air Station, California - capacity 47,000
Navy Outlying Field Wolf and Silverhill, Alabama - capacity 25,000
Yuma Marine Corps Air Station, Arizona
Concord Naval Weapons Station, California - capacity 47,000 CANCELLED
D O N A T E
to support resistance
Military officials, in response to pressured deadlines from the White House, have stated that these camps can begin to be operational by mid-August. Estimates are that capacity for another 10,000 people can be added each month. The White House's stated timeline of 45 days out from June 27th has local base commanders scrambling and caught unaware.
In addition to providing the land, military personnel will construct the camps while private agencies will manage the operations. While this simplified explanation of operations seeks to minimize the military's role, it omits the endless capacities in which the armed forces will surely be facilitating the functioning of these camps such as with water, electricity, sewage, trash, and all of the other services to go allow with sustaining tens of thousands of immigrant detainees.
The military is strictly prohibited from domestic policing as stated in the constitution yet military personnel are being drafted into doing just that with this rising domestic enforcement of immigration policy. Just because Trump/Sessions Co. declares a war on immigrants, doesn't make it an actual war. Being quite clearly an illegal order, the question is who will refuse to aid and abet?
> > READ OUR FULL STATEMENT HERE
D O N A T E
to support resistance