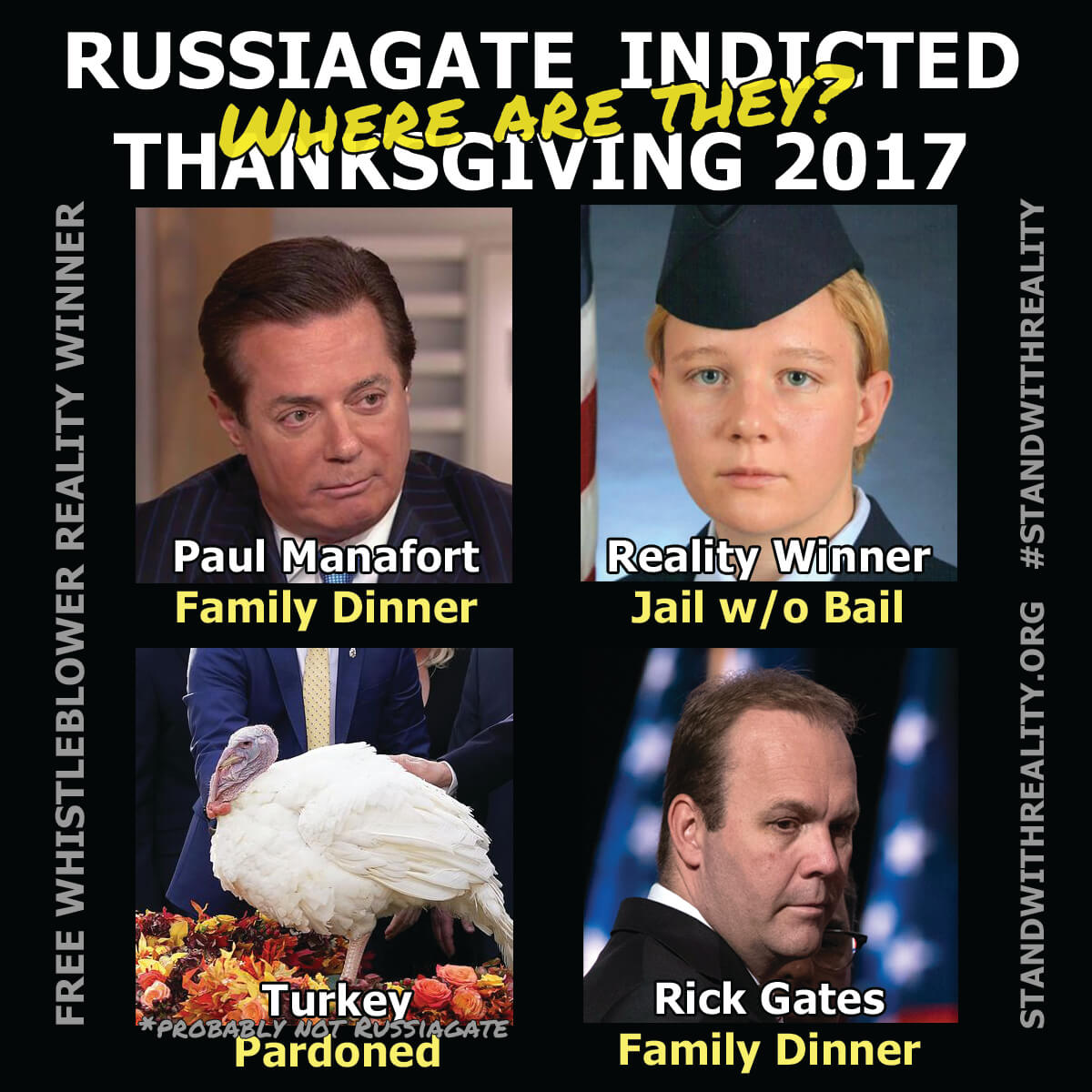 Thank you again for contributing to Chelsea Manning's freedom this year. Now let's get some justice for heroic whistleblower Reality Winner!
Hi Friend.
Reality Winner, charged with one count of giving a classified document to a news outlet, will be spending Thanksgiving in jail as she awaits trial.
Meanwhile, both of the former Trump campaign officials recently arrested in the investigation into collusion with Russia, Paul Manafort and Rick Gates, will be spending Thanksgiving with their families.
Both men are accused of secretly working for a foreign government to influence the United States, a charge usually referred to as "spying."
Despite having multiple passports, millions of dollars in hidden assets, and highly-placed connections all over the world, they're considered safe enough to enjoy the holidays with their loved ones.
Reality is accused of informing the American people of what their government was hiding -- widespread hacking of election systems by the Russian government in the months before last year's elections. The only government she's ever worked for is the government of the United States. And the court considers her so dangerous that she's being held behind bars until her trial in March.
Reality is also a vegan. Last year around this time, she was re-tweeting articles from PETA about the number of turkeys slaughtered for Thanksgiving every year, along with angry tweets about Trump, and news articles about the protesters at Standing Rock.
Lots of us probably have an outspoken person like Reality at our Thanksgiving table, who only want to talk about politics and refuse to eat the turkey. Maybe you are that person. And the only thing worse than arguments around the dinner table is that person's chair sitting empty.
All of the resources Reality and her legal team have to work with come from her family, and the few thousand people reading this email. But they're making the most of them -- laying out a defense that aims to make it better for all the whistleblowers who come after her.
So in honor of the empty chair around Reality's family's table this Thanksgiving, please make a donation to her legal defense fund, and consider becoming a monthly sustainer through her trial in March. Donating just an hour of your labor a month makes a real difference.
Jeff Paterson,
Courage to Resist, Project Director
Stand with Reality Winner Support Group
P.S. If you donate, please include a note with your Thanksgiving wishes. The jail holding Reality hasn't been accommodating her diet, so it's likely she'll be eating peanut butter for Thanksgiving this year. We want to make sure her morale stays high, and that she knows we're out here supporting her.
P.S.S.For up-to-date information about Reality Winner, and to donate to her defense online, visit standwithreality.org. To donate by check to Reality Winner's defense fund, send to Courage to Resist, 484 Lake Park Ave #41, Oakland CA 94610, and note "Reality Winner" on the memo line.