Coffee Strong reborn as GI Rights counseling center
Resist war with Syria
Pvt. Manning post-sentencing press conference
---
Coffee Strong reborn as GI Rights counseling center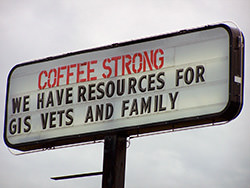 A Courage to Resist interview with Alex Bacon, Coffee Strong co-founder and staff member
Courage to Resist recently contributed $500 to the reopening of Coffee Strong. We ask our supporters to also consider contributing to Coffee Strong. Donate here.
By Bob Meola, Courage to Resist. September 11, 2013
In November, 2008, the day after the presidential election, a few people—recent veterans and their civilian supporters started Coffee Strong, a GI coffee house outside the gates of Joint Base Lewis McChord, a combination of the Army's Fort Lewis and the Air Force's McChord Air Force Base. They had met at Evergreen State College as students. They had seen films and read about the GI Resistance of the Vietnam era.
"We wondered what our experiences would have been like, if [as service members] we'd had resources like Oleo Strut [the GI Coffeehouse in Killeen, Texas during the Vietnam War]," said Alex Bacon, a co-founder and present staff member of Coffee Strong.
---
Resist war with Syria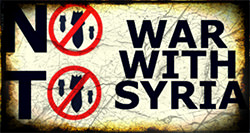 Courage to Resist. September 11, 2013
In the past few years, tens of thousands of service members have resisted illegal war and occupation in a number of different ways—by going AWOL, seeking conscientious objector status and/or a discharge, asserting the right to speak out against injustice from within the military, and for a relative few, publicly refusing to fight. We're motivated by a "people power" strategy that we believe can weaken the pillars that maintain war and occupation in Iraq, Afghanistan, and now Syria.
Support the troops who have the courage to resist attacking Syria!
---
Pvt. Manning post-sentencing press conference
Pvt. Manning post-sentencing press conference hosted the Bradley Manning Support Network and Courage to Resist. Featuring a statement from Chelsea (formerly Bradley) Manning, family members, and attorney David Coombs reacting to the 35 year prison sentence.