This is a
CALL TO ACTION
for all of you who want to protect our waterfront from being industrialized or developed.
Join our Save our Waterfront March this Saturday at 10am.

Contact your elected officials and tell them how important our waterfront is to you.

Stay connected and updated on protecting Hoboken's waterfront.
NYWW / FORMER UNION DRY DOCK SITE: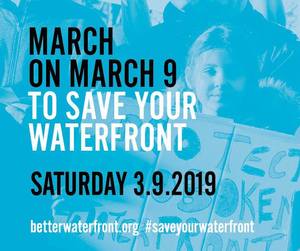 Please join me on Saturday, March 9th at 10 am at Pier A (1st and Sinatra) for a March to Save our Waterfront. We will walk from Pier A to Maxwell Park for a rally to show Governor Murphy that our waterfront is important to Hoboken. Click
HERE
for the Fund for a Better Waterfront site for more information.
I am told that this event is critical to the discussions/negotiations that Mayor Bhalla is having with Governor Murphy and NJ Transit to protect this central piece of our waterfront from being industrialized.
It is important that we continue to show how important our waterfront is to us, to those who will be making decisions that will have a lasting impact on our community. It will be a crisp, sunny day, there will be local media there and some speakers and special guests as well so please bring your kids and pets and join us to help us send the message! You can RSVP on the
Facebook Event
– and please invite all of your friends to the event.
#MoreVoicesAreAlwaysBetter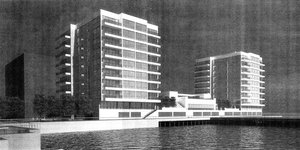 Mayor Bhalla has been working with Ironstate/Applied/Shipyard to find a solution that will protect the northern end of waterfront from being commercially developed and limiting access to the waterfront.
As negotiations continue, this is the time to reach out to the mayor and to City Council members to tell them how important our waterfront is to you, and ask for their support to find a solution that works for our community, protects our waterfront from being commercially developed and keeps it public for everyone. As a reminder, the proposed Monarch site was actually the open space giveback that was agreed as part of the multiphase development that we now know as Shipyard. You can copy and paste the following to send your emails to all council members and the mayor:
rbhalla@hobokennj.gov; jengiattino6@gmail.con; councilmanramos4@gmail.com; mdefusco@hobokennj.gov; hoboken2nd@gmail.com; councilmanrusso@gmail.com; cunninghamforhoboken@gmail.com; jimdoylehoboken@gmail.com; vfalco@hobokennj.org; emilyforhoboken@gmail.com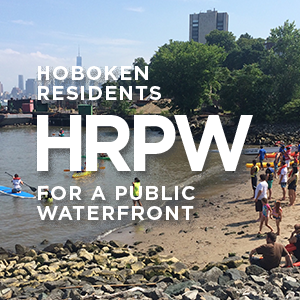 In 2011, I co-founded Hoboken Residents for a Better Waterfront with some of my neighbors when we started the initial fight against the proposed Monarch Site. I no longer man that ship but it is run by other Hoboken neighbors who have grown it to be another main source of information for not only protecting our own waterfront - most recently UDD, but for our neighboring waterways as well. Please join their distribution list by emailing them at HobokenRPW@gmail.com and follow them on
Facebook
and
Twitter
to stay connected. And when you see their posts, like and share them. Same goes for
Fund for a Better Waterfront
(
Facebook
and
Twitter
). As silly as it may seem sometimes, showing that people are following their efforts can make a difference.
Finally, what does Hoboken's waterfront mean to you?
A beautiful, peaceful place to ride, walk, place or rest?

A place where our community comes together?

The symbol of a longstanding fight for open space and a public waterfront for all?

A natural border that allows escape from the hustle and bustle of Hoboken's urban landscape?

A place to go and take in the stunning New York City skyline?

All of the above?

None of the above?



And how important is it to you? I ask that you take a minute to think about what you would feel if we didn't have our end-to-end public park that so many of our neighbors have been fighting decades for all of us.
If it is as important to you as it is to me, then please join these efforts to protect our waterfront. It takes the entire urban village that we call home to make a difference.