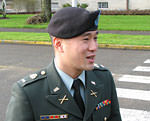 February 5 all day rally/vigil/puppet theater outside Fort Lewis; Events nationwide in support of Lt. Watada


ALSO:
Agustin Agauyo, imprisoned conscientious objector, facing 7 years jail time at March 6 court martial. Iraq War vet fought for nearly three years for discharge, charged with desertion for refusing to return. Dowload and distribute the "Free Agustin Aguayo" leaflet and please consider a tax-deductible donation to the "Agustin Aguayo Campaign" defense fund at www.couragetoresist.org/donate
---
February 5 all day rally/vigil/puppet theater outside Fort Lewis; Events nationwide in support of Lt. Watada
Lt. Watada Supporters at Seattle anti-war march 1/27/07 Photo by: Lori Hurlebaus

On Monday, February 5th the court martial of Lt. Ehren Watada is set to begin on Fort Lewis, Washington (approx. 45 miles south of Seattle). There will be an all-day vigil, and other scheduled events, at the Interstate-5 Exit 119 gate (map image | map pdf) to the Army base. Supporters are arriving early that morning (8am) to display banners in support of Lt. Watada and hold vigil as court martial begins. Below is the schedule of events including info on housing, transportation, and attending the court martial.

9:00 am Court Martial begins
(how to attend the trial)
11:30 am Rally with Iraq Veterans Against the War, students and spoken word youth artists
12:30pm Vigil outside the Gates of Fort Lewis with IVAW
1:30 pm Political Street Theater with Giant Puppet Art, Spoken word, and DJ's
3:00 pm Rally
4pm-6pm Vigil outside the Gates of Fort Lewis

Come early and stay all day!

There will be a space to get warm throughout the day at the Liberty Inn located at I-5 Exit 118. Shuttles to and from to the demonstration location at I-5 Exit 119 will be provided by Friends and Family of Lt. Watada.


GETTING to the Fort Lewis area (bus, train, auto & air)
HOUSING information around Fort Lewis
TRANSPORTATION Driving directions, regional buses and car pools to Fort Lewis (Feb. 5)
ATTENDING the court martial on Fort Lewis (Feb. 5, 6, 7)
NATIONAL calendar of events in support of Lt. Watada


Welcome Event in Tacoma, WA for Watada Supporters

Sunday Feb 4, 5:00 - 9:00 pm, First Congregational Church (Pilgram Hall - Downstairs),
209 S J St. (near Division St) (map). Meet local community members and visiting supporters as they gear up to demonstrate outside the gates of Ft. Lewis and also fill the courtroom with supporters! The evening's event will include food, music, speakers and spoken word. A great place to get more information about the following day's event, meet and welcome people. (Additional info and full program )



Art, Puppets and Theater-Making! Street theater volunteers needed!
Puppets being prepared for Feb. 5 actions. 2/1/07
Photo by: Jeff Paterson

Art and puppet making: Saturday, Feb. 3 (10am-6pm); Sunday, Feb. 4 (noon-3pm) A group of activists and artists from Tacoma and Courage to Resist has spent the last
week making art, giant puppets and theater. While the politicaly motivated military tribunal tries to convict Lt Watada, we will perform a giant street theater pageant to visibly, publicly and dramaticaly put the War on Trial in front of Ft Lewis! Join us at the Puppetista Peace Workshop , 1114 Court E, Tacoma (map)

We need folks who can come to both the Sunday Feb. 4, noon to 3pm reherasal AND the to Exit 119 outside Ft Lewis gathering at noon and then again hoping to repeat the performance in the late afternoon. (more info)

Events planned nationwide as court martial approaches

Supporters around the country are mobilizing as the court martial for Lt. Ehren Watada approaches.There are events and actions planned across the country!
(Full calendar of national events)
In New York a citizens hearing on the legality of the Iraq war gets underway on Saturday. San Francisco has four days of upcoming events including vigils, a rally, freeway bannering, and more! Los Angeles brings together Carolyn Ho, mother of Lt. Ehren Watada, and Helga Aguayo, wife of imprisoned conscientious objector Agustin Aguayo for a vigil, rally and full program with local musicians and community members and many more across the country!

Plan or attend an event in your community and let us know what you are planning. Send an e-mail to courage@riseup.net and actions@ltwatada.org
Lt. Watada news from Courage to Resist:
Army drops activist subpoenas for Lt. Watada trial (Jan. 31)
Lt. Watada prosecutors surrender on journalist subpoenas (Jan. 28)
Judge rules "illegal war" debate forbidden during court martial (Jan. 16)
For additional information about Lt. Watada's case visit: www.ThankYouLt.org