OFFICIAL FILM CHART UPDATE
AMAZON INKS FLEABAG STAR DEAL
MAIDEN SETS OUT ON VOYAGE
PECCADILLO BOASTS LFF QUARTET
MUBI SIGNS ANOTHER EXCLUSIVE
AT THE MOVIES
TWEET OF THE WEEK
TRAILERS OF THE WEEK
---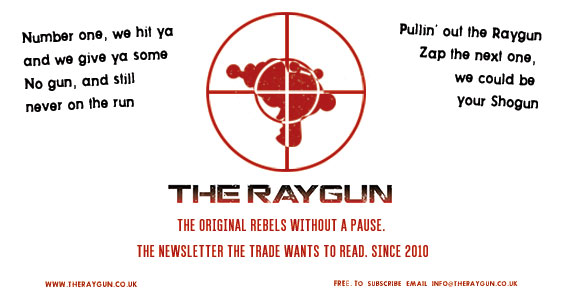 ---
If you can't read this newsletter or see the ads, please click here.
It was a good week for… John Wick Chapter 3 celebrates at number one…
It was a bad week for… Report suggests that the proliferation of streaming sites will only lead to increased piracy…
With everything from Playmobil characters to deadly alligators, from Dora the Explorer to Charles Manson and Rotten Romans to coked-up Argentinian football superstars, the industry-wide quarterly trailer has this week landed. As ever, the promotional item has been assembled under the guidance of trade organisation BASE, which has marshalled and corralled all Q4's key titles and put them together in one all-singing, all-dancing trailer. It features almost 30 titles taking in everything from pre-school titles such as Peppa Pig's latest outing through to the new film from that most X-rated of all directors, Quentin Tarantino, Once Upon A Time In Hollywood. And in doing so it highlights once again the breadth and diversity of titles that our business has to offer, fulfilling that most industry of all phrases, "something for everyone". It's being distributed to retailers, used through social media and also for PR purposes, giving BASE and its members plenty of opportunities to air key titles from the crucial final part of the year. Commenting on the trailer, BASE's Liz Bales said: "The Q4 edition of our quarterly trailer is the culmination of a strong build in appetite for exciting, shareable content from press, consumers and retailers since the concept debuted. Backed by a robust press launch and social coverage, the Q4 trailer is being screened in-store and shared internally with a growing range of retailers. The trailers have proven themselves an effective means of creating category buzz and ramping up excitement for upcoming releases. For the remainder of 2019, an extensive slate of stellar titles really shines, and we hope will inspire audiences to bring their favourites home on both digital and physical formats. With the trailers set to continue into 2020, I'd encourage all BASE members to feed in their future releases and help us drive engagement with media and our retail colleagues." You can see the trailer here.
You should by now have seen our John Wick Chapter 3 special mailed out earlier this week which outlined the huge success of the film on its digital and subsequent release, (you can see it here), but just to highlight once again, the film had done approaching 200,000 units across digital and physical SKUs by the middle of this week (September 25), thanks in no small part to Lionsgate's excellent launch event (you can see more including exclusive footage over here). And just to reaffirm the company's comments from Ben grunbaum and Olivia Dean: "Collaborating with Warner, we have also been able to offer a digital triple pack across a range of platforms. Consumers have been delighted and we've seen take-up of the box-sets beyond our expectations, taking digital sales over a stunning 100k already – as John Wick cements itself as a must-own franchise. We also had triple packs across all three formats and finally two Steelbook exclusives. Both with exclusive slipcase artwork designs, Zavvi's product contained an exclusive black adjudicator coin and Amazon's offering held a gold coin and metal lobby card; all as seen in the film itself. Fans reacted positively to both products, with Zavvi selling out ahead of release, and generating lots of word of mouth as people were desperate to get their hands on this limited product. We are delighted with how much retailers got behind the release."
That aforementioned box set featuring all three chapters of the John Wick saga thus far is a new entry in this week's Official Film Chart at number six, with, as noted previously, the third film itself, John Wick Chapter 3 – Parabellum, as it is formally known, at number one. Highest new entry at number two is Disney's Aladdin on the strength of its digital release, as is Godzilla: King Of The Monsters at number seven. You can see this week's programme put together to celebrate this week's chart and forthcoming releases over here.
---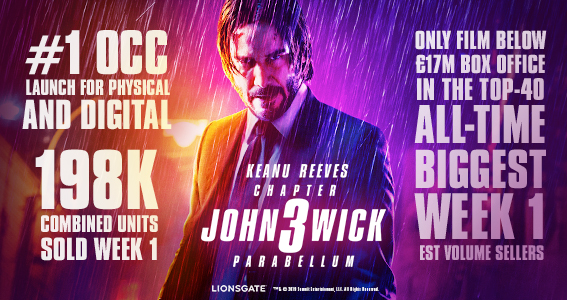 ---
Meanwhile, talking of Official Film Charts business, and we've been banging on about the new version for a while (and the original for almost 40 years), but the much lauded Final Cut of Apocalypse Now, presented by Studiocanal in lavish limited edition SKUs, multiple disc sets and more, has shown the film has not diminished over the years. What's more, Studiocanal's one night only theatrical re-release for the film, leading up to the new physical and digital release, was part of a carefully planned strategy that ran a lot smoother than the film's notoriously challenging and disrupted shoot. It ended with the home entertainment release and, according to the Official Film Chart, a new entry at number nine in this week's listing, making it one of the most successful releases of its ilk this year. The release was aided by marketing and PR activity that included important journalists and influencers (and the Raygun too, obviously) of finished copies of the film and special Charlie Don't Surf ale (seriously, see it here). And given the film's legendary standing, it could well keep going through until Christmas. Commenting on its success, Studiocanal's Tara Hutton said: "Apocalypse Now Final Cut has blown us away, storming in to the top 10 Official Film Charts. Following flawless reviews of the UHD collector's edition and incredible responses from journalists / fans and influencers, we have exceeded expectations for this release. A proud moment for the catalogue department! Our legacy of success with classic film restorations bodes well for the launch of The Third Man this Sunday in cinemas… with many more classic pre-loved gems to be released next year."
Here he comes, back into view, gambolling across the fields – it's everyone's favourite woolly creature Shaun The Sheep, returning in his second feature length outing, Farmageddon, courtesy of Studiocanal and its ongoing relationship with the animation experts at multi-award-winning production company Aardman. The wonderfully named film sees a distinctly extra-terrestrial element being added to Shaun's playbook, as a mysterious creature lands at the farm. The film opens at cinemas in October, having premiered to delighted families last weekend. We asked the experts at kidzcoolit.com for their opinion, and our old pal Nick Gibbs McNeil said: "In my eyes Aardman can do no wrong, with every short and theatrical release being an event for any die hard fan. That said Farmageddon is their best theatrical offering to date with some incredibly funny moments, brilliant new characters and stunning visuals!" Studiocanal's Nicola Browning added: "Last Sunday's UK premiere of A Shaun The Sheep Movie: Farmageddon at the Odeon Leicester Square was a truly baaaa-rilliant event. The filmmakers, voice cast, including Justin Fletcher and celebrity guests Joe Sugg, astronaut Tim Peake, model Jodie Kidd, musicians including Alex James (Blur), Nadia Rose and Danny Jones (McFly) and presenter Kate Garraway were amongst a whole herd of other stars in attendance. On this his second outing, Shaun proves that once again he's a big screen star, this time joined by adorable new character Lu-la in this exciting and heart-warming sci-fi comedy adventure."
To the Odeon in Leicester Square, the lavishly revamped cinema atop the chain, for the European premiere of the marvellous Motown documentary Hitsville: The Making Of Motown. We've already raved about the film here and the event, hosted by Altitude alongside partners such as Universal Music and production outfit Fulwell 73, only served to highlight, to our minds, the home entertainment potential of the documentary about the legendary Detroit label. For it was our second viewing and we can confirm that it stands up to repeat viewing – we already want to see it again, it really is that good. Don't just take our word for it – here's a sample review from Vice: "The film, coinciding with Motown's 60th anniversary, proves why the Detroit behemoth remains one of the most ubiquitous and essential record labels of all time. Few labels are as inextricable from a sound to the extent that Motown is. This is the first documentary with Gordy's official blessing and involvement; because of this, directors Gabe and Benjamin Turner can include a ton of exclusive footage and anecdotes that really make the film shine. There's a wealth of archival label footage from the 60s and 70s, exclusive interviews with songwriters like Lamont Dozier and the Holland Brothers (who as a trio penned ten of The Supremes' twelve number one singles), and several immensely charming scenes of Gordy and his label partner Smokey Robinson reminiscing about the past." As noted here previously, the film is out at cinemas for a special one night only presentation on Monday September 30, with the home entertainment bow following a week later.
The Emmys took place last week, with assorted and notable winners including the likes of Fleabag, Killing Eve, Game Of Thrones (the final season of which is due on home entertainment formats in November) and the excellent Chernobyl. The latter was released by Acorn earlier this year and the company was expecting the awards success to give the mini series a further boost to carry it through to the end of the year. Stuart Shaw, md of Acorn Media International, said: "Chernobyl – the nuclear reactor that caused a nuclear reaction when it was released both on DVD and digitally, continues to radiate success in the world of TV on DVD. Having sold well over 50,000 units since its release and spending many weeks at the top of the physical and digital charts this is fast-becoming a history-making best-seller for Acorn. With 19 Emmy nominations and 10 Emmy wins, we're proud of this title on every level, and expect it to continue delivering for retailers right through the holiday season."
Meanwhile, Phoebe Waller-Bridge's Emmy success was swiftly followed by a timely announcement from Amazon that it has inked a deal with the multi-hyphenate star to create programming for its Prime Video service. Commenting on the deal, she said: "I'm insanely excited to be continuing my relationship with Amazon. Working with the team on Fleabag was the creative partnership dreams are made of. It really feels like home. I can't wait to get going!" Jennifer Salke, Head of Amazon Studios added: "We are thrilled to be continuing our partnership with Phoebe at Amazon Studios! As evident in her great success at the Emmy Awards this week, she is clever, brilliant, generous and a virtuoso on multiple fronts including writing, acting and producing. Fleabag has been a gift to our Prime Video customers and we are excited for what comes next from this brilliant mind to dazzle and delight our global audience."
---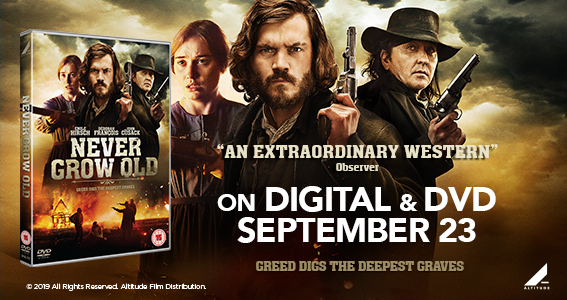 ---
Hotly-tipped as a potential awards contender next year and having now crossed the $3 million mark at the US box office, the inspiring Maiden is released on DVD, Blu-ray and on demand through Dogwoof this Monday (September 30). Directed by Alex Holmes (Stop at Nothing: The Lance Armstrong Story), Maiden tells the story of skipper Tracy Edwards and the first-ever all-female crew to enter the Whitbread Round the World boat race in 1989. Commenting on the release, head of home entertainment Daniel Green said: "Maiden has really gone from strength-to-strength since its UK launch in March. With over $3 million taken in the US through SPC and aligned home ent releases on both sides of the pond, the film looks set to make a splash on physical and digital. Fingers are also crossed for Oscar and BAFTA nominations in the new year."
Due from Universal on Monday, again as part of one of its ongoing distribution deals, this one with eOne, comes one of the year's most talked about films, and one that is certain to end up on many critics' year-end best of lists – Booksmart. The film won critical and audience acclaim, along with an incredible word of mouth, on its theatrical release earlier this year. Thanks in no small part to its stars Beanie Feldstein and Kaitlyn Dever (the release is given an extra timely boost by the latter's current appearance in much-talked about Netflix mini-series, Unbelievable). The film follows the pair's fortunes as they navigate the trials and tribulations of 21st century US high school. Universal is aiming to capitalise on the buzz that is still growing around the film, using social media with promoted posts on Facebook and Instagram. It is also utilising AV highlighting some of the hilarious film's funniest moments. Commenting on the release, junior product manager Macayla Madden-Forde said: "We are very excited to bring such a funny and heart-warming coming-of-age comedy to home entertainment, it's sure to become a classic of the genre."
Only a few days now until the London Film Festival starts, and one independent distributor with a strong showing there this year is Peccadillo, which is heading into its anniversary celebrations next year with a selection of four different films on show at the event. Its quartet includes French revenge drama Don't Look Down; remote Icelandic bereavement tale A White White Day; Monsoon, about a Londoner returning to his homeland of Vietnam; and And Then We Danced, about a dancer in Georgia. Commenting on its slate, Peccadillo's Tom Abell said: "Peccadillo is very proud to present a selection of some our latest titles at this years BFI London Film Festival. This years LFF titles represent a slice of our diverse range of new films for 2020 - which is going to be quite a year for Peccadillo when we celebrate our 20th birthday!"
Also airing at the LFF is the new film from Chilean director Pablo Larrain, Ema. The film stars Gael Garcia Bernal and it's now been announced that curated streaming service Mubi has acquired UK and Irish rights to the film for its service. It joins an expanding slate of films picked up exclusively by the service, including Bacurau, Beanpole, The Wild Goose Lake and Yves St Laurent The Last Collections. Commenting on the deal, Mubi's Efe Cakarel said: "We watched EMA at Venice and instantly fell in love with it. It's intoxicating. I'm excited that we'll be working with Pablo who is one of the world's most daring filmmakers out there."
News from BBC Studios which has appointed Stephen Davies to the new role of md for Consumer Products and Licensing, in a move that brings all of the BBC's commercial licensing and publishing, including home entertainment, together for the first time. Marcus Arthur, president, BBC Studios UK and ceo UKTV said: "These businesses bring pleasure to millions of fans every year by extending their enjoyment of the BBC content and brands they love and I'm delighted Stephen has accepted this new role to ensure their continued success. Andrew has done a fantastic job managing our consumer product and publishing businesses and we wish him all the best in his new role." Stephen Davies, newly appointed md, Consumer Products & Licensing, BBC Studios said, "Bringing the expertise in our consumer product and licensing teams together will mean that we can innovate, collaborate and share best practice across the business lines more easily and continue to delight and surprise audiences and make sustainable returns to the BBC."
---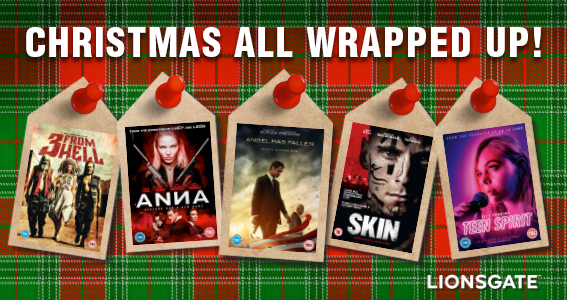 ---
Reboot fever continues apace – by our reckoning, there are more and more of these on the way – and each week it seems as if there's an even more ridiculous remake or reimagining or re-something or other on the way. This week, it's the turn of seminal early 90s flick New Jack City, one of the clutch of films that heralded a new wave of American films. Directed by Mario van Peebles, it starred the likes of Wesley Snipes, Ice T and its director, and boasted a rap-friendly soundtrack. The gangster film went on to make pots of cash for Warner, which is probably part of the reason the studio is now looking at a new take on the property. Michael M Mays, from TV series Snowfall and soon to be seen in the next Chris Morris film The Day Shall Come, is working on the script for it…
Meanwhile, Disney has confirmed that Kevin Feige, the man who has so successfully marshalled all the recent Marvel films, is heading to another arm of its empire. For even though he's as busy as one individual possibly could be, it's this week emerged that he is teaming up with Kathleen Kennedy on a new Star Wars film. Little else is known, but his track record speaks for itself… Rejoice too, as news has also emerged that Marvel and Sony Pictures have kisse and made up and will collaborate on the next Spider-Man film. Feige will be co-producing…
The revived Jurassic Park franchise, now under the name Jurassic World, has added some more dinosaurs in acting terms to its third outing. For it's this week been confirmed that a few familiar faces from the first trip of Jurassic films will be returning to join director Colin Trevorrow and stars Bryce Dallas Howard and Chris Pratt for Jurassic World 3. For at a screening this week, Trevorrow was joined on stage by Laura Dern, who told the whooping audience: "I love dinosaurs, I love that you love them like we do, and if it's not asking too much, if I'm going to get to join this party again I would hate to not bring my friends Sam Neill and Jeff Goldblum with me. Is that ok with you?" Trevorrow confirmed all three will be returning…
Can't wait for this one, to be sure…
Due on home entertainment this autumn via Universal…
And suddenly, Sandler's popular again…
You're on The Raygun newsletter mailing list, which has been running for eight years, because you requested it, have been recommended to us or sent us emails. You can unsubscribe at any time, if you're daft, using the link elsewhere or by emailing as below. But of course, you don't want to do that, do you? We don't share your information with anyone else, we don't like cookies and we're the good guys. We care because you do…
To subscribe to The Raygun newsletter, please email
info@theraygun.co.uk
with subscribe in the subject matter
To unsubscribe, email

info@theraygun.co.uk

with unsubscribe in the subject
For editorial or advertising queries, contact

tim@theraygun.co.uk