Newsletter Headline Here...
🎉  
10 YEAR ANNIVERSARY PARTY! 
🎉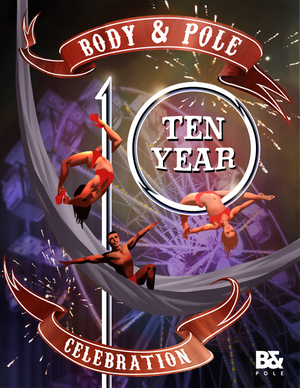 EPIC CARNIVAL-INSPIRED PARTY THIS WEEKEND
You don't want to miss this incredible celebration that includes:
- Adult Bouncy Castle
- Live DJ
- Beer & Wine
- Cotton Candy Machine
- Popcorn Machine
- Photo Booth
- Carnival-inspired Games
- Studio Prizes & Merch
The party is totally free!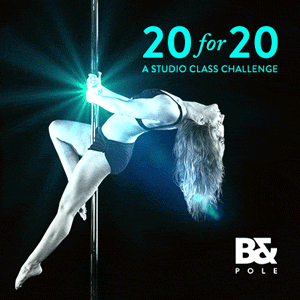 SLAY 20 CLASSES IN 20 DAYS
...& WIN 20% OFF YOUR NEXT PURCHASE!*
This game is designed to help you stay motivated with your 2020 pole, aerial, and movement goals with this in-studio game! It's simple, complete 20 classes in 20 days (with a suggested 8 days of rest), and you win! *20% discount good for class purchases, privates, rentals and official B&P merch. 
Grab your playing card at the front desk on your next studio visit!
IG: #BP20for20
  AVAILABLE NOW AT THE FRONT DESK  
ALRIGHT STOP, HAMMOCK TIME!
NEW AMAZING HAMMOCK CLASSES!
THURSDAYS 12:00 - 1:15 PM WITH SAM MARSH
FRIDAYS 8:00 - 9:15 PM WITH TYLER SHAQIRI
SUNDAYS 5:30 - 6:45 PM WITH LAURA HALEY

TUESDAYS

6:45 - 8:15 

PM

 

WITH SAM MARSH
THURSDAYS

12:00 - 1:30 PM

 

WITH LAURA HALEY
SATURDAYS 6:45 - 8:15 

PM WITH TYLER SHAQIRI
Learn how to make aerial dance look floaty and effortless with our new Hammock classes!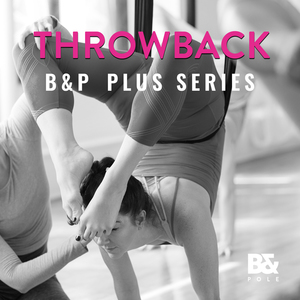 FEBRUARY 2020
February kicks off with more Throwback classes, bringing back old favorites to infuse some seriously fun and nostalgic vibes into your workout! 
Sign up for limited-run classes like
Pole Divas, Aerial Contortion, Vertical Ballet Barre,
AND MORE!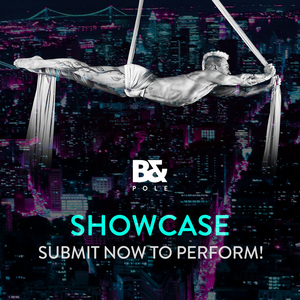 SHOWCASE SUBMISSIONS NOW OPEN
Interested in creating your own piece for our next Student Showcase on March 21st? Submissions now open until 2/12!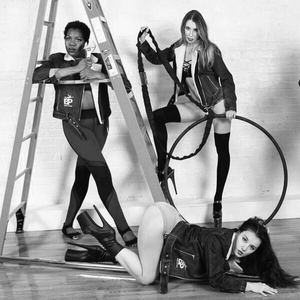 INTERESTED IN JOINING OUR JUNE 2020 WORK-STUDY GROUP?
WORK-STUDY SUBMISSIONS NOW OPEN!
"The Work-Study Program at Body & Pole fully immersed me into the world of pole and aerial by offering extensive training, support and opportunity."
– Irmingard Mayer, Manager and 2015 US National Pole Art Champion
The Body & Pole Work-Study Program is a one year professional development program where work-studies are nurtured, supported and empowered to discover and achieve their unique goals.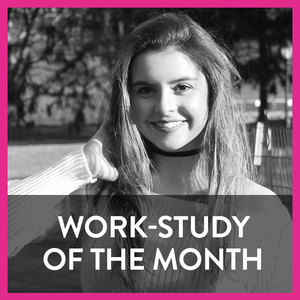 JANUARY 2020
Our work-study of the month for January was Lara! Lara is on top of her game, bringing tons of support and joy to the studio. To show our appreciation, she will receive a free private lesson with the instructor of her choice! Thank you for everything you do!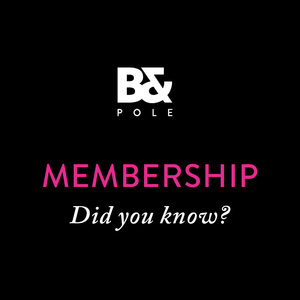 BODY & POLE
MEMBERSHIPS IN 2020
DID YOU KNOW?
Did you know that with Monthly Membership you now have more freedom to cancel your membership? Check out our 2020 Monthly Membership benefits:
– One month cancel notice permitted 
- Free three month B&P Online Membership
- 15% off Class Packages, Official B&P Merch, Showcase Series, Space Rentals, and Privates
- 8 Guest Passes
- Free self-submission Student Showcase Spot
- 2 Late Cancel exceptions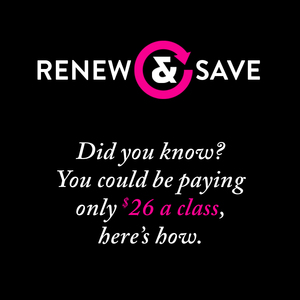 RENEW & SAVE
SAVE 15%
REMINDER, IF YOU WANT TO KEEP SAVING 15% ON YOUR CLASS PACKAGE PURCHASES, YOU'LL NEED TO RE-ENROLL FOR 2020!
Use a class package regularly? Select our auto-renewable packages, and you can save an additional 15%! Click below to learn more!
 ONLY $26 A CLASS (VS. $31) 
NEW: PRE-PROFESSIONAL PROGRAM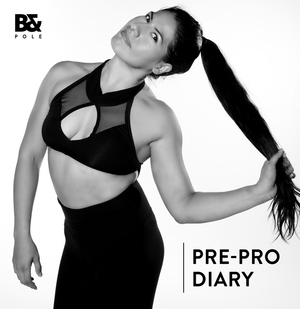 THE BODY & POLE PRE-PROFESSIONAL PROGRAM
STARTS: MARCH 1, 2020 
ALSO FALL: SEPTEMBER 1, 2020 
Details:
Unlimited access to the complete studio class schedule

Your own private coach/mentor 

Professional development support including a personal photoshoot
"…one other thing that makes this program so unique, which is the incredible amount of knowledge, and the willingness to share it, that's just part of the B&P community. To me, that's the awesome sauce in B&P instruction." – Patricia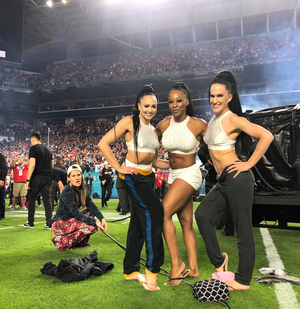 IRMINGARD A FEATURED POLE DANCER IN J.LO'S SUPER BOWL HALF-TIME SHOW
All we can say is WOW! So proud to see Irmingard Mayer pole dancing alongside J.Lo in the Super Bowl half-time show yesterday. We are honored to see pole dancing represented! Exclusive BTS photos courtesy of @irmingardmayer 📸
- ONLINE POLE, FLOOR, & AERIAL TRAINING
- CREATE THE SCHEDULE THAT WORKS FOR YOU
- QUALITY IN-STUDIO EXPERIENCE FOR EVERYDAY USE
elevatED TEACHER TRAININGS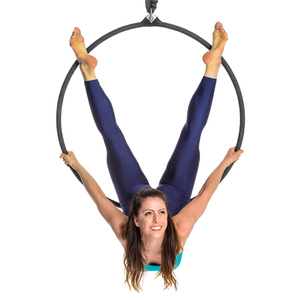 elevatED CLINIC:
HOOP SPOTTING 101
MARCH 27, 2020
1:30 - 4:30 PM 
Interested in taking your Aerial Hoop training to the next level? Join us for this 3 hour Hoop Spotting 101 clinic where we'll discuss safe and effective spotting techniques! Working in pairs and groups, you'll get hands-on experience spotting mounts, rolls, and sequences, and leave feeling confident spotting your peers and/or students. Join us and dive deeper into your hoop training!
Prerequisites: Previous teaching experience is not required. You must be able to complete an unassisted trapeze and pullover mount on the bottom bar of the hoop in order to attend this clinic.
DONNA CARNOW
Donna is performing in Pole Play NYC, produced by Aerial EDGJ on February 13 | @donkakong @aerialedgj Photo: 
@theikphoto
KYLA ERNST-ALPER
Kyla is heading to Detroit to perform with RAVEN on February 7 & 8 in Detroit's Dirty Show 21. When not performing out of town, RAVEN is starring in The Devouring, a House of Yes immersive production in residence at Paradise Club inside the Times Square EDITION Hotel every Thursday, Friday & Saturday night | @kygwen @ravenkindness Photo: Brynne Levy
BRENNA BRADBURY
Brenna is co-hosting High Flying Retreats in Cabarete, DR from February 6 - February 10 for an all-inclusive (less airfare) aerial vacation filled with aerial classes in rope, silks, hammock and lyra, stunning beaches, pool time, beach bonfires, and more! | @brennabradbury @highflyingretreats
ACCRO BRANDON
Accro Brandon is leading Liquid Motion 2.0 Training at Fly Club in Chicago on February 8-9 | @accrobrandon
SAMMY WONG
Sammy is heading to Los Angeles to perform in Rise the Night on February 14 & 15, and teaching a contemporary low flow workshop on February 16. He is also performing in Blunderland at House of Yes February 21 & 22 | @sammyisdancing Photo: @ellenstagg
We are honored to help you own your unknown.
- The Team at Body & Pole
Body & Pole, 115 West 27th Street NY, NY 10001