This Week at the Richmond Memorial Library                                                                                 July 27, 2020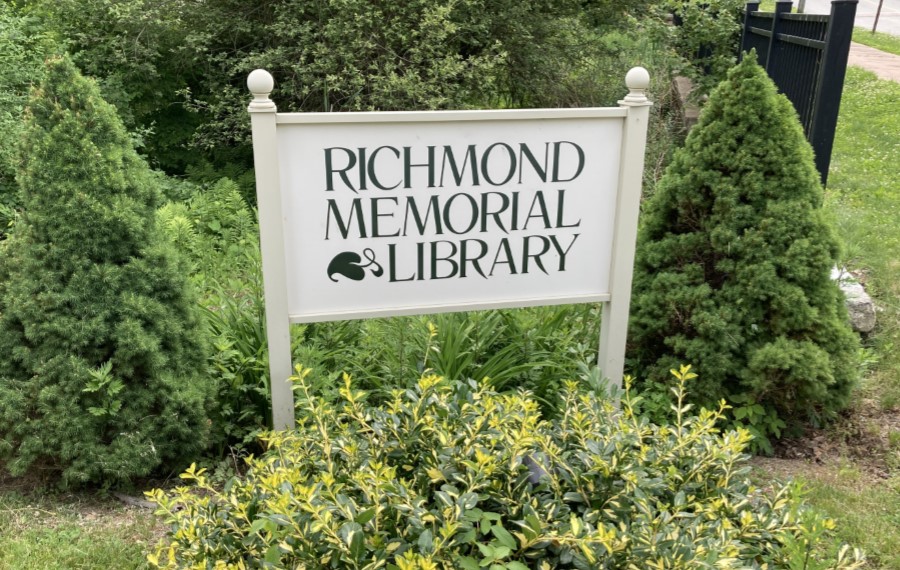 Library2Go Curbside Printing

We've received a few phone calls from library patrons who have needed items printed, so we are pleased to officially announce that we are now offering Library2Go Curbside Printing. Send your JPEG, PDF, or DOC as an attachment to richmondprograms@gmail.com. Our standard printing charges will still apply. Your first 50 cents (2 black and white pages or 1 color page) is available at no charge. Each additional black and white page is 25 cents and color page is 50 cents. Exact change must be placed in a sealed envelope with your name on it and left in our book drop. Please allow one full business day from the time you emailed us to print your pages. Library staff will contact you to arrange a pickup time. 


Simply Summer Summer Reading Programs
RML's 'Simply Summer' Reading Program kicked-off Saturday, June 20!
With the Richmond Memorial Library currently open only for curbside pickup and virtual programming, we have designed an easy-to-use online summer reading program for all age groups. We want your summer to be as stress-free as possible while still providing you with the tradition and benefits of summer reading programming. We know our library users look forward to special summer reading programs and prizes, all of which will be offered this year, just a bit differently. Our Simply Summer Summer Reading Program allows for greater flexibility and gives you the opportunity to be involved as much or as little as you would like to be.


Our 8-week Simply Summer Reading Program runs from
Saturday, June 20 through Friday, August 14.
Children's Summer Reading Program

Our website will feature some fun and simple challenges that can be completed with ease any time. Each week we will add activities and programs with a different theme. Fill out a simple Google Form just once each week that your child participates so we know they have been reading. (We will send this information to Marlborough Elementary School in the fall.) Each week you submit, your child will be eligible for either a prize or craft to pick up, a virtual experience or a special treat!

This week's theme is: This week's theme is The Great Outdoors! Check out the Children's page of the RML website at http://richmondlibrary.info/childrens-summer-reading-4 for more! 

Teen Summer Reading Program
For those entering grades 7-12 in the fall, you can join our Teen Simply Summer Reading Program! Visit our website at www.richmondlibrary.info and click on the Teen Summer Reading banner for all the information you need. Each book logged gets you an entry for prizes given out through the summer. 

Adult Summer Reading Program

Click the Adult Summer Reading link on our website and submit log entries for books you have read as part of the Simply Summer Summer Reading Program. Each log entry will be entered into a weekly raffle prize drawing, selected at the end of the week during the summer reading program's duration of June 20 and August 14. Books, graphic novels, audiobooks, as well as ebooks and eaudiobooks are all eligible. The more you enter, the more raffle entries you earn. Be sure to check our website and social media pages for information on special programs throughout the summer! Last week's raffle prize winner received a gift card to Dunkin' Donuts and we've got more great prizes ready to hand out over the next few weeks. 


Friday, July 31
Children between the ages of 2 and 6 can join us on Friday, July 31 for a virtual storytime on YouTube, which can be watched whenever it is most convenient for your family. The theme will be The Great Outdoors and there will be a craft available for pickup at the library beginning on Friday through the end of the weekend! Email richmondprograms@gmail.com to register.




Join educator Jennifer Barrett, founder of We Grow 

Yoga

, for a fun 'Outside' Adventure 

yoga

 class where imagination is key!
The class is perfect for ages 2-5 but anyone can join in for a good stretch!
Paint a Puzzle with Ms. Eileen
Wednesday, August 5, 11 am

Children between the ages of 7 and 10 can join Ms. Eileen over Zoom to paint a picture together on a puzzle. Call or email the library to register and we will set up a time to pick up your supplies.


Wednesday, July 29, 7 pm

Teens, intersted in a virtual game night? Email Ms. Eileen (ewashburnrml@gmail.com) if you'd like to join us in playing Drawful 2 (kind of like Pictionary, but more fun when the drawings are AWFUL) on Zoom. You don't have to be an artist to participate, but you do have to have a device to watch on and a smart phone to play on.


Richmond Library is normally open Monday through Thursday from 10 AM to 8 PM, Fridays, 10 AM to 6 PM and 10 AM to 1 PM on Saturdays from May through September.  Please check with us to make sure we have re-opened before stopping by.

We have started to and will continue to host virtual programs for all age groups. Additional information will be found on our website and social media pages, including video tutorials on how to access the virtual formats these programs will be offered in.
 
Monday, August 10 from 7-8 pm, Votes for Women: In celebration of the 100th anniversary of women's suffrage in the United States, the Connecticut Women's Hall of Fame will join us on Monday, August 10, at 7 pm to share stories about the Connecticut women who fought on a local, state, and national level for women's suffrage. This is a virtual program over Zoom. Registration is required. Email richmondprograms@gmail.com.

Thursday, August 13 at 7 pm, College-Prep Series: Crafting Your College Essay: College Advisor Priyanka Shingala (Let's Talk College, LLC) will kick off a 3-part College-Prep Series with a virtual Crafting Your College Essay program designed for teens and parents. This program is intended as a twenty-minute overview of the topic with a lengthy Q&A period following the presentation. While not necessary, bringing your questions to the program will help you.

Wednesday, August 19 from 6-7 pm, Financial Wellness Wednesdays: Real Estate -- First Time Home Buying: Financial Wellness Wednesdays will be an ongoing virtual series done in collaboration with a handful of other libraries around the state who have teamed up with the Financial Awareness Foundation.

This virtual program will introduce you to the first time home buying experience. Learn the pros and cons of buying a home and the steps you need to take in order to purchase a home. Questions are encouraged at the end of the program. Registration is required. Email richmondprograms@gmail.com.
***Accessibility at RML: The library does not have an elevator. If you need full accomodation, please contact Library Director Aubrey Muscaro at 860-295-6210 or amuscaro@richmondlibrary.info prior to the event (one week preferred) so we can find an alernate space. The meeting room is located on the second floor.

+++Denotes registration required. Please call the library at 860-295-6210 or email us at richmondprograms@gmail.com