Renew Your AFMW Membership
2014 
Council Meeting Dates
Mon, Aug 18
Sat, 15 Nov (Council & AGM)
If you would like to submit an item for discussion at one of these meetings, please first present the item at your state MWS committee meeting for discussion.
If approved by the state committee, please then submit it to the Secretariat using an Agenda Paper Report.
Elections for AFMW Council are to be held in November 2014. A
FMW Council Members are elected for a three year term. Two Council Members will be elected from each state and territory.
Nominate for a Council position via your State Committee!
MWIA-related Events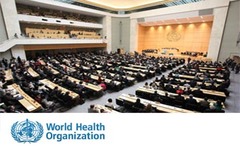 67th World Health Assembly
The World Health Assembly is the decision-making body of WHO.
 It is attended by delegations from all WHO Member States and focuses on a specific health agenda prepared by the Executive Board.
MWIA is allowed to register at least 20 delegates at this event.
If you are interested in registering for this event, please c
ontact the Secretariat, 
Melissa Morey, at afmw@afmw.org.au.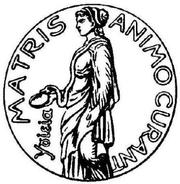 From time to time, the Medical Women's International Association (MWIA) advertises opportunities for MWS members to serve on the MWIA Committees: Finance; Science and Research; and Ethics and Resolutions; and Centennial. AFMW President, Desiree Yap, has expressed an interest in being on the Centennial Committee. 
The Centennial Committee will pursue with national organizations the possibility of hosting the 2019 Centenary Congress; encourage activities throughout the regions for the centenary year; discuss possible themes and  develop subgroups of the committee. 
The AFMW Secretariat welcome any thoughts or input that members may have on this topic.
Investec is a proud sponsor
of the AFMW e-Newsletter.

AFMW Leadership Skills Database

Annual General Meeting of the
Federation of Medical Women of Canada
Western Pacific Regional MWIA Meeting
 30th 

International MWIA Congress
Women suffer 'horrendous' threats of violence
The month of March has seen a resurgence in efforts to clamp down on domestic violence amid disturbing evidence that more than half of all women will be physically or sexually assaulted at least once in their lives.
In a powerful essay for the White Ribbon Campaign, Tom Meagher, Jill Meagher's widowed husband, recently spoke out to support abused women, warning against "ingrained sexism" and the "monster myth" around men who commit appalling crimes.
If you know someone experiencing domestic violence, Better Health Channel has an excellent resource on the services available to women experiencing domestic violence.
Women's Reproductive Rights
Following our February n
ewsletter, AFMW was pleased to receive the following remarkable response from one of our members, Dr Browen Morrison, a GP registrar in Kincumber and President of 

Peoples of Australasia for Innovation and Growth Abroad (PAIGA)

, NSW:
"I fully agree with and strongly
support the stance summarised in these s
tatements.
I've spent time in Papua New Guinea with disadvantaged rural communities. The lack of women's health education and care in PNG, including access to contraception and safe abortion that we take for granted in Australia, results in the frequent deaths of women and babies in that setting. In every PNG classroom of girls, one will die of a maternal cause. We have short memories about our own history in this respect. We need to protect women's ongoing reproductive health rights here in Australia, while helping promote them with our near neighbours.
Thanks for your important work and best wishes."
Read more about Dr Morrison's amazing work through PAIGA here.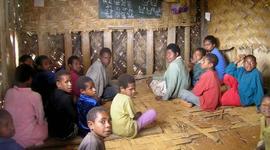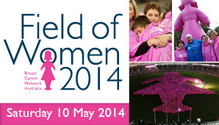 Stand on the MCG on Saturday 10 May to show your support for all Australians affected by breast cancer.

2014 Field of Women is Breast Cancer Network Australia's most
powerful public event in raising awareness for breast cancer, and paying tribute to those diagnosed with breast cancer in Victoria. Join 15,000 people as they unite on the MCG to create the Pink Lady silhouette, representing the number of Australians who are expected to be diagnosed with breast cancer this year.
President's Report
Dr Desiree Yap
AFMW has had a number of busy months since our last newsletter. The Council continues to consider how best to share all the relevant information with the State Committees and members – as the balance between too much information and not enough is a hard one to strike. To that end, a summary is provided below!
Some lucky AFMW members have attended the Commission on the Status of Women annual meeting which was held in New York last month. The theme was 'Challenges and achievements in the implementation of the Millennium Development Goals for women and girls's. Professor Gabrielle Casper and a number of her Notre Dame Students attended and presented – hopefully their reports will be ready for the next newsletter.
 

The Medicine in Australia: Balancing Employement and Life (MABEL) team approached AFMW to present on key issues facing women in their current and future role in medicine, and on key policy issues that would promote women's participation given their current social roles in our community. Professors Jan Coles and Deborah Colville undertook this on April 10 and a copy of their presentations will soon be available on the AFMW website
Read more.
Australian Research Council (ARC)

 Grant Project:
The AFMW is involved in a

ARC Grant

 Project called, "
Elucidating the increasing demand for genital cosmetic surgery among girls and women in Australia
." 
The project is investigating the psychosocial aspects of female genital cosmetic surgery (FGCS) in Australia.
Along with AFMW, the research is being conducted by Jean Hailes Research Unit at Monash University 
in collaboration with Deakin University, Jean Hailes for Women's Health,
Family Planning Victoria, Monash Health, and Women's Health Victoria.
Your expert opinion is needed. 
Researchers from Monash University 
are interviewing professionals who have female patients who 
undergo (or may be seeking to undergo)
genital modification. This includes surgery, vajazzling, waxing, colouring, piercing, or any other genital modifications. 
Interviews can be conducted face-to-face, by telephone, or by email. Oral interviews should 
take about 15 - 30 minutes. Before you agree to participate, you will be given detailed 
information about the research.
This flyer is also being distributed, should you have interested patients. We would be grateful for the increased public awareness of the study.
Results will contribute to programs for sexuality and body image education, public health campaigns about normal genital diversity, and professional development for doctors and beauty therapists.
If you would like to participate or want further information,
please contact Kiran Pienaar 
(T: 03 9903 0686, M: kiran.pienaar@monash.edu).
International Medical Womens' Society Profile
L'Association Française des Femmes Médecins
The French Association of Women Doctors (also known as L'Association Française des Femmes Médecins, aka AFFM) was founded in 1923 by Dr. Thuillier-Landry. Dr Thuillier-Landry was also president of the Medical Women's International Association in 1924.
AFFM 
draws inspiration from the pioneer doctor Madeleine Bres, who at the age of 33 in 1875 was the first woman to obtain a French medical degree. Dr Bres specialised in the mother-infant relationship and the health of young children.
The current president of AFFM is a strong believer in the 
global right of women to education, health and freedom from violence. From its roots in
 Olympe de Gouges, an early feminist who demanded that French women be given the same rights as French men, one of AFFM's missions is to bring about 
a significant change and attitudinal shift in both women's and society's thoug
hts about women's equality and emancipation.
A new AFFM Executive Committee was elected 
in January this year, with Dr Cécile 
Renson as President (pictured).
This year, AFFM are looking more closely at the role of preventive medicine and the social environment in patient-physician relationships, and ensuring a better balance between work life and family life.
AFMW members 
receive Honours
Australia Day 2014 saw AFMW members recognised for their dedication and excellence in diverse areas of service.
Dr Carol Cox received a Member of the Order for Australia (AM) for significant service to medicine in rural and remote areas as a general practitioner, to education, and to professional medical organisations

Dr Penelope Ruth Flett received an Medal of the Order of Australia (OAM) for distinguished service to aged persons through significant contributions to improve care and support services, to education, and to the community of Western Australia.

Professor Christine Constance Bennett received an OA for distinguished service to medicine and healthcare leadership, as a clinician, researcher and educator, particularly in the fields of

child and family health and social policy

Victorian Department of Health Chief Health Officer Dr Rosemary Lester also received a Public Service Medal in 2014 for outstanding public service in public health leadership, particularly on communicable diseases and immunisation

Dr Eugenie Tuck OAM also received a Public Service Medal in 2014 for outstanding public service in the area of healthcare in correctional services

Dr Catherine Yelland, our past president, received the Public Service Medal in the Australia Day Honours List, for her outstanding public service, excellence and leadership in Older Persons Medical Services
AFMW sends its warmest congratulations to all recipients.

In the last AFMW quarterly, we put forward for discussion six statements on women's reproductive rights
.

 
From your feedback, we have updated and prepared the following draft position statements.
Draft Position Statement on the Ethics of Doctor's Conscience:
AFMW recognises that medical professionals are obliged to make clinical decisions that affect and are affected by the ethical, legal, religious and personal beliefs of doctors, patients and other parties

AFMW recognises the right of doctors to hold conscientious objections

Whereas AFMW respects the rights of doctors, AFMW believes doctors have a duty of care to provide unbiased information and to disclose their conscientious objections
Draft Position Statement on Abortion:
AFMW upholds that every woman in every country should have the right to decide if she wishes or not to become pregnant

Reliable information and safe means to prevent pregnancy should be available to all women

AFMW recognises that termination of pregnancy is requested by some women

AFMW believes that safe and legal abortion services should be available, affordable and accessible

In worldwide promotion of women's health, access to safe abortions is seen as an important issue

AFMW recognises the rights of women and girls and upholds the right of women and girls to undergo lawful medical and surgical treatments, including abortion

AFMW recognizes the autonomy of women and upholds their right to choose to undergo lawful medical and surgical treatments, including abortion

AFMW upholds women and girls' right to seek and obtain unbiased information about healthcare, including abortion
The AFMW seeks your feedback on these statements. We hope to develop an informed position that advances ethical behaviour of the medical profession and protects provision of world class medical care to all Australian women.
Should we also have a
position statement on Climate Change Resolution or Gay, Lesbian, Bisexual, Transgender and Intersex (GLBTI)?
We welcome your feedback via the Secretariat, Melissa Morey, at afmw@afmw.org.au.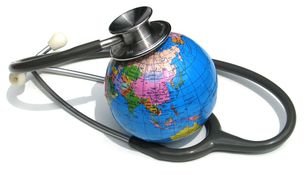 AFMW is a proud partner of the Australian Human Rights Commission's National Anti-Racism Strategy.
Pharmaceutical Benefits Advisory Committee
The
Pharmaceutical Benefits Advisory Committee 
 (PBAC) 
is an independent expert body appointed by the Australian 
Government. 
Its primary role is to recommend new medicines for listing on the PBS. No new medicine can be listed unless the committee makes a positive recommendation.
AFMW is represented on the PBAC by Dr Marion Davies, a rural generalist (GP) registrar, and she shares with us her experience thus far:
"I was appointed to the PBAC in June 2013 after my nomination by AFMW was accepted by the Minister for Health. 
The PBAC works to provide affordable access to cost effective medicines and to promote quality use of medicines in the Australian community.
My role on the PBAC as a Rural Generalist is to represent rural and remote Australians, and to consider the unique challenges of access to healthcare in these environments. Members of PBAC consider not only the clinical effectiveness, value for money and safety of a medicine, but also how best to achieve convenient and equitable access. This includes deciding who can prescribe the item (e.g. nurse practitioners, optometrists, etc) and access under different schemes such as the National Immunisation Program or Section 100.
I am finding my role on the PBAC highly challenging and rewarding. I thank AFMW for supporting my nomination and I encourage all AFMW members to nominate for Boards and Committees of organisations that they have an interest in."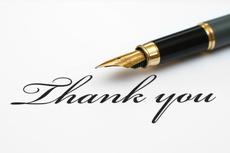 Would you like to thank a teacher, mentor or senior colleague who has made an invaluable contribution to your medical journey?
AFMW has established the Thank You Initiative to give our members a way to formally express their gratitude for the invaluable contributions of their mentors and teachers. 
Read more.