Renew Your Membership
or
Become a Member
   Add your voice to the only organization whose sole purpose is to maintain the viability of the McKay Scholarship Program.
 

www.mckaycoalition.org

to learn the benefits of becoming a member. Not only benefits, but the ability to be involved in an organization of private schools that works to maintain the autonomy of our schools from restrictive state regulations.
We would like to recognize our  board members. Each is a volunteer and is in administration in a school with McKay Scholarship students and/or PLSA students.
We thank them for all of their energies and hard work.
President,  Steve Hicks, Center Academy, Lutz
Treasurer, Wendy Blair, Arbor School of Central Florida
Secretary, Robyn A. Rennick, Woodland Hall Academy, Tallahassee
Debra Rains
, North Florida School of Special Education, Jacksonville
Patricia Giner, Atlantis Academy, Miami
Tim Vanderveer, Ruskin Christian School, Ruskin
Thank You for your service.  We will miss the expertise and service of two of our board members who have left the board this fall.
"Woody" Futrell, Trinity Christian Academy, Jacksonville
Crystal Wilson, Rocky Bayou Christian School, Niceville
The Able Trust – Youth Leadership Forum
EVERY MCKAY HIGH SCHOOL
SHOULD SEND A STUDENT!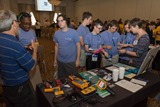 Students participating in STEM activities (upper) during YLF. Students also sat in the House of Representatives at the Capitol and learned about the government.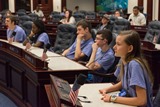 The applications for the 2016 Youth Leadership Forum have been released.  This is an innovative, intensive five-day (ALL EXPENSE PAID) leadership training program for high school students (17 years and younger) with disabilities.  Since 2000 delegates have been selected from around the state of Florida to gather in Tallahassee to cultivate leadership, citizenship and social skills.
   It is a life changing experience according to the students who have attended YLF.  "The most amazing thing about YLF to me is understanding my disability, and most importantly accepting it." Adults with disabilities who have traveled the same path as these young people serve as speakers, mentors and volunteers.  Former Assistant Secretary of Labor for the Office of Disability Employment Policy (ODEP), Neil Romano, has 
spoken of his struggles with dyslexia.
 He is currently the president of The Romano Group 
   For some of the students this is the first time they have been away from home and parents for such an extended length of time.  Growth in those 5 days is phenomenal and YLF does not just stop at the fourth day but students gain friendships that last.  They also may participate in future YLF's as junior staffers and support staff.
   Over the course of five days, YLF participants learn about disability history, etiquette, and sensitivity; independent living (the transition from high school to college and/or the world of work); business and dinner etiquette, STEM (science, technology, engineering, and math) career exploration; and the various state disability resource outlets available to them as they prepare to go to college or enter the workforce. 
   Social events include a dance, talent show, and recreational outing at a local park.  Seminars on the important use of social media, healthy relationships, financial management, and a community service project round out YLF activities.
   Florida YLF is sponsored annually by The Able Trust, and funded entirely by private donations, corporate sponsorships, and grants.  Because of this support, YLF is offered at no cost to all participants.  
   We would encourage you to identify students who would benefit from this great program and let them know what a wonderful opportunity it is. 
   Many times our students (and parents) are afraid of new situations, but the Youth Leadership Forum is a wonderful, safe place in which they can grow.