| | |
| --- | --- |
| What have I been up to... | |
My summer break is over, no more leasure but with the heatwave going strong in the Netherlands it's difficult to not just sit back, sip a cocktail and enjoy the company of friends. None of that, it was time to pick up the ropes again. I had a couple of private workshops this month, Hibiki-san accompanied by the cutest Sakura-chan visited my country again and to kick of the end of my summer break I performed, with Spring and Arienh, in Amsterdam city center during the Crash event.
| | |
| --- | --- |
| Crash | |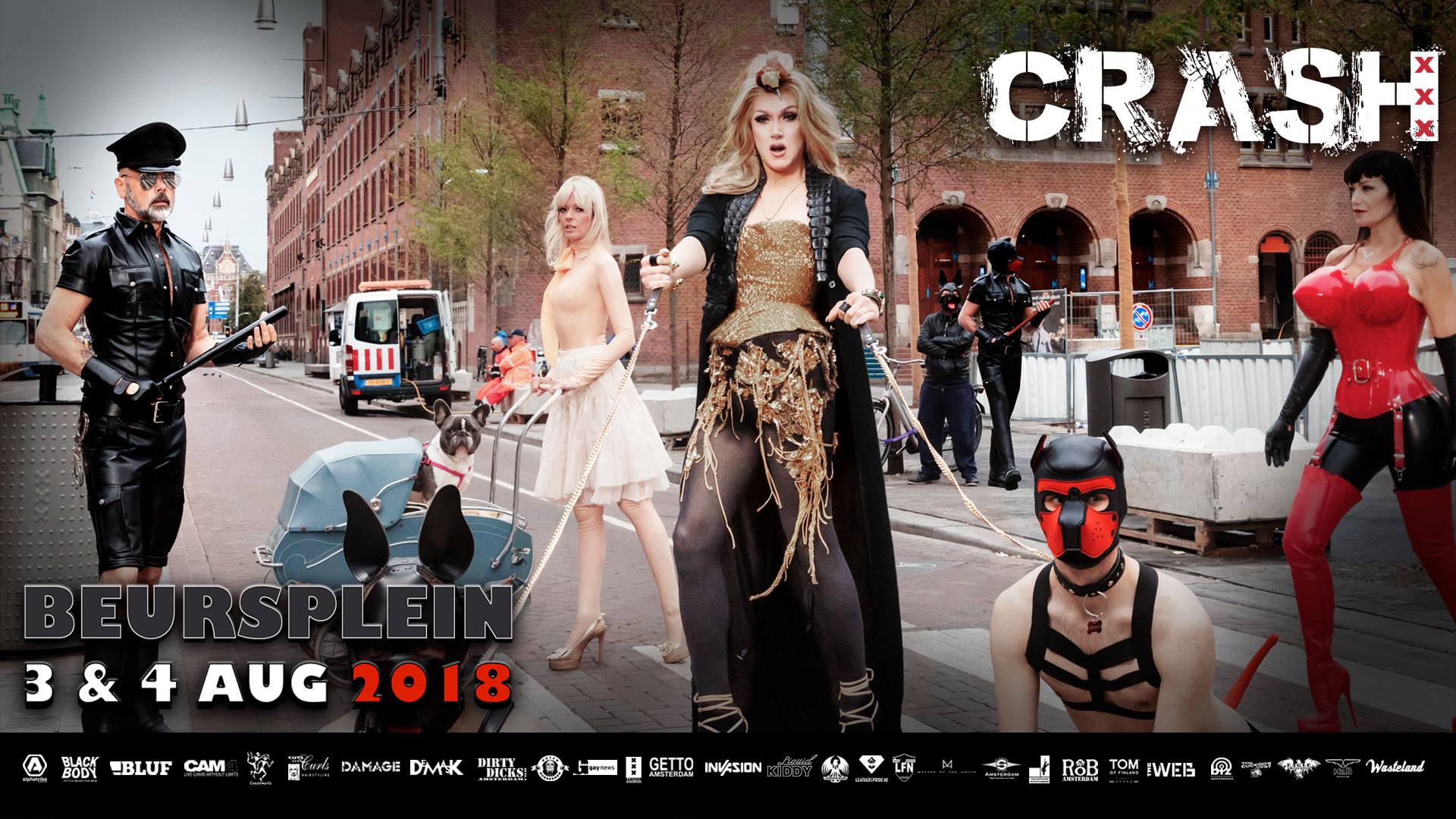 Fresh out of a summer break and jumping right back in to the fetish-deep and what a jump this was. In my limited vocabulary there is only one word to describe this two day outdoor fetish extravaganza in the heart of Amsterdam; AWESOME.
A host of organizations have set up this free outdoor fetish event during the last two days of the Amsterdam (gay) pride 2018. The location was the (in)famous "Beursplein" currently best know as the location of the stockmarket and political demonstrations focused against the financial world (occupy-movement).
During these two days Crash filled the Beursplein with freaks, kinkster, drags, fetishists and all round beautiful colorful people. We walked among the packed crowd (with my girls tied and gagged), in front of the stage and performed on that stage. RopeMarks performed three acts during these two days and cooperated and helped out with numerous others.
On the first day I brought the petite Arienh to be my damsel in distress and on the day two I had the immense pleasure of having the pretty, pretty Spring by my side and attend to my every fetish and rope desire and demand.
Here's what Arienh has to say about our performance together: "Last night RopeMarks and I did a live performance on stage, outside in city center Amsterdam during the pride week! It was my first live performance with a large audience. So naturally I was a bit nervous. When we met I forgot my nerves in no time. We decided to just start slow, freestyle and see how it goes. It was so great to feel that trust again. No plan, no practice.. it didn't bother me at all, everything was going to be okay. [ read more on Arienh's blog]"
Crash | Spring | Arienh | RopeMarks
| | |
| --- | --- |
| Workshops | |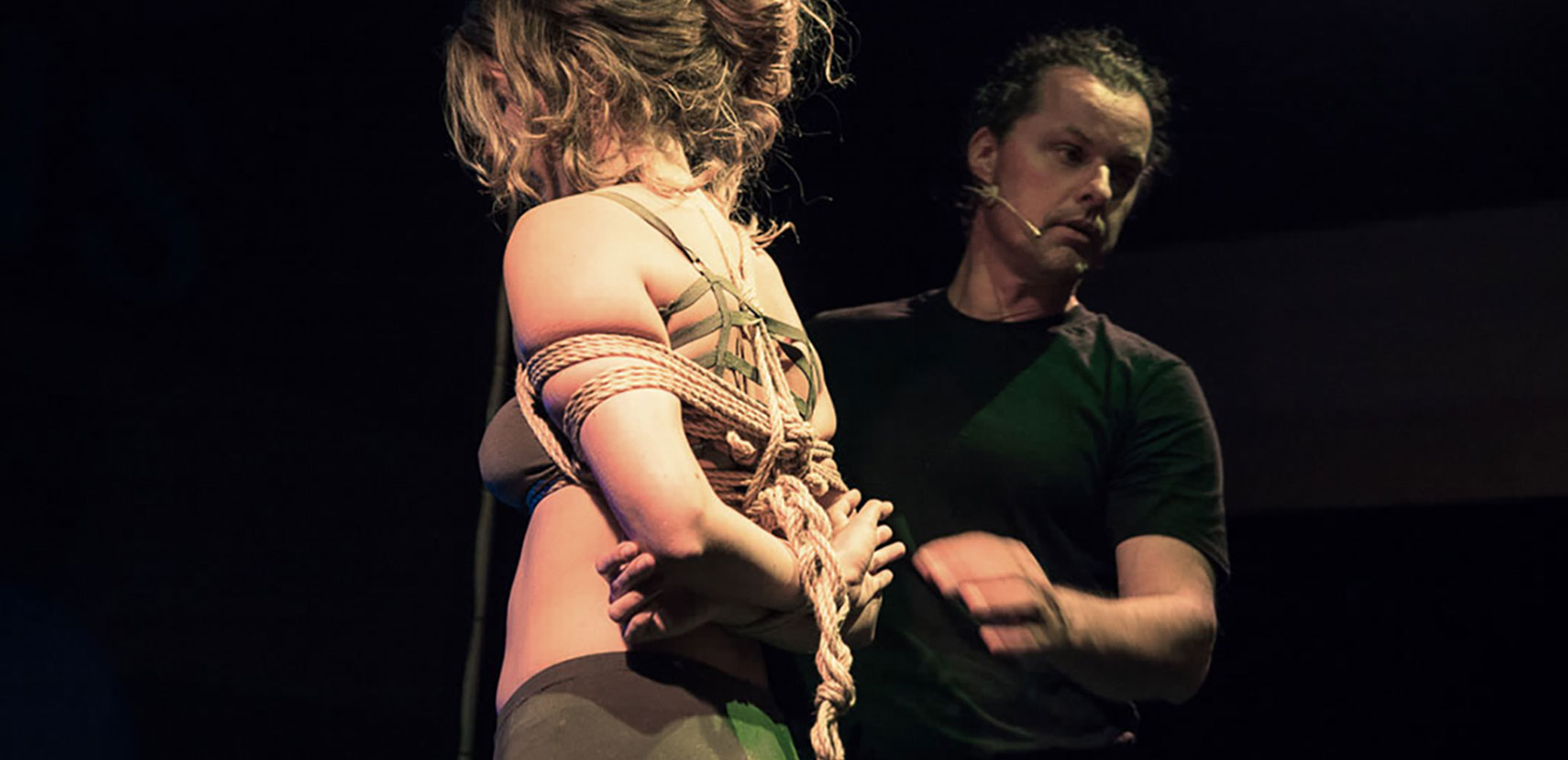 There are workshop that stick with you... hmmm I have a dejavu feeling... there was another last month, exceptionally enthousiastic and friendly students. All in all this workshop was simply a day with friends, kinky, bondage friends; another one to remember!
Workshops | Testimonials | Sign-up | Glossary
| | |
| --- | --- |
| Hibiki and Sakura | |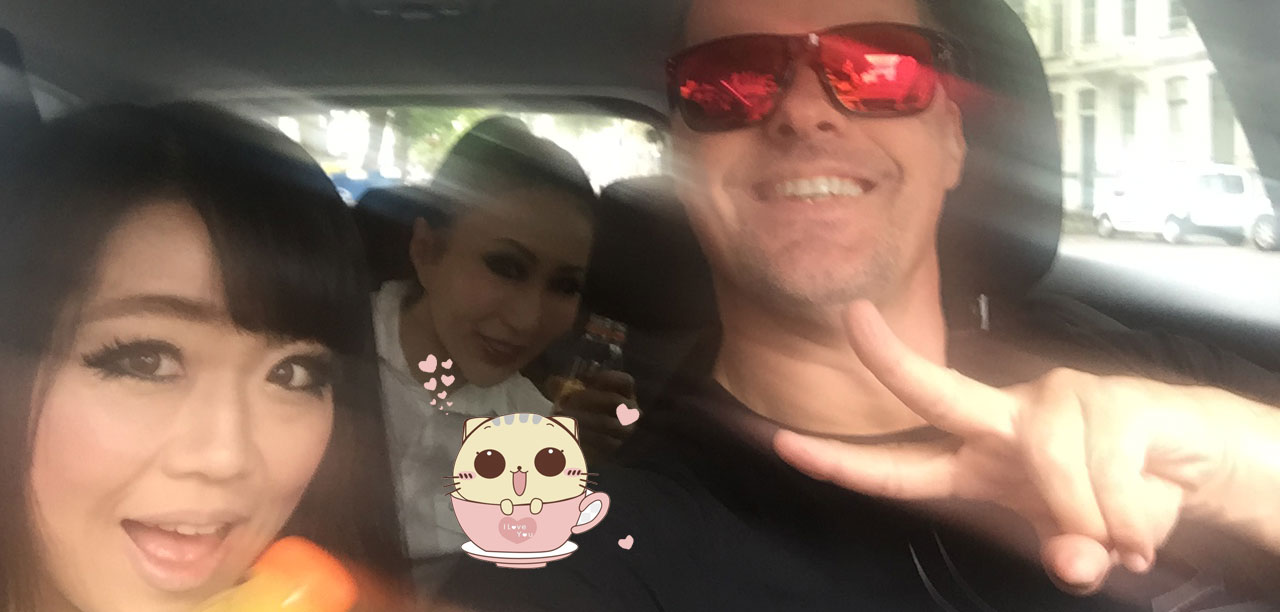 Hibiki-san and Sakura-chan graced my country with a visit. This offered opportunities I could not let pass by. Besides spending quality time a shoot was arranged.
We got together with ME-Chiel and spend a busy, productive and above all fun day together where imvho great sessions where done and awesome material was produced.
To lift the veil, we got two Bizarre Design outfits (serious corsets!) reducing already tiny Japanese waists to virtually nothing. I made Sakura-chan endure a semenawa session that we labeled with working-title "Spider-woman" and left me very impressed with her abilities (see what I did there) in rope. We did some pony play, outside, ME-Chiel-style! I had to have Sakura-chan one more time, she naively agreed and this turned into a very hot rope-bondage session on the bed.
Last but not least we took some photo's with yours truly being a ヤクザ (Yakuza) boss!
Hibiki | Sakura Kurokawa | ME-Chiel | Bizarre Design | RopeMarks
material will appear on
RopeMarks | Club RopeMarks | Club Rubber Restrained | Club Leather Restrained
| | |
| --- | --- |
| I Love Kinky "Illuminated" | |

An illuminated I Love Kinky and illuminated it was! There was black light everywhere and I went with a black-light-rope feuled traditional Japanese rope bondage show.
| | |
| --- | --- |
| Schedule | |
The best place to know where I am and what I'm up to is my online schedule.
http://www.RopeMarks.com/events
If you run into me, come and say hi and chat, remember to bring a drink :). Please don't be rude and interupt when I'm activly engaged in a conversation.
| | |
| --- | --- |
| Affiliate program | |

Do you want to earn some $$$ from RopeMarks?
RopeMarks is running three very profitable affiliate programs for
Club RopeMarks | Club Rubber Restrained | Club Leather Restrained
50% share

share for memberships

50% share

share for downloads

(indvidual videos or imagesets)

Full payout

No hidden costs

We cover all fees and other expenses
You can find the portal to all of the programs right here http://www.RopeMarks.com/webmasters, all you have to do is sign up, use the content and start earning some $$$. Easy enough right?
Thank you for reading all the way to the end.
Until next time,
Bob / RopeMarks