Happy First Day of Fall! As someone who is generally glass half full, but helms from Rochester NY, to me this just means the beginning of 7 months of cold… but with an October birthday, fall is still my favorite season nonetheless!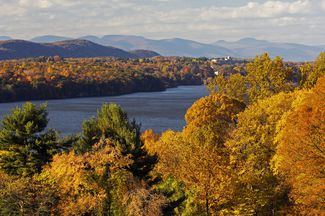 A few important things I wanted to share with you:
Important Meeting on the Plans for the North End Redevelopment Area
When: 9/24 (Tuesday), 630-830

Where: Elysian Charter School, SW Corner of 15th and Garden
As I knock on doors and talk with people, I still hear from most of you about issues relating to overdevelopment and population growth.
"Too many cars already on the road"
"Not enough active/recreation space to meet the demands of today's population of kids and adults"
"We need to build new schools"
"Impossible to get in and out of Hoboken"
"There is no uptown municipal parking"
"When are we getting that uptown light rail station?"
"Uptown bus lines are so long…"
"Our uptown businesses are dying"
I know that at least one of these resonates with each person who reads this. That is how pervasive the concern is. And not planning the North End correctly means the risk of exacerbating each one of those concerns. We need community voices, not just property owners, to determine what works for Hoboken. That is how important this meeting is so I hope you can attend to learn, share your views, and be a voice for the future of our community.
EScooter Restrictions Approved 9-0 – Now All About Enforcement
At our meeting last
Wednesday, the City Council approved unanimously legislation to restrict EScooter's from our parks and on the upper and lower waterfront areas. Specifically as defined in paragraphs J & T of the ordinance the restricted area is:
"
the portion of the Waterfront Walkway that begins at the North End of Sinatra Park running south to the municipal border including but not limited to the promenade area adjacent to Blue Eyes Café nor the portion of the Waterfront Walkway that begins at the south end of the Skateboard Park and runs north to the Municipal Border. This prohibition shall not include bike lanes or roadways along the Waterfront Walkway".
If you get a chance, please take time to watch the meeting either online or on Facebook to see the discussion of the EScooters. At least the first three speakers. Our neighbor who, while pushing her three month old in a stroller, was hit by an EScooter begins speaking at 7:08:22 (on Facebook, at minute 38:50 online). After her, there are speakers relating to a 2nd year Stevens student who is visually impaired. Her guide speaks first, and she speaks second beginning at 7:17:29 (on FB, minute 48 online). She tells her own personal story of how her walking stick does not find a Lime EScooter because of its shape and as a result she walked into ones left in the middle of the sidewalk three times and injured herself. But the most heartbreaking aspect of this is when she says "She has lost her independence and now must use a guide wherever she goes". Accessibility and ADA – another aspect of this program that just wasn't thought through enough before it was launched. And one that is critical for us to get right.
Overall the Council gave indications it will not extend the pilot on November 20th. If there is a vote, I will be voting not to extend. Why? A combination of wet/snowy weather and inability to enforce. Much of what we discussed was how these new regulations, or any of our EScooter regulations, be better enforced? For now, I am hoping that Lime will be "geofencing" the prohibited areas which they have the technology to do. Longer term, if an EScooter program resurfaces, we need a definitive and better solution to enforcement than we currently have.
For those reading this who are supportive of EScooters, and even angry about the direction of the EScooter program or just the restriction itself, know that I am committed to continuing to work closely with the City to craft a better plan for them than we have right now. One that supports mobility, has effective enforcement of irresponsible riding, keeps them out of the hands of children, has more organized parking and severe penalties for impairing accessibility, and whatever else necessary to keep residents, riders and visitors as safe as possible. And this to me requires a few months, a public meeting, and a new Request for Proposal to be sent out more widely so we can get the best practices, best insights and best terms available.
NFL Sunday's and Rampant DWI's
I don't know about you, but this year it feels like every Sunday feels more like Leprecon most evidenced by the multiple DWI's that are occurring in town. Last week there were 5 on Sunday including accidents (a couple relating to late Saturday night), and yesterday there was one that terrorized the areas near 7th and Bloomfield St. All people who do not live in Hoboken. To me, driving while intoxicated is probably the single most dangerous thing that can happen on our narrow, pedestrian and children-filled, Hoboken roads. Thankfully no one was injured, this time. But we need to do more to stop this from happening. Yes, I am sure my critics will say these are just words at this point, but I will be raising with my Council colleagues, our Hoboken Police, and my fellow Hoboken Business Alliance board members to think about what more we can do to curtail this practice. In this instance, the enforcement side is strong (thank you Hoboken Police!). It is the prohibition side that isn't.
I am 100% committed to running a positive campaign
I spoke with a neighbor last night who said he appreciates my newsletters, and in particular that they usually have an objective and constructive tone. And I want you to know that I try to be that way all the time and 98% of the time it is pretty easy given we are mostly just talking about policy issues. But I did say back to this person that I am reserving my right to not always be that way, and specifically when I need to defend myself against negative politicking or campaigning. Rhetoric, propaganda and whisper campaigns can be ugly and dishonest, especially around elections, and sometimes I just need to make you aware of it. Out of the 140ish emails I sent in the past 21 months I think I only sent two that were like this.
But in the interest of full disclosure, my stomach is churning about the potential, defamatory "October Surprise" attacks like we saw in the 2017 elections. For clarity, do I think my opponent will issue them? No I do not. Although negative comments about me has been part of her campaign so far, I am confident she would not stoop so low as to send out attack ads. If there are attacks, I think they will come from a Super Pac or Independent Expenditure like we saw in 2017 and that we hear is being formed to attack certain incumbents (including me). Hopefully I will be wrong, but all I can do is ask you to keep it on your radar and if you see or hear anything, please consider the source, the purpose and definitely let me know.