SHOP HOURS
Monday: CLOSED
Tuesday: 12 - 6
Wednesday: 12 - 6
Thursday: 12 - 6
Friday: 12 - 6
Saturday: 10 - 6
Sunday: 12 - 4

 

Wait, is fall really here?!? Bring on the crisp days, hot apple cider, corn mazes, and cozy knit/crochet projects to curl up in, we are ready!! We have also started casting on sweaters (or in Robyn's case, finishing old sweaters) to keep us warm this winter. It's no surprise this is our favorite time of the year.

 

What are you working on this knitting season? Whether it is a hat, your first pair of socks, or a sweater, we hope to see you soon!!
We have a new shipment of mugs from Pawley studios located in Russelville Kentucky. These mugs make great gifts for knitters and non-knitters alike. We have an entire shelf of Harry Potter inspired mugs as well as a slew of Kentucky-themed ones. Whether you know someone whose 26 ounce mug "might be bourbon" or someone inclined to "bless your heart" there's a mug for them at ReBelle!
Emma's Super Silk has been catching a lot of your eyes, so we added 5 new colors! Super Silk is 20% silk and 80% superwash merino. A fingering weight yarn with 400 yards per 100g, this yarn is great for socks and shawls. We have two patterns you can get free with the purchase of this yarn, 
Lazy Hiker
 which uses two skeins and 
Free Dive
, which uses 3 skeins. If those don't inspire you, Casapinka also has two great four skein patterns that are perfect for this yarn,
Your Slip is Showing
and
Fabulosity
.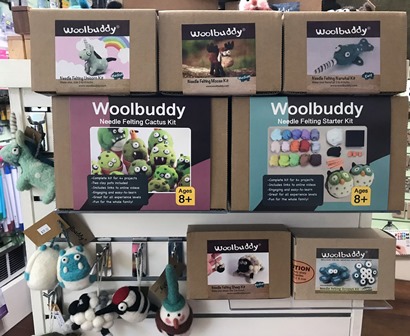 We have a fresh infusion of Wool Buddy needle felting kits as well as some pre-made ornaments if you don't feel like making them yourself. The Wool Buddy kits come with everything you need to make a needle felted creature plus detailed instructions. These kits make a great gift for anyone crafty. Needle felting is very sculptural, so it's easy to learn and the kits are ranked easy, medium or advanced so you can pick the perfect level. Needle felting involves stabbing wool fiber with barbed needles which are very sharp, so it's recommended for ages 8 and up.
By popular demand, we have wooden yarn bowls and more pattern magnets!
Fridays, October 4, 11, 18, & 25
For October we will be Crocheting the Koigu Dragonfly Corner to Corner Scarf. This scarf was designed to be used with a Koigu Pencil Box, but would also be a great project to use up bits and pieces of your scrap yarns (or you can do both!!) The pattern is worked on the bias using blocks of double crochet stitches and chain stitches to end up with a rectangular scarf
This project Uses about 1200 yards of fingering weight yarn and a US E crochet hook. 
All ReBelle crochet alongs are free and open to the public. You are welcome to attend as many or as few of the CAL sessions as you like.
Pattern information
here
.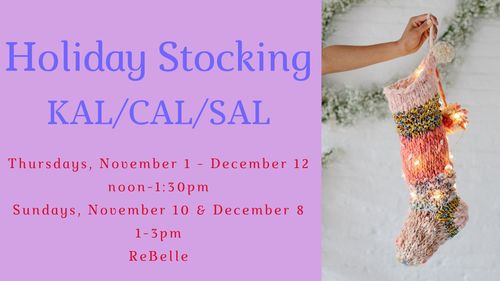 Thursdays, November 7-December 12
For November's Knit Along/Crochet Along we are going to focus on stockings. Every year we plan to finish these by the holidays and every year we miss the deadline so this year we are going to work together and finish those holiday projects. We are focusing specifically on stockings, but feel free to join us with any holiday projects you want to finish. 
All ReBelle stitch alongs are free and open to the public. You are welcome to attend as many or as few of the KAL sessions as you like.
We have picked some of our favorite stocking patterns and pinned them to a board if you are looking for a bit of inspiration
here
. 
If you want to knit the pictured stocking, you can check it out
here
. 
Featured Upcoming Classes
 

Feeling a little adventurous? The Garter Ear Flap Hat is a free pattern from Purl Soho.  It's all garter stitch, with surprisingly easy to knit short rows for the ear flaps sized for baby to Adult Large, so you can make one for everyone! You will learn to knit in the round, some basic decreases and short row shaping. You can choose the size of your project, but all sizes can be made with 100g of worsted weight so it is the perfect project for a single skien. Susan's sample is Cascade Pacific, and one ball was enough to make the largest size. For the class you will need 100g of worsted weight yarn, US7 & US8 16" circulars, and US7 dpns.

 

 

Wednesdays, 10/23 & 11/6. 6-8:30pm

 

 
 

Repairing Mistakes as You Knit

 

In this class you will learn to fix common mistakes in your knitting as you go, without having to rip out several rows or start over. We will cover reading your knitting, counting rows, identifying common mistakes, techniques for frogging, and making repairs in finished pieces. Take control of your knitting!!

 

 

 
 

In this class, you will explore how to give your crocheted or knitted projects a beautiful finished look by adding a crocheted edging. We will learn four simple edgings in this class and discuss how they are used to finish projects. A knowledge of basic crochet stitches is required.


*Materials needed: An 18" x 3" rectangle, either knitted or crocheted, contrasting worsted weight yarn, and a size I crochet hook


 

One session, $20

Saturday 10/26. 4-6pm