Resister takes refuge in a Canadian church
Iraq vet Rodney Watson takes sanctuary at a church in Vancouver, Canada to resist deportation back to the U.S. and Army desertion charges. Sign the "Dear Canada" letter.
Echo Platoon disbanded; limbo continues
Objector Dustin Stevens has awaited courts martial at Ft. Bragg NC for 10 months in substandard conditions. Petition drive showing results, but prosecution moving forward.
From Travis Bishop, Ft. Lewis stockade
Serving a 12-month sentence as a "prisoner of conscience," Travis refused to deploy to Afghanistan based on his religious beliefs. Donate to his ongoing legal expenses.
Tony Anderson released from stockade!
Last week Army Pvt Tony Anderson was released from the Ft. Sill OK stockade after serving a full year in prison for refusing to fight in Iraq. (link only)
In memory of Shirley Powell
Courage to Resist office volunteer Shirley Powell of Oakland CA died peacefully in her sleep last week. Shirley loved jazz music and was delight to have in the office. We will miss her, and the world will be a dimmer place without her.
---
Sanctuary: Iraq War resister Rodney Watson takes refuge in Vancouver church
"Stop-lossed" Iraq War veteran Rodney Watson takes sanctuary at the First United Church in Vancouver, Canada to resist deportation back to the U.S. and Army desertion charges. Take action: Sign the "Dear Canada: Let them stay" letter.

By John Bermingham, Vancouver Province. October 19, 2009
U.S. army deserter Rodney Watson has become the first fugitive from service in Iraq to enter church sanctuary in Canada. Monday morning, the 31-year-old told reporters he has been living in refuge at the First United Church in Vancouver since Sept. 18. "I don't believe it will be just for me to be deported," said Watson, flanked by church ministers and supporters. Watson lost his refugee claim on Sept. 11, and was expecting to be deported back to the U.S., where he faces jail for refusing to do a second tour of duty in Iraq.
Ric Matthews, minister with the First United Church, said Watson has an apartment at the church, and is fed on-site. Watson cannot leave the grounds of the church. Matthews said the church agreed to let Watson take refuge because it doesn't support the Iraq War, or the way the U.S. military treated Watson — who signed up to be a military cook, but was ordered to find explosives.
"We expect the authorities will continue to respect this place as a place of sanctuary," he said.
Read more, and view photos and video...
---
Echo Platoon disbanded; punishment continues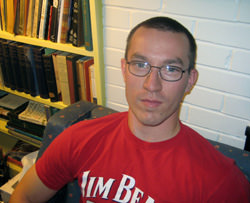 Dustin Stevens is a conscientious objector awaiting courts martial at Ft. Bragg NC for refusing to train and deploy to Iraq. Take action: Sign the petition to "Free Dustin Stevens now!"

Army Spc. Dustin Stevens, Ft. Bragg NC. October 26, 2009
We have a victory in this whole mess I think. Pictures of the living conditions of Echo Platoon have leaked out causing them to send us all to different units to await our fate. A Colonel told us that the system was broken and that it has been since 2006. He said that the living conditions were horrible and he was sorry that they got that bad. So we had to move to different units, separated from each other and thrown back into the Army for real this time. Echo Platoon is no more but I feel that we are still being punished. We are forced to "be soldiers" now. That is something that I have not known how to be for almost eight years now. Yes the living conditions are better but that was only a fraction of the problem.
Keeping us here for months at a time with no pay and no clue is wrong, plain and simple, we are human beings. The way I and many like me have lived for 10 months is that of a wild animal. No one, I mean no one, should ever be treated the way that we have been treated. It took 2 months for me to get my pay started, 8 months for them to read my charges to me and 10 months to tell me something I have known for 10 months (that we live in poor conditions). But it only took 3 hours to give almost 60 soldiers orders to other units.
The barracks were unfit for even a dog to live in. The treatment by the cadre made us feel invisible. Paperwork was lost, or not done at all and no one gave a damn because "we shouldn't have went AWOL". I say that's bullshit, I say that's inhumane. But we got the place shut down, yay for that. We shouldn't have been sent to units to wait for another 6 months. We should all be sent home with our DD-214's in hand with a "have a nice day". I don't want anything from the Army unless it's my discharge. I don't want any apologies and I don't want any damn money. I just want to go home and find a job (which will be real hard in this economy) and marry my girlfriend and raise our family together. That is all that I have ever wanted.
---
Travis Bishop from the Ft. Lewis stockade
Serving a 12-month prison sentence as an Amnesty International designated "prisoner of conscience," Travis refused to deploy to Afghanistan based on his religious beliefs after having had filed for a conscientious objector discharge. Donate to Travis' ongoing legal expenses.

By Travis Bishop. October 20, 2009
The support I have gotten for my decision has been extraordinary. I can never repay the help and support I've gotten, but I will try hard to once I'm released.
Things here at Fort Lewis are grim. I was in isolation the first ten days I was here. It was hell, and I never want to go back to that. Now I'm in a bay of around 20 guys and it's a little better, but we are treated like children, or murderers, by most of the guards. They forget very quickly that we were all soldiers once… They barley even show us common human courtesy and respect.
I'm two months into my sentence. With good behavior I should be out of here on June 14, 2010. This place is an assault on my mind, body and spirit. This whole atmosphere is foreign to me, and I think they pride themselves on that.
If anyone wants to write me, please tell them that I would love to get mail. Letters are the best part of the day. I'm going to try very hard to answer every letter. If someone sends me a letter, and it gets sent back to them [rejected by the military], wait about a week, and then send it to me again. This gives me time to put their address on my approved mail list. Only put your name—no organizations. The only things people can send me are letters—pen and paper only. No stickers or glitter or anything like that. The mail system is very strict here. Again, thank you to everyone for your support.
Please write to Travis at:
David Travis Bishop
Box 339536
Fort Lewis, WA 98433
Note that the Army will likely reject your first letter, and maybe your second also. Please keep trying to send Travis mail as he really wants to hear from you. When your letter is rejected, sometimes Travis gets to see the envelope. If so, he is then able to add your name to his approved correspondence list.
---