TRANSFORMERS' MOON BLASTS OFF
MARKETING TO THE MOON AND BACK
STAND UP FOR RUSSELL BRAND
BELIEBERS TO QUEUE UP AGAIN
---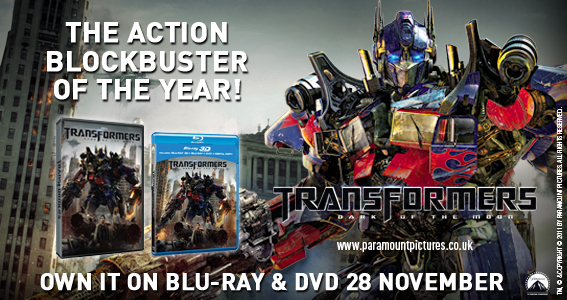 ---
Fresh from the enormous opening weekend for Transformers: Dark Of The Moon – more than $400 million and a performance in many European and international territories that outstripped that of its two predecessors – Paramount is now looking at an even stronger Q4 line-up. The major has been further buoyed by the better than expected success of Michael Bay's latest instalment of the toys turned action heroes (and villains) of the Transformers franchise, and there are still more blockbusters to come at cinemas ahead of the crucial final quarter of 2011.
The sheer scale of Paramount's success and range this year – it has already passed $1 billion at the international box office, and that's ahead of the international openings for half its blockbusting line-up of major movie releases for the rest of the year – is phenomenal. When you can boast your slate for the final three months will include the aforementioned Transformers, a warmly received animated outing (Kung Fu Panda), one of the year's most anticipated superhero films (Captain America) and the dream team pairings of Steven Spielberg and JJ Abrams (Super 8) and James Bond and Indiana Jones (Daniel Craig and Harrison Ford in Cowboys & Aliens) and you're looking at a mightily impressive line-up. That quintet all figure heavily in Paramount's Q4, alongside a slate that also includes some catalogue goodies, both on the Halloween and Christmas seasonal front, as well as in the shape of drafting on the back of the likes of a new take on Footloose and the next Mission: Impossible instalment.
Its television output goes from the sublime (the forthcoming Sky Atlantic biggie The Borgias) to the ridiculous (current MTV reality phenomenon Geordie Shore), with plenty for teens and younger viewers (a director's cut of Justin Bieber's Never Say Never and Nickelodeon's top-rated shows House Of Anubis and Big Time Rush). As if that wasn't enough, there's also the company's first move into stand-up in the shape of the new to DVD Comedy Central special, Russell Brand: Live In New York.
So, for this reason, we're presenting, in conjunction with Paramount, an exclusive special edition of The Raygun newsletter looking at the company's slate for 2011… (Normal service will be resumed at the end of the week.)
And we'll start with Transformers: Dark Of The Moon, which has made a huge noise – in terms of box office, audience reaction and, if you've seen it you'll know what we mean, in cinemas in the past week or two – on its way to a two week haul of almost £20 million. It also enjoyed the second biggest opening weekend of the year and the highest debut for any Transformers film and is on target to earn £35 million at UK cinemas and a massive $1 billion plus worldwide, which sets the multi-SKU late November release up to be one of year's biggest. Its certainly set to be the biggest Transformers push this autumn, alongside Paramount's release, stores will also be carrying more Transformers toys than ever before, with Hasbro offering its biggest range of product.
And the release itself? Well, Transformers: Dark Of The Moon will be supported by a £1 million plus marketing campaign, which will target 16 to 34-year-olds, predominantly males, and, as its secondary market, parents of under-16s. It will include, as Paramount's Barney Hands said: "It will include television, online, home page takeovers, shopping mall advertising space and loads more."
---
Kung Fu Panda 2 is that rarity in animated terms – a sequel that is, many people from critics to kids say, better than the first (The Raygun and our junior correspondent agreed heartily on this one) – and, after a theatrical run that is expected to earn somewhere between £16 million and £18 million at UK cinemas, is due out in November in a variety of different SKUs. "The marketing campaign is all about the kids," said Paramount's Barney Hands. It will include movie sponsorship on Five, TV advertising, outdoor and promotions with Edinburgh Zoo, which is to get its very own panda. The marketing push will have a media value of £1 million.
Yet to open theatrically is the next Marvel superhero tale of the summer and certainly one of the most eagerly-awaited blockbusters this year is Captain America. It's the perfect blend of both comic book adaptation and wartime actioner, blending that kind of Indiana Jones retro feel with the more effects-heavy superhero film, as Paramount's Barney Hands said: "It's a superhero movie set within that historical context." Captain America is one of Marvel's best-loved characters, having sold a whopping 200 million comics since its launch. As well as 3D Blu-ray and DVD SKUs, there's also a Marvel box set offering up the best of Paramount's impressive range of superlative superhero titles. The release will be supported by a "massive TV campaign", targeting male-friendly programming such as Champions League football.
---
Paramount's biggest "original" film this year, and what could be the biggest film not based on an existing franchise from any studio, comes with a hugely impressive pedigree. Super 8 is the meeting of the original movie brat, Steven Spielberg, who needs no introduction, and the new kid on the block, JJ Abrams, of Lost, Cloverfield and rebooted Star Trek franchise fame. Ut blends the best of each of their worlds – elements of Spielberg's ET and The Goonies combine with Abrams' monster madness – to create what Total Film has called "hands down the film of the summer". There's an element of mystery in there too, as he did with Cloverfield, Abrams is keeping the aliens under wraps for as long as possible. One thing that won't be a secret, however, is Paramount's release, which is being supported with a £600,000 investment, taking in TV, outdoor and digital takeovers…
More aliens arrive in another film that skillfully blends not one but two genres is Cowboys & Aliens. Not only does it wed two different partners – Westerns and alien invasion films, think Independence Day meets True Grit – but it also pairs up two iconic characters, Indiana Jones, aka Harrison Ford, and James Bond, in the shape of the secret agent's latest incarnation, Daniel Craig. One of the last big theatrical blockbusters of the summer, this will arrive in the all-important post-Christmas slot. Paramount's Barney Hands said: "We're aiming to make this the biggest Boxing Day release ever. It'll be a perfect title to stand out against all the January sale titles." TV advertising will lead the way, with key Christmas programming and big football games targeted over the holiday period.
So that's the blockbuster features, and while Paramount, enjoying a strong run at the Christmas market that stretches back over the past few years may be used to saying "our biggest Q4 ever" when it comes to feature films, it can now justifiably say that in the catalogue and television sectors too. In catalogue terms alone, as Paramount's Vicki Davis said: "We've got a really strong new release slate throughout the year, which translates into an amazing selection of new-to-catalogue titles to promote in Q4. There are hugely relevant drafting opportunities, a strong selection of Halloween titles and great Christmas titles, and we want to work closely with retailers to build compelling in-store plans which engage consumers and remind them how great DVD and Blu-ray are as a gift."
As well as the raft of new to catalogue and other seasonal titles, Paramount is also now gearing itself up for a major initiative. 2012 sees the company celebrating its 100th anniversary and it is marking the momentous occasion with a wealth of activity. "It's nostalgia, a reminder to people what they love about the films, and we're introducing them to a whole new audience." It all begins in October, with the media being briefed and, into November, with social media activity via facebook, which will get the consumers involved. And then there'll be selections from different genres and areas within Paramount's catalogue, building into a collection of the studio's 100 best films, with some ground-breaking PR and marketing support.
As far as TV is concerned, there is something for everyone from Paramount this year, from "did-I-really-just-see-that?" reality TV to the very best in quality drama. In terms of the former, we are referring to Geordie Shore, the UK'S take on MTV's reality programme Jersey Shore, a warts and all look at a group of rutting youths from Newcastle that has to be seen to be believed. They drink, they snog, they fight, they wear very little clothing even in the middle of winter, and then they do the same thing again the very next day. Its debut drew MTV's largest adult audience for three years and has already taken acres of column inches in national newspapers and magazines everywhere. "It's been front page of the Daily Star and there have been questions asked about it in the House of Commons," said Paramount's Vicki Davis. "There's a really massive audience for this, everyone's watched it and everyone's talking about it." The first series is due on November 7, and if you haven't seen it, check the trailer below…
Rather more cultured and filling that Pacific-shaped hole in TV charts comes The Borgias, due to air on Sky Atlantic shortly, with all the requisite marketing muscle that the channel can muster. The sumptuous series follows the exploits of the notorious Italian family who brought sex, incest, corruption and more than a whiff of arsenic into the Vatican in Renaissance Italy. The combination of top-notch talent both in front of and behind the camera (Jeremy Irons and Neil Jordan, from the team behind The Tudors) gives Paramount's December 5 release the perfect ingredients for success.
In a shift from what you'd normally expect from Paramount, it is also dipping its toes into the stand-up market this year, with the only new special interest product fron the hugely popular comedian, presenter, actor, writer and former radio presenter Russell Brand. Live In New York City is taken from a special recorded for Comedy Central and features never seen before stand-up material. "We're really excited about releasing this," said marketing director Lesley Henry. Paramount will be getting right behind the release and it's certain to add a substantial amount to the 1.2 million units his stand-up releases have sold already…
Parents beware, meanwhile, as Beliebers – the devoted hordes of Justin Bieber fans – will be pestering their parents come November as Paramount launches Never Say Never, his debut feature, in a limited edition "director's fan cut", featuring loads of new and unseen material. It is being pushed as Justin Bieber's own Christmas gift to his fans…
Also for tweens and teens, come Nickelodeon's top two rating programmes. Big Time Rush follows the antics of the eponymous band and is part comedy, part music show. The act are a big priority for Sony Music this year and they've already sold out the Shepherd's Bush Empire. Their first DVD, containing the first series of the show, lands on October 10 and it'll be followed a month later by House Of Anubis, Nickelodeon's top rated programme – a teen mystery/ soap that Nickelodeon viewers can't get enough of. Both releases will, Paramount said, be priced perfectly for impulse purchase.
Phew, so that's 2011 all lined up and Paramount already has an eye on its 2012 slate. Again, it is an enormously busy year and, in keeping with its 2011 line-up, offers what is certain to be some strong box office earners on the first part of the year as well as Q4. We've got some news on some of its forthcoming ventures below, as well as a sneak preview of some of its biggies for next year in trailer form. Suffice to say, the first part of the year will see a new take on Footloose (trailer below), more from the extremely lucrative franchise that is Paranormal Activity (the third film arrives in the first half of the year on DVD and Blu-ray), more from Steven Spielberg in the shape of the very Brit-friendly The Adventures Of Tintin, what looks like a new boost to the Shrek franchise in the shape of Puss In Boots, the launch of one potentially lucrative franchise in Hansel And Gretel: Witch Hunters and the return of another in Mission: Impossible – Ghost Protocol.
"We're incredibly excited about our Q4 line up again this year – it's bigger and better than ever. We have the best franchises, the best super heroes, the best action and the best fun for all the family. Paramount has a fantastic new release line, superb catalogue including lots of boxed sets and seasonal lines to keep everyone entertained this Christmas We have new and exciting pre-order campaigns ready to roll out and look forward to working with our retailers to make this the biggest Q4 ever." Charlie McAuley, vice president and md, Paramount Home Entertainment, UK and Ireland.
In a normal week and on a normal Raygun newsletter, we'd be looking at the last weekend's box office, but now we have the opportunity to better assess the recent performance of Transformers: Dark Of The Moon. In its first weekend of release, including the Monday, a bank holiday in America for Independence Day, the film took more than $400 million in its first few days. Along the way it set assorted records, including highest ever July 4 holiday weekend earnings in the US, the highest total opening figures for IMAX cinemas and the third biggest foreign Wednesday to Sunday opening ever. After its second weekend, its worldwide total was up to a whopping $644.3 million, while its UK total was now up to more than £19.7 million. Want more? Well, this weekend has just seen Kung Fu Panda move past the $400 million mark in global receipts too. Its Paramount has already scored the double whammy of passing the $1 billion box office revenue mark for the year both in the US and the rest of the world, the fifth year running it has passed that magic mark.
Interesting news from Paramount that, following on from the huge success with its first solus animated outing Rango, it is planning to launch its own animation division. The division will release one film a year from 2014 and each will have a budget of around the $100 million mark, chairman and ceo Brad Grey said this week. He further said the animation division would work closely with Nickelodeon and Viacom's consumer products arm.
After he injected new life into the Fast And Furious franchise, Dwayne Johnson, aka The Rock, the former grappler turned action hero, is now heading towards another franchise, Paramount's G.I. Joe series. The second film is currently getting ready to roll, with a release planned for later in 2012. The sequel, based on the Hasbro toy range, is officially called G.I. Joe: Cobra Strikes. As well s Johnson, I will also star Channing Tatum and, if the rumour mill is to be believed, possibly Bruce Willis too.
We've already reported on Paramount's deal to release the next film directed by and starring Hollywood legend Warren Beatty, who hasn't been behind a camera for some time. There's still no word of the title, or much plot detail, but he will appear in the film, starring as US billionaire Howard Hughes. Other names being bandied around, according to US trade website Deadline, include Transformers star Shia La Beouf, Jack Nicholson, Rooney Mara, Evan Rachel Wood, Andrew Garfield, Alec Baldwin and Annette Nening…
We've been following one of the best studio Twitter feeds around, which genuinely engages with film fans and, better still, operates outside of the nine to five working day too… http://twitter.com/ParamountUK…
No, really, this has to be seen to be believed…
The hugely successful franchise returns…
We've had this before, but the trailer is so good we can't resist airing it again…
More from Spielberg, we can't wait for this one…
We've already had this before on the standard Raygun, but this trailer really has breathed new life into the franchise…
This will have you singing "cut loose" in your head all day, even if it's not even in the trailer…
To unsubscribe, email
info@theraygun.co.uk
with unsubscribe in the subject
For editorial or advertising queries, contact
tim@theraygun.co.uk