This Memorial Day, remember need to resist
"Is it inevitable that our government...will create new casualties for us to memorialize next year? We can start by supporting the troops who refuse to fight," believes Courage to Resist's project director Jeff Paterson
Important week for resisters in Canada
U.S. war resister Jeremy Hinzman's case was argued in Canada's Federal Court of Appeals while the Canadian Parliament debated a bill that would allow Iraq War objectors to stay.
Write jailed objector Nicole Mitchell today
Conscientious objector sentenced to 30 days in jail on May 20 at Joint Base Lewis-McChord for AWOL.
Marc Hall: "I'm so happy to be free!"
Listen to a 5:30 minute audio message from recently freed "Stoploss" objector Marc Hall.
---
This Memorial Day, remember need to resist war
Jeff Paterson, Courage to Resist for OaklandSeen. May 31, 2010
This memorial day, it is not enough to remember those killed in war. We need to remember that we are still at war. We are still sending men and women to fight, kill, and die in Afghanistan and Iraq in our name.
What many don't realize is just how involuntary our military fighting these occupation wars on our behalf really is. Military programs such as the Individual Ready Reserve (IRR) and "Stoploss" continue to press tens of thousands of troops into service long past their scheduled end of active duty, while record unemployment and cuts to social programs ensure quotas for fresh recruits are currently being met.
Some service members risk everything to speak out against the usually hidden realities of these wars. Some choose jail instead. These are the troops that the Oakland-based non-profit Courage to Resist works to provide political, moral, and when needed, legal support.
While the Army is currently reducing the use of the universally hated "Stoploss" policy of forcing soldiers to remain on active duty for over a year past their original active duty separation date, that is cold comfort to the tens of thousands still affected. One Iraq combat veteran used music to express his anger at being forced to return to Iraq last December. Army Specialist Marc Hall (photo below right) was jailed and shuffled between a half dozen jails from Georgia to Kuwait for months. His only "crimes" were producing an anti-"Stoploss" Hip Hop song, voicing opposition to redeploying to Iraq, and persistently seeking mental health care. Marc faced years in a military stockade for violating "good order and discipline" before his scheduled court martial at Camp Liberty, Iraq was called off then the Army backed down and discharged him.
Marc now joins the nearly half million other veterans whose new fight is to get adequate health care from the overstretched Veterans Administration (VA). The VA is enrolling 250 new patient every day, which has resulted in having to wait as long as six months for a doctor's appointment.
This Memorial Day weekend, thousands of former soldiers who were discharged in the last few years, are contemplating a dreaded packet they received via FedEx recently. Having left the military behind, they are attempting to overcome significant employment and family challenges and move on with their lives. These packets, however, are from the St. Louis-based Individual Ready Reserve (IRR) command. They are involuntary orders to report for active duty and another deployment.
---
Important week for U.S. war resisters in Canada
Gerry Condon, Veterans for Peace organizer.
May 26, 2010
This week was very important for the 200 U.S. war resisters who are seeking sanctuary in Canada. The case of Jeremy Hinzman, the first to do so, was argued in Canada's Federal Court of Appeals on Tuesday, May 25. The outcome may decide the fate of Jeremy, his wife Nga (photo right) and their two young children. The court's decision, which is expected to take several months, may also determine the fate of other young men and women who are facing deportation to the U.S., followed by courts martial and imprisonment.
Also on Tuesday, May 25, the Canadian Parliament held a debate on a bill that would allow Iraq War resisters to remain in Canada. The House of Commons is expected to vote on this bill, C-440, in September.
---
Write jailed objector Nicole Mitchell today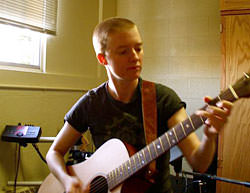 SPC Mitchell was sentenced to 30 days in jail on May 20 in a Summary Court-Martial proceeding at Joint Base Lewis-McChord for the offense of AWOL.
Please write Army Spc. Nicole Mitchell while she is the stockade for the next two weeks:
Nicole Mitchell
Naval Brig/CCU Puget Sound
2020 Guardfish St.
Silverdale, WA 98315-2020
Her attorney, James Branum, explains:
SPC Mitchell was an M.P. in the US Army. She served well until she went on a deployment to Iraq, where she began to have serious issues of conscience. After significant reflection and inner turmoil, she applied for C.O. (conscientious objector) status. The coming months were hard, in that she faced significant harassment for applying, but she prevailed. She was granted 1-A-0 conscientious objector status, which meant that she would continue to serve in the military but in a non-combatant status.
Living as a conscientious objector in the U.S. Army proved to be nearly impossible. SPC Mitchell was not assigned to a new M.O.S. (military occupational specialty), but instead remained as an M.P. She no longer carried a weapon but otherwise had to function as an M.P. So when personal problems arose in her life (something that happens to many soldiers), the emotional strain and stress became too much and she went AWOL.
---
Marc Hall: "I'm so happy to be free!"
Courage to Resist. May 21, 2010
Iraq War veteran Marc Hall, aka Hip Hop artist Marc Watercus, is finally free from the Army! With the help of hundreds of supporters who wrote letters and donated to his defense, Marc was able to avoid a General Court Martial in Iraq for producing an anti-"Stoploss" song.