Action urgent after Canada court denial
Last week the Supreme Court of Canada declined to hear appeals from US war resisters seeking refuge. Supporters respond with nationwide protests, increased political pressure.
Kimberly Rivera: AWOL in Canada
While home on leave, Spc Rivera made the life changing decision that she would not be returning to Iraq. Instead, she packed up her family and drove to Canada. This is her story.
New audio interview project
To start, we bring you the voices of: "TD" Buonomo, officer discharged for thinking Cheney is a war criminal; Nathan Burden, AWOL; and Brad McCall and Ryan Johnson from Canada.
Winter Soldier 2008
In March 2008, Iraq and Afghan vets will gather in Washington DC to testify to their first hand experiences and reveal the truth of occupation. They seek support, testimony and evidence.
---
Action more urgent after Canada court denial
By Jeff Paterson, Courage to Resist. November 19, 2007
Last week the Supreme Court of Canada declined to hear appeals from US war resisters Jeremy Hinzman and Brandon Hughey seeking refuge in Canada. The War Resisters Support Campaign in Canada immediately staged protests in six cities and announced plans to ramp up pressure for a political solution, focusing on a forthcoming debate in the Canadian Parliament.
In collaboration with these efforts, Courage to Resist has sent thousands of letters to Canadian officials on behalf of individual signers of our "Dear Canada: Let US War Resisters Stay" appeal. What we do now by expanding these efforts could make all of the difference for the future of hundreds of Iraq and Afghan War sanctuary seekers and their families currently in Canada.
If you have not yet already done so, please sign the appeal today. Please encourage others to so as well—either online or by petition and postcards.
Hinzman and Hughey were among the first Iraq War resisters to arrive in Canada in 2004. Their case for political refugee status rested on the fact that the US invasion and occupation is illegal under both US and international law. Based on the United Nations convention on refugees, they should not be prosecuted for refusing to fight in an illegal conflict. Canada's Immigration Review Board and the Canadian courts, however, denied a hearing on these facts.
"The immigration board said, with input from the government, that the illegality of the war is irrelevant to these immigration claims," said Michelle Robidoux, a Toronto-based activist. "We believe it is very much connected."
Gerry Condon deserted the US Army in 1969 and lived in Canada for three years. Today he travels extensively as part of Project Safe Haven. "While the refusal of the Supreme Court of Canada to hear the appeals is very disappointing, the struggle for sanctuary in Canada is being stepped up. All along, we have known that a political solution was ultimately what would be needed." Condon added, "While the sanctuary campaign ramps up in Canada, we in the US can seize this moment to become much more supportive."
---
Kimberly Rivera chooses Canada over unjust war
By Courage to Resist.
November 18, 2007
While home on leave in January 2007, Army Spc Kimberly Rivera made the life changing decision that she would not be returning to the Iraq War. Instead, she packed up the family car and drove to Canada with her husband and two children. She is currently one of about fifty AWOL US war resisters who are openly seeking sanctuary in Canada. This is her story.
Kimberly Rivera grew up in Mesquite, Texas, a suburb east of Dallas. She had never thought of becoming a soldier until she was seventeen and the Army recruiters visited her home to meet with Kimberly and her parents. The recruiters offered money for college that her family did not have. Her mother was supporting Kimberly, her father, and her two sisters after her father suffered a work related accident. She took an aptitude test for job placement out of "curiosity", but later signed up to be a mechanic. She was given an enlistment date following graduation for the Army Reserves....
"While in Iraq losing soldiers and civilians was part of daily life. I was a gate guard. This was looked down on by infantry soldiers who go out in the streets, but gate guards are the highest security of the Forward Operation Base. We searched vehicles, civilian personnel, and military convoys that left and came back every hour. I had a huge awakening seeing the war as it truly is: people losing their lives for greed of a nation and the effects on the soldiers who come back with new problems such as nightmares, anxieties, depression, anger, alcohol abuse, missing limbs and scars from burns. Some don't come back at all."
"On December 21, 2006 I was going to my room and something in my heart told me to go call my husband. And when I did 24 rounds of mortars hit the FOB in a matter of minutes after I got on the phone...the mortars were 10-15 feet from where I was. I found a hole from the shrapnel in my room in the plywood window. That night I found the shrapnel on my bed in the same place where my head would have been if I hadn't changed my plans and gone to the phone."
She began questioning everything: "Why am I here? What am I giving my life for? How am I helping my comrades and Iraq's people? What harm do I see here that would affect the safety of my family back home? Is what I am doing self-defense or aggression?"
---
New Courage to Resist Audio Interview Project

In launching this new feature, we bring you the voices of:

Thomas "TD" Buonomo - Although he supported the war in Afghanistan, TJ had serious misgivings about what the U.S. was doing in Iraq. He began writing e-mails to fellow officers expressing his views. His command learned about the e-mails, investigated, and determined that his criticism of Vice President Dick Cheney constituted a crime under military law. Rather than court-martial him, the Army discharged him. (photo right)
Nathan Burden - Nathan began to feel that being ignored and disrespected and used was an all too common experience of GIs, and at the same time, began to question why the U.S. was sending GIs to Iraq. After seven months in the military, Nathan went AWOL. In this interview, he speaks about his disillusionment with the Army.

Brad McCall - Brad determined that he was a conscientious objector and that he could never participate in the kind of violence he was hearing about. He applied for conscientious objector status and was denied. So he chose to go AWOL and make his way to Canada. (photo right)
Ryan Johnson - Due to the Army's neglect of his medical problems, along with his growing opposition to the war, Ryan decided to go AWOL shortly before his unit deployed to Iraq. He eventually made his way to Canada. Today he lives with his wife Jennifer in Nelson, British Columbia, where he works with Iraq Veterans Against the War and the War Resister Support Campaign.
---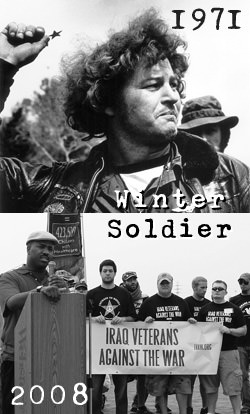 On the weekend of 13-15 March, 2008 Iraq Veterans Against the War will assemble history's largest gathering of US veterans of Iraq and Afghanistan, as well as Iraqi and Afghan survivors. In Washington DC they will testify to their first hand experiences and reveal the truth of occupation. They are currently seeking many types of support to make this happen, and are requesting that Iraq and Afghan veterans submit testimony and evidence.
In 1971, over one hundred members of Vietnam Veterans Against the War gathered in Detroit to share their stories with America. Atrocities like the My Lai massacre had ignited popular opposition to the war, but political and military leaders insisted that such crimes were isolated exceptions. The members of VVAW knew differently.
Over three days in January, these soldiers testified on the systematic brutality they had seen visited upon the people of Vietnam. They called it the Winter Soldier investigation, after Thomas Paine's famous admonishing of the "summer soldier" who shirks his duty during difficult times. In a time of war and lies, the veterans who gathered in Detroit knew it was their duty to tell the truth.
Over thirty years later, we find ourselves faced with a new war. But the lies are the same. Once again, American troops are sinking into increasingly bloody occupations. Once again, war crimes in places like Haditha, Fallujah, and Abu Ghraib have turned the public against the war. Once again, politicians and generals are blaming "a few bad apples" instead of examining the military policies that have destroyed Iraq and Afghanistan.
Once again, our country needs Winter Soldiers.
In March of 2008, Iraq Veterans Against the War will gather in our nation's capital to break the silence and hold our leaders accountable for these wars. We hope you'll join us, because yours is a story that every American needs to hear.
For more information and to sign a statement in support of this important undertaking:
www.ivaw.org/wintersoldier
---
Dear Canada: Let U.S. War Resisters Stay!
Sign the appeal online. We'll mail the letters for you.
www.couragetoresist.org/canada