THE GAME IS UP, AS THRONE GROWS…
SUN SETS FOR TWILIGHT, BUT NOT ON SALES
HMV UPDATE AND MORE RUMOURS
MORE RETAIL GOSSIP: SMITHS BACK?
REVOLVER'S YOUTUBE SENSATION…
ERA ASSESSES 2012 FIGURES
STUDIOCANAL'S EVIL EMPIRE
POPE VOTE TIMED FOR 4DVD RELEASE
LES MISERABLES DATE CONFIRMED
AT THE MOVIES
TWEET OF THE WEEK
TRAILERS OF THE WEEK
---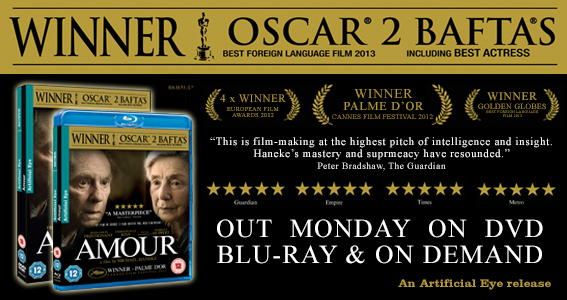 ---
I
f you can't read this newsletter or see the ads, please click
here
It Was A Good Week For…
Mrs Brown and her ubiquitous boys…
I
t Was A Bad Week For…
The HMV stores marked for closure, beginning to shutter their doors for good …
Who'd have thought it? The phenomenon that is Mrs Brown's Boys is steadfastly refusing to budge from its position as the UK's most popular telly show. After its stellar performance in the final quarter of 2012, the third series of the good, old-fashioned sitcom was released last week and was a barnstorming success. Universal timed its release to coincide with Mother's Day and the gifting potential that that brought, and its faith paid off in spades. For the programme beat off competition from more fancied favourites to become the highest new entry of the week, beaten only in the overall sales charts by the ongoing phenomenon that is Skyfall. In the DVD charts, showing the slightly older age of its fanbase, possibly, the programme even managed to outsell the latest adventures of 007. Universal's Claire Hay said: "We are delighted that the mammy of comedy came out as the number one mum for Mother's Day beating the competition hands down – although we are sure she would have liked to have come out on top of Mr Bond too."
The biggest winner last week in terms of value in the market was HBO's second series of the much-talked about swords and sandals saga Game Of Thrones. As we noted last week, it got off to a flying start, and, by the end of its first seven days, had notched up sales of almost 130,000 units across the dual releases of both the second series and the seasons one and two box set. It's a figure made all the more impressive when you consider that it's up on the first series total of a touch over 72,000 units and is also in the same ballpark as one of HBO's leading series, The Pacific – it's just 1,000 units under the wartime saga's week one number, a figure that, as HBO noted, is "outstanding" when you consider The Pacific was released in Q4. HBO's Sophie Knight said: "We're absolutely delighted with the results of Game of Thrones Season 2; achieving 77 per cent growth season on season in a difficult market is fantastic. It's been a very exciting and rewarding campaign to work on. Now we can look forward to finding out what Season 3 has in-store on April 1."