The Show is Tomorrow- Shrewd's 12th Anniversary Bash!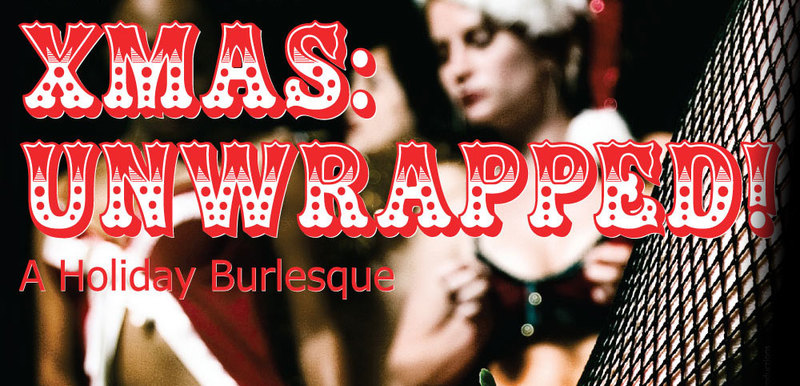 Hope to see you Saturday!
You've been with us through it all - from world premieres, edgy dramas, dark comedies, and original collaborations - we couldn't be Shrewd without you!
To celebrate 12 years as one of Austin's most vibrant, independent theatre companies, we're bringing back our classic holiday burlesque with a host of celebrity guest artists from the The Jigglewatts Burlesque, Black Widow Burlesque and Sky Candy! To top off the evening, we'll enjoy a very merry, soulful set from Austin's own Jade and The Foxtones, and a late-night treat from Ginger Snaps, named Best Burlesque Performer in the Austin Chronicle's Best Of 2016 List!
Click here for Tickets

This ONE-NIGHT-ONLY spectacular of comedy, dance and song includes favorite numbers from Xmas's past, holiday songs from Austin's best crooners, and solo acts from burlesque stars Lola LeStrange, Layna D'Luna, Helios Austin, Andy Agne and more. We'll have raffle prizes throughout the show, and a silent auction full of holiday treats! After, we'll sway to the strains of the band as we hold each other tight. Merry Xmas to all, and to all a very good night!
Dates & Times:
Saturday, December 17 @8pm

Location:
The VORTEX

2307 Manor Rd.
Austin, TX 78722
Click here for a map

Tickets:
$25-$100 Donation Levels
Click here for tickets

SPECIAL THANKS to our friends at The VORTEX, The Butterfly Bar Austin and Sky Candy!!!

The Shrewd cast includes Marisa Pisano, Caroline Poe, Shannon Grounds, Micah Gause, Laura Ray, Xaq Webb, Lynn Mikeska, Julie Linnard, and Emcee Jesus Valles, with guest stars Ginger Snaps, Lola LeStrange, Andy Agne, Helios, and Layna D'Luna, and live music from Jade and Foxtones!


Xmas's Past - Photo by Wylie Maerklin
What We Do:
Championing unique perspectives and emerging artists, Shrewd Productions is focused on women's voices, new plays, and work developed though a collaborative artistic approach. We are committed to creating high-quality theatrical experiences that are thoughtful, provocative, and entertaining, featuring the work of female and LGBT artists as we seek to provide a broader array of voices in American theatre and for Austin audiences. Most recently, Shrewd received 5 B. Iden Payne nominations and 4 Broadway World award nominations for their gender-fluid, female-dominated twist on As You Like It, directed by Lily Wolff and the World Premiere of Eva Suter's Hold Me Well, directed by Rudy Ramirez.
Other recent productions include the world premieres/first productions of Liz Fisher's Deus Ex Machina, Katie Bender's Still Now, Reina Hardy's Glassheart, Jenny Connell Davis' The Dragon Play, Beth Burns' The Long Now, the original devised piece, Emma When You Need Her by Rudy Ramirez and Ensemble, and critically lauded productions of Charles Mee's Big Love and Joshua Conkel's multi-award winning MilkMilkLemonade. Previous Shrewd productions include the world premieres of Monika Bustamante's Io: a myth about you and Stillborn: a bedtime story, and Cyndi Williams' Where Are They Now?; regional premieres of Kidnapped by Craigslist by Katie Goan and Nitra Gutierrez and Trash Anthems by Dan Dietz; and original collaborations Cheater, Feast of Fools and the annual Xmas Unwrapped.