AWARDS GOT SOUL, SHORTLIST ANNOUNCED
EC PUBLISHES DIGITAL SINGLE MARKET STRATEGY
HOBBIT SET FOR THIRD WEEK AT NUMBER ONE…
…AS BIRDMAN SOARS
ARROW APPOINTS
LIONSGATE'S BRIT FILM COMMITMENT
SIGNATURES INKS DEAL FOR MORE FILMS
BFI'S MAGIC MOVE…
…CHIMES RING FOR BONGO…
…WELLES WON'T RUN DRY
UNIVERSAL HAS EVERYTHING COVERED
WAR STORY
ROGUE TRADES ON PERISCOPE
QUOTE OF THE WEEK
---
---
If you can't read this newsletter or see the ads, pl
ease click
here
It Was A Good Week For... Congratulations to those shortlisted for the BVA Awards…
It Was A Bad Week For… Here comes the Digital Single Market…
Some five weeks from now, we'll all be nursing hangovers after the BVA Awards – it's due to take place at Tobacco Dock on Thursday June 11 – and the BVA has now unveiled the shortlisted entries for this year's gongs. Universal is one of the strongest performers, with nominations in pretty much every marketing category, with a deserved two nods for Northern Soul alongside the likes of Lee Evans and The Wolf Of Wall Street. Lionsgate and Fox also fared well, while in the Retail Store Of The Year category the big guns of Asda, hmv, Sainsbury's and Tesco go head to head and Amazon, Asda, hmv and Sky Store are all nominated in the Retailer Initiative section. Digital retailer nods go to blinkbnox, Google, iTunes and Sky Store, the Home Delivery Retailer gong will go to either Amazon, Entertainment Store or The Hut. We'll have the full list of nominees up on our website shortly, but in the meantime here's BVA chief executive Liz Bales, who said: "
It has been a busy few weeks and our judges have assessed the number of incredible entries. We are thrilled to be able to reveal the shortlist for the 2015 BVA Awards. Entries this year have been really strong and narrowing them down into a shortlist required much deliberation. We are extremely grateful to all our judges and entrants and thank them for their contributions to the Awards." There's still a few tables left for the evening itself, email vicki@bva.

org.uk

for more details…
Amid all the election brouhaha this week, as the UK went to the pills, the European Commission published its plans to create a Digital Single Market across the different territories. Urgency is key to the proposals, which take in such elements as geo-blocking (the Commission wants to allow access to films and similar products acres the 28 countries), copyright and illegal searches, as well as e-commerce and VAT points. It's urgent because the report states it must be dealt with quickly – further reports and plans will be made throughout this year and into next. Perhaps the most troubling is the thorny issue of geo-blocking and lobbying forces are primed to swing into action to explain to the Commission exactly why and how our business works – proposals could spell problems for independents in this country (and others) who acquire rights for their own territories. The report noted: "Geo-blocking practices may be the result of a unilateral decision by market players, of agreements among competitors to share the market, or of vertical agreements (for distribution rights on a territory). Sometimes these restrictions on supply and ensuing price differentiation can be justified, for instance where the seller needs to comply with specific legal obligations. However, in many cases online geo-blocking is not justified. These unjustified practices should be expressly prohibited so that EU consumers and businesses can take full advantage of the single market in terms of choice and lower prices.The Commission will make legislative proposals in the first half of 2016 to end unjustified geo-blocking." It looks as if any planned pan-European rulings could hinge on the word "unjustified".
Meanwhile on copyright, the report said: "The Commission will make legislative proposals before the end of 2015 to reduce the differences between national copyright regimes and allow for wider online access to works by users across the EU, including through further harmonisation measures. The proposals will include: (i) portability of legally acquired content, (ii) ensuring cross-border access to legally purchased online services while respecting the value of rights in the audiovisual sector." Elsewhere it added: "The Commission will launch before the end of 2015 a comprehensive assessment of the role of platforms, including in the sharing economy, and of online intermediaries, which will cover issues such as (i) transparency e.g. in search results (involving paid for links and/or advertisement), (ii) platforms' usage of the information they collect, (iii) relations between platforms and suppliers, (iv) constraints on the ability of individuals and businesses to move from one platform to another and will analyse, (v) how best to tackle illegal content on the Internet."
We'll end our look at the Digital Single Market plans with a few comments from EU bigwigs, with Commission president Jean-Claude Juncker saying: "Today, we lay the groundwork for Europe's digital future. I want to see pan-continental telecoms networks, digital services that cross borders and a wave of innovative European start-ups. I want to see every consumer getting the best deals and every business accessing the widest market – wherever they are in Europe. Exactly a year ago, I promised to make a fully Digital Single Market one of my top priorities. Today, we are making good on that promise. The 16 steps of our Digital Single Market Strategy will help make the Single Market fit for a digital age." Expect this one to run and run, certainly over the next few months, as our industry, and others across Europe, sit the Commission down and explain to them exactly how our business works…
---
---
Sales now and our weekly update from the Official Charts Company, which has this week announced The Hobbit is set to spend a third week at the top of the charts after another strong performance during the week. It's now "well on its way" to becoming one of the year's biggest, with almost 650,000 copies sold. Also performing well is Fox's awards-friendly release Birdman, which is at number three in the midweeks, just ahead of Angelina Jolie's Unbroken. Also breaking into the top 10 as a new entry is Lionsgate's Automata.
Reorganisation time at Arrow, which has unveiled a new structure and set up as well as new appointments, with Peter Thompson due to join at the start of June in the role of head of home entertainment and digital. Louise Buckler has been promoted to the role of marketing manager, while Jodie Miller is starting as business affairs executive. Thompson said: "Since bringing their sales in-house, Arrow has become one of the fastest-growing indies in the industry and I intend to help it continue that growth. I've been an admirer of Arrow's catalogue for many years and impressed with its plans for the future. Having worked with some of the team before, I know we share the same passion for film and TV product. I am thrilled to be joining Arrow at such an exciting time in its evolution." Agran added: "Pete is one of the top sales guys in home entertainment and has lots to offer the industry. He brings passion, enthusiasm, creativity and great experience to Arrow and we look forward to Pete starting with us in a few weeks' time." Agran also paid tribute to Steve Staniland, who has left the company, saying: "Following his excellent work in establishing an internal sales process, Steve Staniland is leaving Arrow to pursue new opportunities. Steve has been a tremendous asset to Arrow Films and I wish him well in the future."
With Cannes on the way and a busy schedule ahead of it, as well as one of the biggest home entertainment releases of 2015 under its belt, Lionsgate this week made a bold commitment to homegrown filmmaking after announcing that it is planning to further its commitment to British films, with plans to invest in up to 25 UK productions in the next four years. In the past four years it has released some 20 films it has funded, with a varied range that takes in everything from Filth to Salmon Fishing In The Yemen. Forthcoming rites on the slate include Eddie The Eagle biopic directed by Dexter Fletcher and Sundance hit Brooklyn. Lionsgate UK and European ceo Zygi Kamasa said: "
I'm delighted to continue growing our business and leading the way in supporting British film. The UK is one of the most creatively exciting places in the world to be making movies right now and we want to help position independent British films at the forefront of cinema worldwide." After the announcement, Kamasa told The Raygun in an interview due up on our website over the weekend that the total is a conservative estimate and it doesn't include DTV productions such as its recent Green Street sequels.
---
---
Also ahead of Cannes, thriving indie outfit Signature has inked deals to acquire a further raft of titles. These include Stephen King adaptation Cell, starring Samuel L Jackson and John Cusack; Bruce Willis starrer Precious Cargo; $50 million budget animated title Evolution Man and a new take on Frankenstein set in present day Los Angeles. Commenting on the additions to the slate, Signature's Marc Goldberg said: "We continue to acquire a broad slate of diverse, quality titles that we look forward to bringing to market in what is already a successful yet very busy 2015 for us. We have done some solid business before Cannes – the team and I will be out in force looking to add to the slate during the festival."
To the BFI Southbank where the organisation was launching its latest season. this time a lengthy appraisal of the works of the genius that is Orson Welles, marking the centenary of the director, actor and multi-hyphenate's birth. And, as is becoming increasingly common with the BFI, its home entertainment arm is working closely with programmers for the two-month long season, entitled The Great Disruptor, which runs throughout July and August. This means the masterful new documentary, Magician: The Astonishing Life And Work Of Orson Welles, is not only at the heart of the season, with a July 3 release airing at other cinemas around the country as well as the Southbank, followed by a DVD and Blu-ray release on August 24. Similarly, that August date also sees a first ever release for little-seen 1955 TV series Around The World With Orson Welles. The season will enable the BFI to publicise its releases to Welles fans.
Its not just the BFI though, as independent Mr Bongo has a trio of releases as part of the centenary celebrations. Just released at cinemas, ahead of a June 29 home entertainment bow, is the film that Welles expert and biographer Simon Callow calls his "masterpiece", Falstaff: Chimes At Midnight. And on the same day it has two further Welles releases that bookend his career – Too Much Johnson, a rarely seen film that marks his first foray into the moving image and was thought lost until recently, as well as one of his final outings, The Immortal Story. These two – the first was described in glowing terms at the Welles launch – are also out on June 29. Commenting on the release Mr Bongo's David Buttle said: "We are really proud, at long last, to be able to release the jewel of the Wellsian canon: Falstaff: Chimes At Midnight on Blu-ray. Reviews for this film have been nearly all five-star with strong demand at retail and online. Too Much Johnson, the film that sparked Welles' film career is so fresh it has taken Welles fans by surprise, joining the dots from his theatrical career to his next film Citizen Kane. We commissioned Philip Carli to compose and play a new score which complements the Keystone Cops nature of the film. Immortal Story is the finest TV film Orson made and we will be releasing a Blu-ray in late October with our Welles box set."
More Welles, as Studiocanal is also joining the fray. It is releasing The Third Man in a pristine newly restored 4k print, complete with stunning new artwork too. Studiocanal's Candy Vincent-Smith said: "Following its Cannes Classics World Premiere, The Third Man will be back in cinemas on June 26, on iTunes exclusively on July 13, and on DVD and Blu-ray on July 20 including a four-disc special edition. All SKUs will include loads of great extras, including exclusive new content: a famous fans featurette including Martin Scorsese and Ben Wheatley and a new Graham Greene documentary. The release follows a similar pattern to that of Apocalypse Now - also a Cannes Palme D¹Or winner upon its original release - which was of course a huge hit for us."
---
---
Monday May 11 sees the release of The Theory Of Everything, the gong-laden biopic looking at the life of Stephen Hawking and it's another in the hits-heavy Universal slate for 2015. Commenting on its impending release, Universal's Lisa Penna said: "The Theory Of Everything launched theatrically on January 1 to phenomenal success, culminating in a final UK box office result of over £21 million. The film, that depicts the extraordinary story of Jane and Stephen Hawking, has resonated with audiences young and old. The marketing campaign was supported by interviews with Jane Hawking and we worked closely with the MND Association to arrange interviews with the carer who advised Felicity Jones on her role. With Golden Globe, BAFTA and Academy Award recognition, we hope this beautiful and uplifting story will convert into a similarly brilliant success when it launches on Blu-Ray and DVD on May 11."
Back to Lionsgate and Monday May 18 sees the release of actioner Born Of War. Commenting on its release, Lionsgate's Beth Hall said: "
Lionsgate is proud to present Born Of War – an intense action-thriller brought to you by British director, Vicky Jewson. With a superb cast, including Sofia Black D'Elia (Gossip Girl), James Frain (The Lone Ranger) and Joey Ansah (The Bourne Ultimatum), hard-hitting action and fantastic cinematography, this is the perfect title to download on Digital HD now. We are reaching out to our target audience with outstanding 'money can't buy' prizes including a ride in an Abbot tank, with the UK's leading stunt man, and flights in private jets! We will be supporting this exciting activity through our substantial social media channels. Look out for Born Of War on DVD from May 18."
Gone are the days of just sending out a press release – or at least they are for many. This week saw X-Men helmer Bryan Singer use the current app du jour Periscope to announce the July 13 release of a special version of the most recent Marvel mutant movie, Days Of Future Past. The Rogue Cut marks the first time the director has put together a different version of one of his films. He said during the five-minute long segment: "
I've never been one to do special editions or director's cuts or extended editions of my films but for the first time there was an opportunity with the Rogue cut to do something different, a different version of Days Of Future Past." It contains a full 17 minutes' worth of additional footage.
And a final quick mention of an event due to take place at the University Of Worcester on May 23. Distributors, Discs And Disciples explores what it describes as the "home media renaissance" and how physical companies are making product to appeal to fans and consumers in an increasingly digital world. It's put together by Raygun reader Dr Jonathan Wroot and you can find out more about it here.
---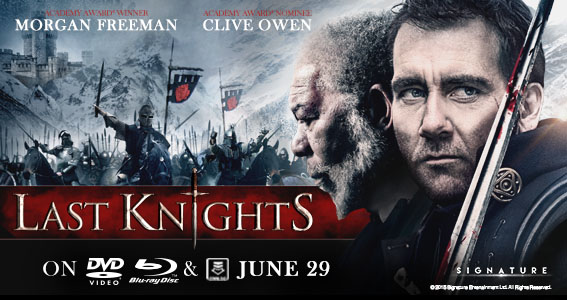 ---
QUOTE OF THE WEEK
"People are shifting their activities and they've certainly embraced streaming video. When we talk about internet share, Netflix and other streaming services have grown and BitTorrent has declined. And that just speaks to the availability of these services and their ease of use, and the price point is often right."
Dan Deeth from US broadband company Sandvine on how Netflix and other streaming services are helping consumers move away from illegal downloading…
AT THE MOVIES
Another week, another sterling performance of The Avengers: Age Of Ultron, which still sits atop the UK box office charts and has now taken almost £32.3 million at cinemas. Highest new entry was Far From The Madding Crowd, with £1.45 million, just ahead of Unfriended with £1.35 million. The other new entry came from Two By Two, with £566,871.
Sequel news of the week came as it was announced that Sean Hayes and co are set to return as Curly, Moe and Larry for a second outing as The Three Stooges… Also returning, albeit in a different guise is Uncle Buck, as US TV network has ordered a series based on the John Candy comedy. Mike Epps will be playing the titular relative…
Star Wars news and it's been revealed this week that the 2018 film due will be a Bob Fett origin story. And yes, that's the sound of a collective squeal of delight from Star Wars fans in the know everywhere… And the Marvel news of the week is that Martin Freeman is set to appear in the next Captain America film, Civil War…
Another big announcement came from Studiocanal and Aardman. The pair are following the success of the Shaun The Sheep movie by partnering on the next project from Wallace & Gromit creator Nick Park. Early Man tells the prehistoric story of a caveman and his tribe. Studiocanal's Olivier Courson said: ""I'm thrilled to partner again with the Aardman team. All of us at Studiocanal are such fans of everything that Aardman does. After the great experience together on Shaun the Sheep the Movie, we could not be happier than to be able to work on a Nick Park film with Aardman."

SITE OF THE WEEK
This is an amazingly detailed breakdown of the release of Papadopoulos And Sons, its financial performance and more. Well worth a read…
To subscribe to The Raygun newsletter, please email info@theraygun.co.uk
with subscribe in the subject matter
To unsubscribe, email info@theraygun.co.uk with unsubscribe in the subject
For editorial or advertising queries, contact tim@theraygun.co.uk