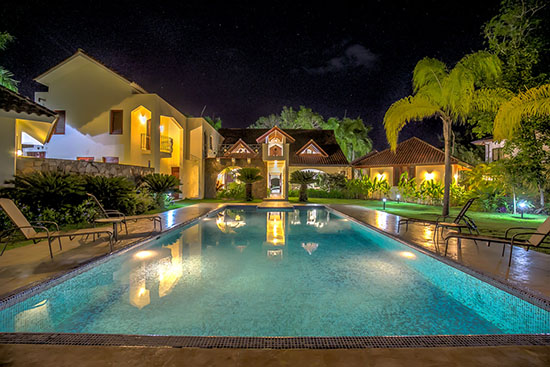 Enjoy your winter getaway at a private villa with concierge service and enjoy a 20% discount for 2017. Sea Horse Ranch luxury oceanfront resort in the Dominican Republic offers private villas ranging from three to six bedrooms, and first-class amenities such as a Tennis Club and Equestrian Center.
SPECIAL OFFER: Reserve your 2017 winter villa vacation (Jan – March, 2017) by December 31, 2016 and receive a 20% discount. Contact us for more information.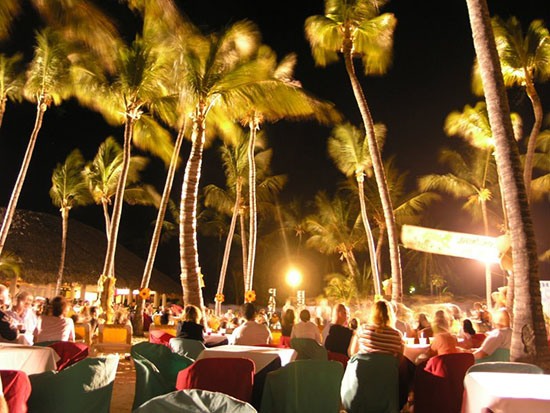 Christmas is a major holiday celebrated on the island of the Dominican Republic. Similar to the United States, decorations with lights, Christmas trees, and nativity scenes are prevalent. Homages to the Three Kings are more prominent than Santa Claus, however.
Celebratory feasts with family for Christmas and New Years are the main activities for the holidays. Food such as roast chicken and pork are often served, along with traditional holiday items such as Pasteles en Hoja. Rum, wine and spicy brews like Anis del Mono are served with dinner, followed by pan de fruita, eggnog and sweets like cookies and cakes for dessert.
New Year's Eve is celebrated with festive parties and a countdown to midnight. Gathering with friends and family to watch the sunrise on New Year's Day along the Malecon (boardwalk) is common in coastal cities like Santo Domingo and Puerto Plata.
The Holidays in the Dominican Republic are a festive and special time, bringing magic to be shared and enjoyed in this lovely tropical paradise.
---
Featured Property – Villa Bohême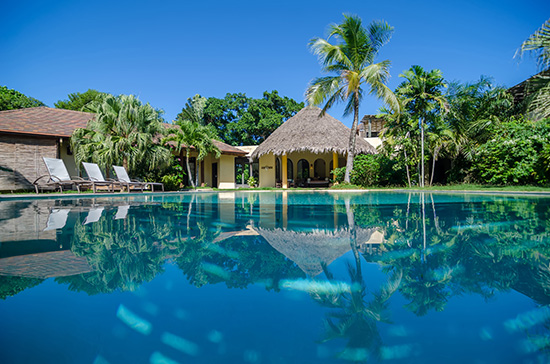 Villa Bohême is a luxurious villa featuring six bedrooms, six and a half baths, a private pool and garden, and is a brief walk to the Tennis Club at Sea Horse Ranch. Designed by Silke Sadeghi of Sadeghi & Sadeghi Architects, the villa combines an eclectic feature of design elements, from Moroccan inspired archways, to Balinese open living plans and interior décor, to Mexican palapa and pergolas, to European elegance with vaulted ceilings, French doors and a rooftop Atelier art space.
Two master bedrooms are situated on opposite ends of the ground floor living space, each featuring an en-suite bath, outdoor shower, private terrace and walk-in closet. Both master bedrooms open onto the back yard & garden, pool and access a covered terrace.
Villa Bohême is designed for those that live with a passion for appreciating all of nature's blessings. The poolside covered terrace and BBQ area provide ample outdoor entertaining space and areas for relaxing. Enjoy the flow of Caribbean island living in this enchanted, stylish, villa retreat.
Contact us today to learn more about this exclusive property new to the market.