Canadian Parliament welcomes resisters!
Along with pan-Canada organizing by War Resisters Support Campaign, thousands of Courage to Resist "Dear Canada: Let U.S. War Resisters Stay!" letters pay off. However, ruling Conservative government may try to ignore will of people. Struggle far from over. Creative resistance will likely be required on both sides of the border.
Ryan Jackson sentenced to 100 days brig
Following community vigil, war objector who faced year in brig will be out by July. Ryan is already making plans for a Fall Courage to Resist speaking tour and high school counter-recruiting work.
Also: Write Robert Weiss, recently sentenced to seven months for resisting war. Robert Weiss, Unit 29723, Box LL, APO, AE 09028-9723
More info... (link only)
---
U.S. War resisters welcomed by Canadian Parliament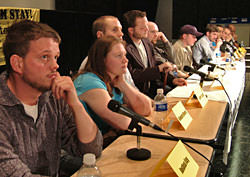 Ruling Conservative government may try to ignore will of people
Courage to Resist. June 4, 2008.
Yesterday the Canadian Parliament made a historic vote in favor of U.S. war resisters (photo right) seeking refuge from fighting in the unjust and illegal occupation of Iraq. While this is an amazing victory, the motion is non-binding. The minority Conservative government led by Stephen Harper—a close ally of the Bush-Cheney endless war agenda—has indicated that it is prepared to defy the resolution by proceeding with deportations of war resisters. Creative resistance will likely be required on both sides of the border.
We need to act now to make sure that the will of many people living in the U.S., the Canadian people, and now Parliament can not be ignored. Please contact Ministers Harper and Finley to request that they fully implement the resolution in support of U.S. Iraq War objectors and allow them to stay in Canada.
Minister of Citizenship and Immigration Diane Finley.
Phone 613.996.4974; Email finley.d@parl.gc.ca or finled1@parl.gc.ca
Prime Minister Stephen Harper
Phone 613.992.4211; Email pm@pm.gc.ca
The full resolution reads:
[It is recommended that] the government immediately implement a program to allow conscientious objectors and their immediate family members (partners and dependents), who have refused or left military service related to a war not sanctioned by the United Nations and do not have a criminal record, to apply for permanent resident status and remain in Canada; and that the government should immediately cease any removal or deportation actions that may have already commenced against such individuals.
With Courage to Resist organizers in attendance in Ottawa, this resolution first passed out of the Standing Committee on Citizenship and Immigration by a vote of 7-4 December 2007. That set the stage for yesterday's 137-110 vote in the full House of Commons. All of the Canadian opposition parties—the Liberal Party, the New Democratic Party, the Bloc Quebecois, and the Green Party—rallied behind the motion, with only the ruling Conservative Party voting against.
Up until last week, war resisters and their supporters remained skeptical of the chances for this win. However, the pan-Canadian organizing of the War Resisters Support Campaign, and our ongoing efforts here in the U.S., came to fruition.
---
Resister Ryan Jackson sentenced to 100 days brig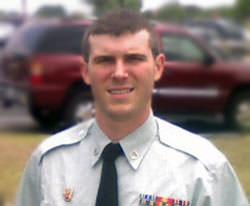 Following community vigil, war objector who faced year in brig will be out by July
By James Branum, lawyer for Ryan Jackson. May 30, 2008
At the hearing, we argued that Ryan's actions were an act of civil disobedience that stemmed from his belief that all war is wrong and Ryan himself gave a moving statement in which he expressed his own views on the immorality of war and the necessity of breaking the law for the sake of conscience.
At today's court-martial hearing at Ft. Gordon, GA, Conscientious Objector Ryan Jackson was given a sentence of 100 days in prison. With time already served, he has only 29 days remaining!
Ryan was also sentenced to a Bad Conduct Discharge, demotion to E-1 (private), and reduction to 2/3 pay for multiple specifications of being AWOL (as well as a minor count of having positive drug test for marijuana).
You can find pictures taken after his court-martial, pictures from a vigil/protest held in Ryan's behalf by local Augusta residents, and the text of a statement that Ryan wrote while in prison for his supporters here.
Pictures taken shortly before Ryan turned himself into military control in April 2008 can be found here.
One local press account of the pre-court-martial trial can be found here.
While the good news is that PFC Jackson will be out of military prison soon, CPT Kenny (the JAG defense counsel who was part of the defense team) and myself are still preparing to make a post-trial relief clemency request from the Commanding General to seek to have the BCD reversed.
Thanks to everyone who helped to get the word out about the case. Also, Courage to Resist is still raising funds to cover Ryan's legal expenses (they are still about $500 short) so donations would be very welcome at www.couragetoresist.org/donate
Please also write PFC Jackson to encourage him to stand strong during his
remaining weeks of unjust confinement. His address is:
Ryan Jackson; 1050 Remount Rd, Bldg 3107; Charleston SC 29406-3515
Peace,
James Matthew Branum
www.girightslawyer.com
Ryan should be out of the brig in time to participate in the "GI Resistance" panel at the upcoming Veterans for Peace National Convention and join a Courage to Resist speaking tour.