SPECIAL ANNOUNCEMENTS & SPONSORSHIP OPPORTUNITIES

Virtual and Social Distancing Events in Houston, Fort Bend and Surrounding Areas
---

...& Congrats to the Biden-Harris Administraton!
---
Jan 18 Greater Houston Frontiers Club's 32nd MLK Memorial VIRTUAL Breakfast, 8-10am; Website

Wednesday, January 20, 2021 | Noon EST/ 11am CST (pre-event festivities begin 8:30am CST)
The event will be broadcast live on most major networks and many cable networks.
8:30-9:30... NATIONAL ORGANIZATION FOR WOMEN
(NOW), Phil. Commission for Women,
Coalition of 100 Black Women & others...
Inauguration Day Jeopardy:
Zoom Registration Link:
bit.ly/InaugurationCelebrationPHL
Twitter is a fire hose of information, and it can often be a bit of an overload.
However, if you're looking for live information on one of the most closely followed events worldwide,
this is a great place to visit. Some hashtags you'll want to follow include #inauguration, #president,
and #Biden and its variations, including #BidenHarris. Also the White House @whitehouse
and the U.S. Secret Service @secretservice.
Feb 02 International Trade Center's TX Lunar Festival@ S. Chinese Daily News Website
Feb 02 Third Ward Community Cloth's First Tuesdays Zoom Meeting. 8am Website
Feb Missouri City, Texas Black History Month Celebration
Website
Feb Houston Sun Foundation's Black History Month Virtual Symposium at TSU
Email
Feb Buffalo Soldiers Museum's Annual Gala @ Buffalo Soldier Museum, 6pm;
Website
Feb The Houston Community College Black History Scholarship Fundraiser; Website
Mar Safe Diversity Communities' Resource, Mental Health & Wellness Workshops
Website
Apr Change Happens! Virtual Spring Breakfast, 7:30am
Website
Apr
Texas Southern University's "Maroon & Gray Affair"
Website
Jun Houston Area Urban League's 50th Anniversary Gala.
Website
Jun
Miss Juneteenth Pageant @ Emancipation Park.
Website
Jun
Juneteenth Talent Show @ Emancipation Park
Website
Jun Missouri City Juneteenth Parade
May Houston Livestock Show and Rodeo @ NRG Stadium;
Website
May SHAPE CENTER's PanAfrican Cultural Festival
Jun Broken Chains' Juneteenth Gala 7pm
Jun Pearland's Juneteenth Celebration@3pm, Pearland Town Center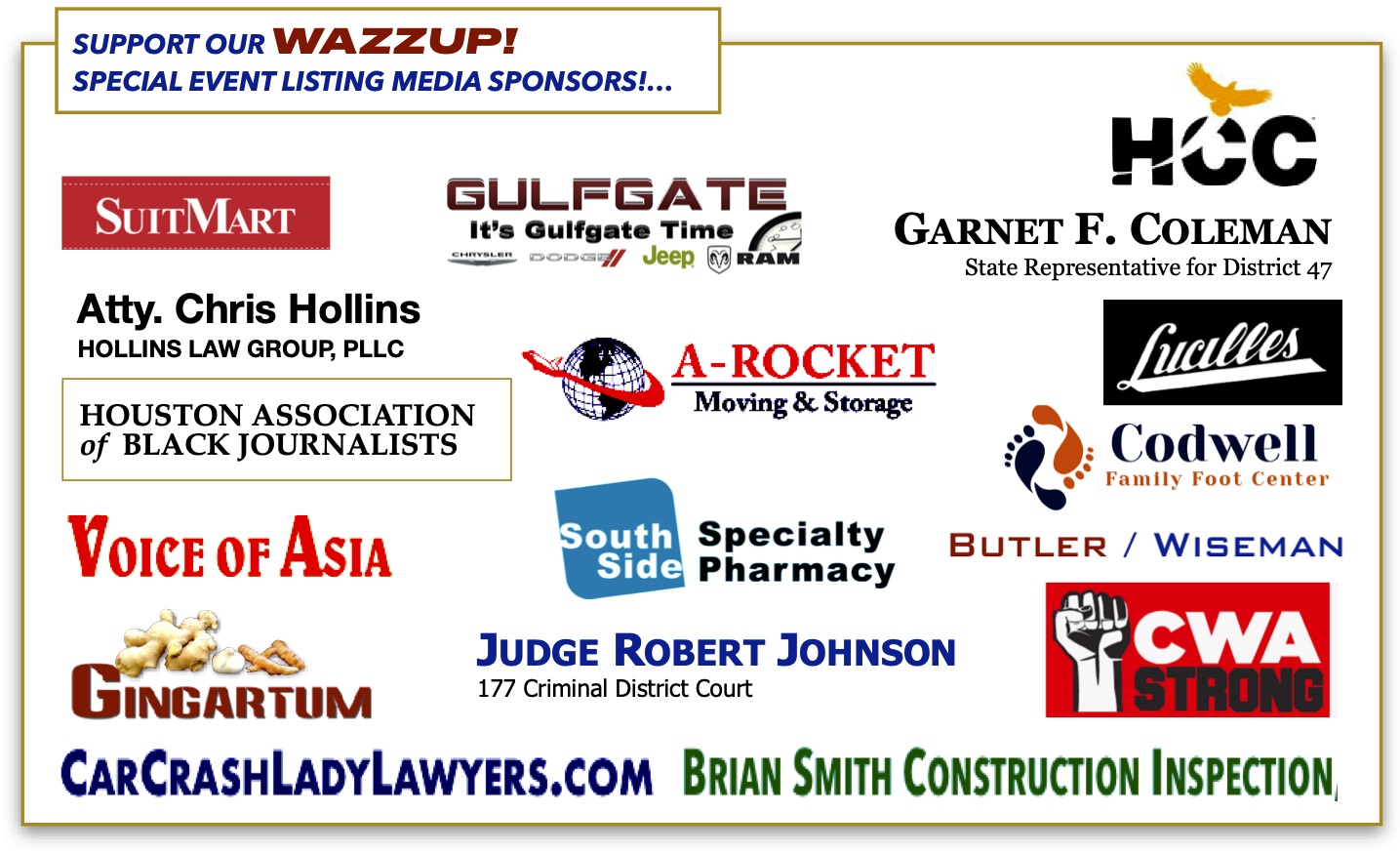 For Sponsorship Opportunities on select events, contact
Lorenza P. Butler, Jr...

Email
---
---
---

HARRIS COUNTY AND
CITY OF HOUSTON HEALTH DEPARTMENTS

COVID-19 Data Dashboards...

are offered to help educate residents of Harris County on the status of Coronavirus (COVID-19) in the area, a number of maps and dashboards are available for reference.

Click on the graphic HERE to go difectly to the webpage.

Other links:
HARRIS COUNTY AND FORT BEND COUNTY MAYORS are urging Americans not to travel for the holidays, saying December 2020 gatherings and celebrations should be kept to vertual or within single households. The warning comes as COVID-19 cases and hospitalizations reach record highs across the U.S.

Additional Covid Awareness links are below.)
| | | |
| --- | --- | --- |
| Click above to visit our website! | | Click for more information |
---
| | | |
| --- | --- | --- |
| | | Call/text Lorenza Butler at 832-880-3733 |

Get the Facts....and share them!
---
| | | |
| --- | --- | --- |
| | | |
---
(NOTE: We ship only on Mon & Tues to ensure weekday delivery!)

What is Gingartum?...

Click the graphic below to watch our new YouTube Video!

_______________________________________________
---
---
---

Compiled and distributed by

The Houston Informer and Texas Freeman

Publisher Lorenza Butler, Jr.

Freedmen's Publishing Company
You are receiving this email because we are continuously updating our database, and/or you have previously subscribed to this news listing...we hope you continue to do so!