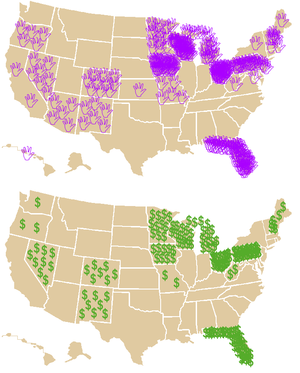 Candidates concentrate on the few states contested in the Electoral College. Each purple hand represents a candidate visit & each dollar sign represents $1,000,000 of TV advertising during the last five weeks of the 2004 Bush-Kerry election.
Best wishes from the Philadelphia Jewish Voice for a Happy Thanksgiving.
As you can see below, there has been a lot of new material in the Philadelphia Jewish Voice and much more is on the way. Visit the website daily for the latest news and analysis. Use the link at the bottom of each article to post your comments and take part in the discussion. Also, consult our community calendar to see what is going on in your area.
Visit our front page regularly for breaking news, and check out the Philadelphia Jewish Voice Community Calendar to learn about upcoming events in your area.
Yours, Dan Loeb
publisher@pjvoice.com
Cartoon reprinted courtesy of Yaakov (Dry Bones) Kirschen www.DryBonesBlog.blogspot.com.