Iraq War veteran critically wounded by Oakland police during Occupy crackdown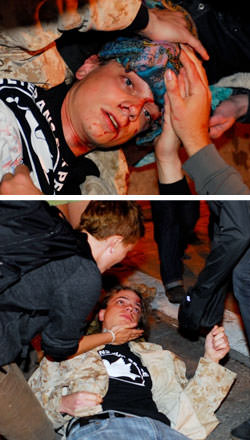 Please donate to Scott Olsen's medical fund: Click here

Oakland CA (October 26, 2011) - Scott Olsen, a Marine veteran who did two tours in Iraq, was hit by a police projectile during last night's brutal crackdown of Occupy Oakland (photos right). He is in serious but stable condition at an Oakland hospital. Friends have reported that Scott has a "skull fracture and swelling of the brain."

Scott is 24 years old, and was with 3rd Battalion, 4th Marines, before leaving the military last year. He is a member of Iraq Veterans Against the War, Veterans for Peace, and a Courage to Resist supporter.

It's ironic that days after Obama's announcement of the end of the Iraq War, Scott faced a veritable war zone in the streets of Oakland last night. He and other protesters were surrounded by explosions and smoke (tear gas) going off around him as people nearby carried him injured while yelling for a medic.

Tell Oakland Mayor to end the brutality and investigate this incident:
---
Bradley Manning Support Network in solidarity with Occupy Movement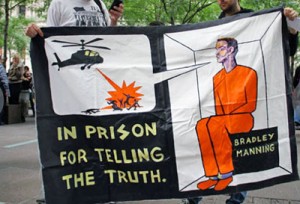 October 12, 2011. The Bradley Manning Support Network stands in solidarity with the Occupy Wall Street movement that has spread to hundreds of cities and town squares across America. We share a common commitment to exposing the corruption of corporate power upon our democratic system.