AQUAMAN GOING SWIMMINGLY…
…AND ALAN'S BACK AT THE BEEB
BULLDOG'S LIZZIE WIELDS THE AXE
EUREKA UNVEILS JUNE SLATE
FOOTBALL DINNER HONOURS WENGER
TRAILERS OF THE WEEK
---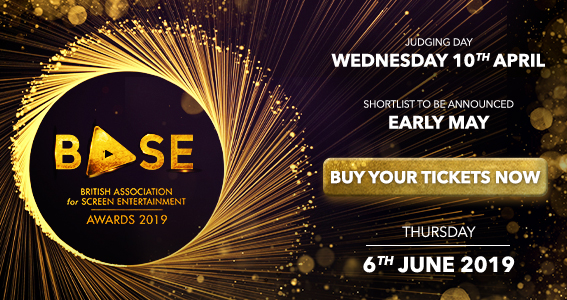 ---
If you can't read this newsletter or see the ads, please click here.
It was a good week for… Aquaman looks set to continue Warner's strong run…
It was a bad week for… Camcorder pirates are still being nabbed……
Another week, another round of sparring in the ongoing war of words between theatrical exhibitors, distributors and Netflix and other streaming giants over theatrical to home entertainment and other windows. The annual CinemaCon event was the location for much of the debate, as the theatre owners and studios presented a united front aimed at protecting the windows and their business from the threat of Netflix and co. The words used went from the inflammatory – "I love Netflix, but f*ck Netflix," said Helen Mirren, using the most combative language (which we've asterisked not out of sensitivity but to prevent the stricter industry firewalls) – to more conciliatory. On the latter, it seems as if the message from the cinemas and their owners and executives is "streaming and theatrical aren't rivals – but let's keep the theatrical to streaming/home ent window as it is".
Chief among those comments was the one from John Fithian, from US theatre owners organisation NATO (the other NATO, not the defence one), who said: "[Films] should reach their full potential in theaters before heading to the home. There's no doubt that home entertainment consumption moves toward streaming more with each passing day. As large media companies look to establish direct relationships with consumers through streaming platforms –and the options grow in the home grow – competition for directors and stars who want their work on the big screen will only intensify. There is nothing revolutionary about movies skipping theatres. How does any given movie stand out among choices in the home? A robust theatrical release…which provides a prestige release that can't be replaced. Theatrical exhibition is the keystone of this industry and there is no replacement for the impact of a breakout hit. Theatrical and streaming are two completely different experiences and each have their own places." That call was echoed by Cineworld global chief Mooky Greidinger, who said: "
I don't think that streaming in the current situation is a threat to the theatrical business. I believe that the window is extremely important for the theatrical business, especially in the way it's being dealt with today in regard to terms; to the long-term commitment that we have to landlords and the studios, etc. I think that the phenomenon of this business is that the more movies that are being seen in the cinemas, the more these movies are producing income in the ancillary markets. It's very sustainable.
I am not happy with the fact that Netflix are trying to create the kind of reality of day-and-date releases. I don't believe that this is right, nor is the right way to maximize income from a movie. Yet other streaming companies are working with the windows and respecting the window. I cannot call it a threat, but I will be frank and say we are alerted to the changes, and we still believe that the best way and best platform for a movie is to start the cycle with a successful theatrical release and then go on to the other directions which a movie can go. We very well know that big and successful movies are then being seen for decades in all of the auxiliary markets wherever you are – at home, on a train, a plane, a phone and more."
---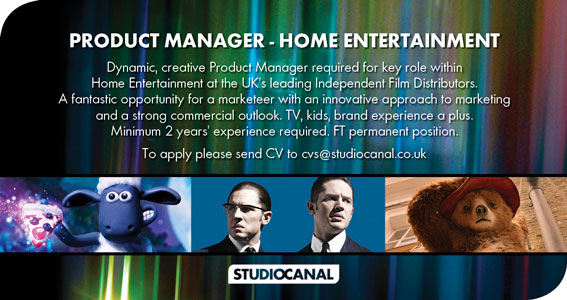 ---
It's been a big week for Warner and its DC releases, what, with the trailer for the new Joker landing online (and earning massive approval across the board, as well as kicking off acres of speculation and discussion), Shazam turning up in cinemas ("…the film doesn't remotely feel assembled to a franchise-building template: rather, it's jauntily at ease doing its own thing throughout, which is by turns infectiously silly and unexpectedly warm-hearted," said the Telegraph) and, to cap it all, the physical release of Aquaman, the blockbuster Jason Momoa starrer, arrives in stores and online on Monday April 8. The film has already proved its worth in the US, where it currently sits atop the home entertainment charts. As US trade magazine Media Play News noted, "Warner Bros. Home Entertainment's Aquaman made a splash on the national home video sales charts the week ended March 30, outselling its competitors by a wide margin. The DC Comics superhero movie took No. 1 on the NPD VideoScan First Alert chart, which tracks combined DVD and Blu-ray Disc unit sales, and the dedicated Blu-ray Disc sales chart after a $335 million haul at the domestic box office. Blu-ray Disc formats accounted for 66 per cent of total Aquaman unit sales, with 14 per cent of its overall tally coming from 4K Ultra HD Blu-ray Disc."
It comes off the back of a strong run for the studio. Aquaman is likely to dislodge Fantastic Beasts: The Crimes Of Grindelwald from the top slot, while in this week's chart, Creed II is boxing clever at number three. Our favourite bit of marketing for Creed II saw stars of Rocky IV (the film referenced in the second, related Creed outing) Dolph Lundgren and Sylvester Stallone sitting and watching themselves as Rocky and Ivan Drago. Lundgren said:
"Y
ou took some great shots, the way you would launch yourself through the air."
Stallone added: "It's interesting, you take those falls, you have to, with reckless abandon I look at this stuff today, and I think I don't think this is ever coming down the pike again…
Look at my head, bang! I'll never forget that shot, I felt it in my butt. You hit me on the top of my head, it went down my spine like a bolt of lightning. With those eight ounce gloves that have actually been banned today because they're too lethal." Lundgren replied: "
I felt pretty bad having to do it to you."
You can see the clip here, as part of Empire's coverage.
As noted above, Warner has the one and three slots in the new Official Film Charts, as announced this week. The former holds on to pole position ahead of the year's other big release thus far, Bohemian Rhapsody, at number two. Disney's latest Ralph Breaks The Internet is a new entry at number four on the back of its digital sales alone (the film was released on Monday April 1, after this week's chart was put together), pushing Robin Hood back to number five. The other significant entry in this week's top 10 is The Girl In The Spider's Web, Sony's revived gritty action franchise enters the upper echelons of the chart after its physical release last week.
---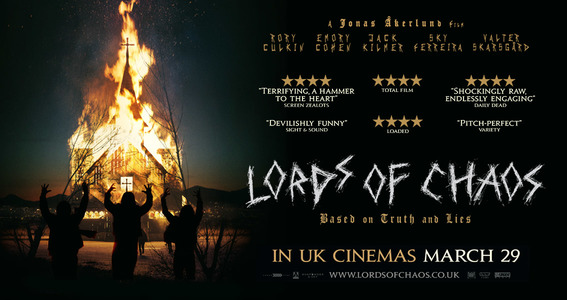 ---
Another week, another big announcement from Altitude, which has revealed plans for a theatrical release for a documentary looking at former Oasis singer Liam Gallagher and his return to the frontline. As It Was arrives in cinemas on June 7, with home entertainment set to follow (exact plans have yet to be revealed, but fingers crossed for dad-rock day of the year, aka Father's Day), with the star himself getting right behind the release. A first-look clip was also unveiled, indicating that the film may contain the odd expletive or two. At the time the project was first unveiled, Gallagher said: "As It Was is a documentary about my musical comeback. It covers the writing and recording of my first solo album, right through to playing it live for the very first time in my hometown of Manchester and around the world. I hope you enjoy the film." Co-director Charlie Lightening added: "Having known Liam both personally and creatively over the past 10 years, to see him back where he should be and to see the reaction to him once again has been amazing. For Liam to let me in, to be there to capture it all up close and personal and to tell the whole story in his own words makes for an amazing film. One of the greatest rock 'n' roll comebacks of all time, and you are there with him each step of the way." You can see the clip here https://youtu.be/9LXerjD-gUI…
Opening at cinemas today on the back of a raft of great reviews and word of mouth (it's currently at 88 per cent on Rotten Tomatoes) is the latest from the animation powerhouse Laika, Missing Link. The film further cements Laika as the discerning animation fan's favourite home of quality, one as popular with parents and those without kids as children themselves. Its enhanced reputation and the fact that the studio's output often bears repeat viewing stands it in good stead for its home entertainment release later this year. And don't just take our word for it, here's some choice words from Empire: "When you have such strong, disarming character work; such clever, subtle nods to the crimes of colonialism and old world conservatism; and such gorgeous art direction, the kind that swells the heart and nourishes the soul; you realise that Laika are a true treasure. Here's hoping that flame is burning for some time to come.A charming family-friendly story about adventure and friendship — told with bar-raising artistic craft and technical skill. We'd expect nothing less from Laika."
And so, Shaun is back! This week has seen a wealth of new trailers, chief among them, certainly on the family front, is the second feature film outing from Shaun The Sheep and his band of friends (and adversaries). The film, to give it its full title, is A Shaun The Sheep Movie: Farmageddon, which sees our wooly pal having a close encounter of the fourth kind, is due at cinemas in October, giving Studiocanal plenty of time to shear prices off its existing Aardman-produced Shaun titles and offer up plenty of promotional activity. We were lucky enough to visit the set at Aardman's HQ in Bristol and the film is looking spectacular (more on the behind the scenes making of the film closer to release). Commenting on Shaun's year ahead, Studiocanal's Olivia Dean said: "It's one small step for lamb this autumn as Shaun and the Flock have their first alien encounter. With the theatrical campaign getting underway this week we're exploring how we can best shine the spotlight on our Shaun back catalogue. As well as the first movie, we also have five TV series' providing ample laughs for fans and opportunity to bring Shaun front and centre as we head towards his second cinema outing this autumn."
In a year of hugely high profile television such as Baptiste, Line Of Duty and others, it's been great to see Alan Partridge back on our screens, with Steve Coogan's finest creation returning to his old home of the BBC for This Time With Alan Partridge. As long time devotees of the Norfolk-based TV and radio presenter, we really rate his latest outing, this week's finale was a belter. And on Monday, BBC Studios is releasing the series on DVD. Lesley Johnson, director of home entertainment at BBC Studios, said: "This Time has been well received by Alan Partridge fans new and old and we're looking forward to the DVD release on Monday April 8. We've had great support from all of our customers, alongside an effective PR campaign, including interviews in Metro, Radio Times and Digital Spy."
---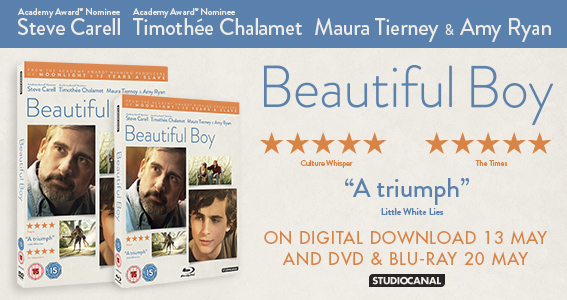 ---
Also due on Monday after its successful run on television, as mentioned above, is Baptiste, starring the wonderful Tchéky Karyo as the eponymous former detective who excels at tracking down those deemed missing. We've been tracking it for some time and it really is a fine series. It's due from Acorn, whose Helen Squire said: "For the last couple of months audiences have been charmed for the third time by Tchéky Karyo as Baptiste, and we have also seen DVD buyers catching up on The Missing Series One and Two in which the French detective first appeared so his popularity is growing even more. The DVD of the new series is on sale from this Monday. Debbie Murray at Aim Publicity has pulled together fantastic press support for the launch, including radio interviews on and around release."
Some interesting news from Acorn, which continues to grow its assorted arms in the UK and beyond, with an announcement this week that it has sold its own production, London Kills, to BBC for broadcast on BBC1 later this year. The deal covers two series of the whodunnit, which stars Hugo Speer and Sharon Small as part of an elite team of cops dedicated to solving murders in the capital. It begins transmission later this year, and the deal will boost the series' home entertainment chances. It comes as Acorn ups its productions as part of its expansion plans, with its own titles adding to its roster from its ongoing relationships with other production outfits. Commenting on this series, Vanessa Jordan, Acorn Media International's head of international sales commented "We are delighted that the BBC has recognised the potential for London Kills as a stand out show for their Daytime schedule." Sue Deeks, head of programme acquisition, BBC said: "London Kills is a crisp and complex police drama with compelling characters portrayed by a top-notch cast. Viewers are in for a treat with this series and we're really looking forward to showing it on the BBC." Stuart Shaw, md, AMI added: "This is our first sale to a free-to-air broadcaster in the UK and is the first of many quality dramas we are bringing to the market over the next few months."
Back to Monday releases, and arriving from independent Bulldog Films, on the back of another biggie in the shape of the excellent Possum, comes LFF hit Lizzie. Talking about the release, the company's Philip Hoile said: "Craig William Macneill's Lizzie is a compellingly dark and intense psychological thriller with a transfixing lead performance from Chloë Sevigny as the infamous axe-murderess Lizzie Borden (unbelievably it's Sevigny's first lead role!). She has a fantastic partner in crime in Kristen Stewart and the great supporting cast also includes Fiona Shaw, Denis O'Hare and Jamey Sheridan. Our sales teams have done great work achieving strong presence across the supermarkets, specialists and digital retailers and following a couple of sold-out screenings at BFI Flare last week and some really positive new reviews and social media activity over the last few days we're hopeful that Lizzie can make her mark on home ent audiences from Monday."
---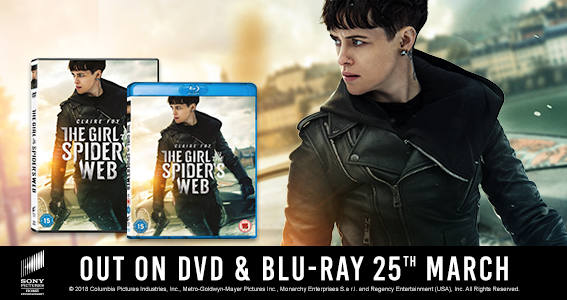 ---
Eureka was all over social media on Friday afternoon (at 3pm), to unveil its June titles, with another varied slate from the company and its assorted imprints such as Montage Pictures and its long-running Masters Of Cinema label .Commenting on its announcement and revealing more, national accounts manager Marcus Garwood said: "The weather might not have made its mind up yet, but it's summertime here at Eureka as we press on with our June slate. We're off to the Alps first as Arnold Fanck's 1926 drama The Holy Mountain makes its UK debut on Blu-ray via our Masters Of Cinema imprint. Our next location is Nicaragua for 1983 war drama, Under Fire. Directed by Roger Spottiswoode (
Tomorrow
Never Dies, Deadly Pursuit) & featuring an all-star cast including the Oscar-winning Gene Hackman (Unforgiven, The Poseidon Adventure) this action-packed classic is also dynamically scored by the great Jerry Goldsmith and makes its UK debut on Blu-ray. Next on the itinerary is Hong Kong and a double bill of early John Woo films 'he Hand Of Death and Last Hurrah For Chivalry. These two 1970 martial art gems appear as brand new 2k restorations for the first time ever on Blu-ray and are wrapped in stunning artwork, making them yet another essential purchase for fans of the genre. Jet lagged but not jaded we round off June's trip round the world in Eastern Ukraine for multi-award-qinning director Sergei Loznitsa's brand new film, Donbass. Winner of the 2018 Cannes Film Festival Un Certain Regard Award, Donbass is a powerful examination of propaganda and manipulation in Eastern Ukraine and its effects on their society. Showing theatrically in selected cinemas from April 26before arriving on retail release on June 24 via our Montage Pictures imprint."
Out at cinemas today, and a title we've been tracking for some time, is The Keeper, a film looking at legendary goalkeeper Bert Trautmann. It's the first release form Parkland Entertainment, the new label that has industry stalwart Tom Stewart, most recently at Arrow, with stints at Metrodome and others under his belt, as its joint founder and partner. He said: "Friday marks Parkland Entertainment's first feature theatrical release with The Keeper going out on 89 screeens. It's been an incredible five months of planning with a great team of people who have put everything into this release. On behalf of myself and Joint Partner/CEO John Cairns, a huge thanks must go out to Jon Sadler's Magus Marketing which has overseen the marketing and publicity. The audience reaction at preview screenings has been quite amazing, clearly demonstrating just how much the audience loved the film." The home entertainment release is slated for later in the year…
---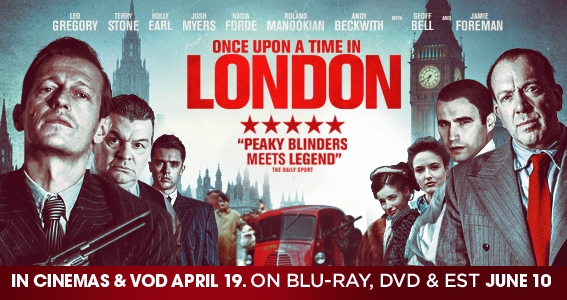 ---
Good luck to our old pal and industry stalwart Steve Davey, former HMV staffer and currently at 101 Films. For the brave soul is not only taking part in the Brighton Marathon a week on Sunday (April 14), but, if that goes according to plan, he'll be doing the London Marathon two weeks later. Better still, he's raising cash for his dual effort for St Christopher's Hospice in south east London. As Davey said on his own Just Giving page: "Its been four years since my last marathon, thought it was about time I did another one and then one two weeks later, if my mind and body let me!" You can sponsor him by heading over here.
There's plenty of Arsenal supporters in the entertainment business, and they should be looking forward to this year's industry-associated Legends of Football event. For this year, the charity dinner will see former Arsenal manager Arsene Wenger OBE picking up the prestigious Legends of Football gong, joining an elite band of recipients such as his old rival Sir Alex Ferguson and Pele. The event has long been connected to the home entertainment and wider entertainment business, not least thanks to HMV's long-term patronate, with the event raising more than £8 million for the wonderful Nordoff Robbins charity. This year's event takes place on October 7 2019 at its long-standing home of the Grosvenor. Wenger said: "Since leaving Arsenal I have received some interesting proposals some of which I am currently contemplating. However, one invitation that I did not hesitate to accept, and I am extremely honoured to do so, is to receive the 2019 Legends of Football award. I have always enjoyed music and I am excited to be involved in the work Legends of Football does to support Nordoff Robbins, which is a fantastic charity. Music therapy can change people's lives, across a broad spectrum of disabilities, and I will help in any way I can. I look forward to celebrating at the Legends of Football event on 7 October." Geoff Shreeves, Sky Sports presenter and Legends of Football chairman commented: "Arsène is somebody who we have been wanting to honour for over a decade, so we are genuinely thrilled that he has agreed to be this year's recipient. His achievements at Arsenal were nothing short of spectacular and his name is etched in Premier League history. He quite simply changed the face of the Premier League and will be an outstanding ambassador for Legends of Football and Nordoff Robbins in the year ahead." Julie Whelan, CEO, Nordoff Robbins added: "Events like Legends of Football are vital to us as a charity and we are delighted that Arsène Wenger has agreed to be recipient of the award this year. On behalf of Nordoff Robbins, I'd like to thank Arsène and everyone involved in the event for their hard work and dedication – every penny raised goes directly towards our music therapy delivery, helping us to change more lives through music." More details here…
And we'll end with more social, and a confirmation and reminder that The Raygun will be hosting a social event, a chance for an industry get together out of the key awards ceremonies and other events, in London's West End on the evening of Wednesday April 24 from 6pm. Everyone tells us at the BASE Awards and others that there are too few opportunities to socialise with others in the industry, so we've actually gone and done something about it. We've got a venue sorted, but need names to ensure it's big enough for everyone who wants to attend. It's free to attend, just bring some cash to buy yourself a drink and enjoy the chance to have a chat and a natter with your contemporaries and other people from other sides of the fence. Please email The Raygun's Tim Murray at the usual address to let us know if you'd like to attend, we'll be sending out details of the location nearer the time. We look forward to seeing you there!
---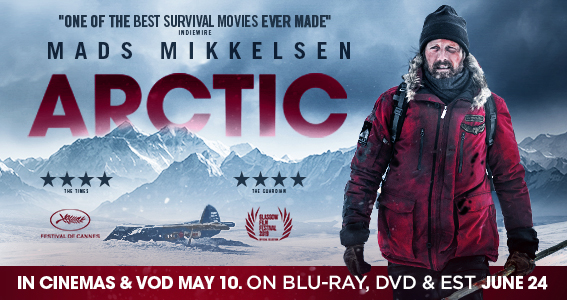 ---
"As you know, piracy is a global phenomenon. And our ACE coalition, now with more than 30 global partners, is growing as we speak. In the past year, we have seen significant victories against piracy devices and services like Tickbox and Dragonbox. The MPAA also works with theaters and law enforcement around the world, every day to reduce piracy. Last December in London, a camcorder thief was apprehended while recording a major holiday theatrical release during its opening weekend.
"Our collaboration with theatres in the UK, and the City of London police, uncovered the breadth of his piracy, which included films from more than half a dozen studios.
"According to a Carnegie Mellon study, pre-release piracy can result in a 19% reduction in box office revenue for a film. That particular movie went on to make over $450 million at the worldwide box office.
"If that man had not been caught, that figure could have been significantly lower. "And you know what that means for your bottom line."
MPAA chief Charles Rivkin on the current state of piracy, speaking at CInemaCon.
Not content with playing music on the wireless (BBC 6Music) between acting gigs (another Peaky Blinders is on the way), Cillian Murphy has got something else lined up. For the suave star is said to be lining up another new role – in the sequel to A Quiet Place. Seems as if Murphy will be doing his best softly spoken voice to keep the aliens way in the sequel, with John Krasinski again directing and Emily Blunt returning too…
More on Shudder's forthcoming revival of the Creepshow franchise, and as well as returning to original source material from original creator Stephen King – another of his tales, Gray Matter, will also be in the series, it was announced this week – there's another returning name too. For Gray Matter will star scream queen Adrienne Barbeau, who appeared in The Fog as well as a the original Creepshow feature film almost 40 years ago, will appear in Gray Matter. The series is set to air exclusively on horror specialist svod service Shudder later in the year…
The will-they-won't-they story of the live action take on seminal anime title Akira looks like it's back on again… The much-talked about take on the film that helped kickstart the Western obsession with Japanese animation has long been in the works. But according to one US trade, a tax break form seems to suggest that shooting will take place this year. Leonardo DiCaprio is on board as a producer and, in further news, Taika Waititi could be the director…
You've got to hand it to LipSync's Robin Guise, one of the busiest men in the business. Not content with running the assorted arms of the long-standing industry stalwart company, he keeps his hand in other area too. A few years ago he penned a blog following his plans to watch one Hitchcock film a week for a year. And now he's launched a new podcast looking at another of his idols, Bob Dylan. You can have a listen here…
Here's Shaun, impossibly excited for this…
And, at the other end of the spectrum…
Something for the weekend, this is an ace film…
You're on The Raygun newsletter mailing list, which has been running for eight years, because you requested it, have been recommended to us or sent us emails. You can unsubscribe at any time, if you're daft, using the link elsewhere or by emailing as below. But of course, you don't want to do that, do you? We don't share your information with anyone else, we don't like cookies and we're the good guys. We care because you do…
To subscribe to The Raygun newsletter, please email
info@theraygun.co.uk
with subscribe in the subject matter
To unsubscribe, email

info@theraygun.co.uk

with unsubscribe in the subject
For editorial or advertising queries, contact

tim@theraygun.co.uk