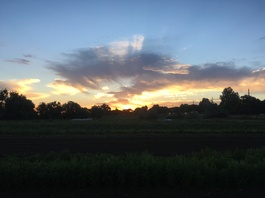 Good Morning CSA Members,
  Today, Wednesday August 31st is a CSA pick up.  Your share will be available for pick up from 4-7pm at your chosen pick-up location. 
    Four seasons in a day now, start in your jacket, take off the jacket put on tshirt, put jacket back on, sleep.
Summer Squash (Farm pick-up)
Broccoli / Cauliflower (Market pick-up)
Spicy Greens Mix
Eggplant
Cucumbers
Potatoes
Sweet Corn
Tomatoes
Peppers
Basil
Cherry Tomatoes
Fruit share: Nectarines, Plums, Apples
Egg Share: pick-up every week
Flower Share: Mixed Bouquet (Only two more weeks of Flower Share!)
Bread Share: this week
Coffee Share: this week
Wine & Cheese share: this week
Babette's: this week
Coming next week: tomatoes, greens, zucchini, eggplant, and more.....
     Just when you thought it was safe to go into the tomato fields, BAM! 1000 pounds are found! If you are curious about the many different tomatoes that are growing we have a solution for you.  Right now it is all about tomato fights in the field (keep away from the face please) and who can find the largest tomato without taking a bite out of it.  Oh the life of the farmer.  Enjoy!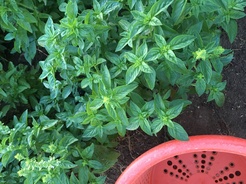 Bacon Corn Chowder
A perfect soup for the summer! This creamy soup will make you forget about the chill of fall and wish for summer all year!

Tomato Pepper Chutney It's that time of year - canning season! Why not spice up your usual recipes with this flavorful, spicy chutney!

Cucumber Salad with Spicy Thai Dressing Crispy, thin-sliced cucumbers are the perfect palate to the spicy Thai dressing! Refreshing and a perfect side to any Thai curry!

Brown Sugar and Plum Pull Apart Bread




This dessert is worth the work! Any type of stone fruit can be used - even try some apples! Sticky, sweet, and best eaten warm, this bread won't last very long on your counter.
Bacon Corn Chowder

3 slices bacon, chopped (may want to use an extra slice or two to garnish)
1 onion, chopped (white or yellow)
3 tablespoons flour
1 pound potatoes, peeled and chopped (waxy potatoes like Yukon Gold work best)
3-4 sprigs of fresh thyme
6 cups chicken broth
4 cups shredded chicken (for a shortcut use a rotisserie chicken)
3-4 cups corn, cut from the cob or (frozen may be substituted)
¼-1/2 cup heavy cream
Grape tomatoes, sliced
1 avocado, pitted, peeled and chopped
2 limes, cut into wedges, optional
Fresh parsley, chopped
Freshly ground black pepper
Salt to taste if needed (depends on saltiness of your chicken broth)
Directions
Saute the bacon until it's nearly crisp. Remove any you'd like to reserve for garnish. Add onion and cook until soft, about 3 minutes. Add the flour and stir to cook off the raw taste without browning, about a minute or two.
Add potatoes, thyme, and chicken broth. Bring to a boil. Reduce heat and simmer until potatoes are just tender, about 5 minutes. Add the chicken and corn cook till hot. Reduce heat to low and add cream to taste. Bring to a simmer, then remove from heat.
Serve garnished with tomatoes, avocado, reserved bacon, a squirt or two of lime juice if desired, a dusting of chopped parsley, salt, and pepper to taste.
Tomato and Pepper Chutney

2 Red Pepper
2 Large Vine Tomatoes
2 Small pods of Garlic ( optional)
2 Tblspn Bengal Gram ( Chana Dal)
2 tsp Cumin Seeds ( Jeera)
2 Red Dried Chilly ( Make it 3 if you like spicy)
1 Tblspn Oil
Salt to taste
Tempering
1 tsp Mustard Seeds
1 Red Chillies broken into pieces
A pinch Asafoetida
Sprig of Curry Leaves
2 Tsp Oil
Directions
Heat 1 tsp Oil and add garlic cloves. Once they get slightly roasted ( about 2 minutes ), add roughly chopped Red Bell Pepper. Saute for at least 5 minutes in medium flame followed by the addition of chopped tomatoes. Saute until all the juice evaporates and the tomatoes get mushy – another 5-7 minutes. Turn off the flame and set it aside.
Heat the remaining 2 tsp Oil. Once hot, add Cumin Seeds,Chana Dal & dried red chillies and saute them until dal begins to turn brown. Turn off the flame and set the Dal Mixture aside.
Once both the mixtures are cool , grind them together in a blender until a smooth puree is achieved. Taste and season with Salt. Transfer the content into a serving bowl.
Prepare the tempering by heating the oil. Add mustard seeds. Once the mustard seeds begin to splutter, turn off the flame. Add the rest of the ingredients – red chillies, asafoetida and curry leaves. Immediately pour the tempering onto the pureed Chutney.
Serve your Dosa's or Idlis with the Red Bell Pepper Tomato Chutney.
Cucumber Salad with Thai Dressing

2 large cucumbers, very thinly sliced
½ orange bell pepper, finely diced
1/3 cup rice vinegar
1 teaspoon maple syrup
2 teaspoons sesame oil
2 tablespoons cilantro, finely chopped
2 tablespoons scallions, finely chopped
2 red Thai chilies*, finely chopped
2 clove garlic, finely chopped
1/4 teaspoon ginger, grated
1 tablespoon sesame seeds
Salt & pepper, to taste
Directions
In a small bowl, whisk together rice vinegar, maple syrup, and sesame oil. Add chopped cilantro, scallions, chilies, garlic, and grated ginger. Set aside.
Slice the cucumbers using a mandolin** on the 1/16th of an inch setting. In a large bowl, toss the cucumber slices and the diced bell pepper. Pour the dressing over the vegetables and toss to coat. Sprinkle the salad with sesame seeds, add salt and pepper to taste, and serve immediately.***
Plum and Brown Sugar Pull Apart Bread
For the dough:
¼ cup warm water (no more than 100˚ F- 105˚ F, and no more than 110˚ F)
2¾ teaspoon active dry yeast
3 tablespoons unsalted butter, melted
1 teaspoon vanilla extract
300 grams einkorn flour
¼ cup sugar
1 teaspoon kosher salt
1 egg
1 egg white
For the Filling:
4 ounces (1/2 cup, packed) brown sugar
1 teaspoon ground cardamom
healthy pinch of kosher salt
3 tablespoons butter, melted
1½ cup diced, pitted plums or pluots (3 plums or other stone fruit)
Directions
Proof the yeast: Whisk together the warm water and yeast in a small bowl. Let sit for 5 minutes until it foams a bit.
Melt the butter and stir in the vanilla.
In a large bowl, whisk together the flour, sugar, and salt until thoroughly mixed. Add the yeast, butter, egg and egg white. Roughly pull the dough together with a large metal spoon by stirring a few times. Dump the dough (it will be just starting to come together) onto a well-floured work surface. Knead the dough only long enough to form a smooth dough - this took me about 5 minutes.
Transfer the dough to a large greased bowl. Cover loosely with plastic and a cloth and let rise in a warm place free of any drafts for 1½ hours. I have a bread rising feature on my oven, but another effective place is the cavity of a microwave oven. I first heat up a cup of water in the microwave, move the cup to a back corner, and slide the bowl of dough in. Close the door, and you have a perfect, warm, incubator for your yeast to expand.
Stir together the brown sugar, cardamom, and salt in a small bowl.
Butter a 9 x 5 loaf pan. Cut a piece of parchment paper to fit the bottom of the loaf pan, and fit it into the pan. It should adhere to the butter.
Once the dough has risen, turn it out onto a large and well-floured work surface. Roll the dough into a large, thin rectangle, roughly 12x24 inches. Feel free to gently pull at the dough to form the shape you want. This isn't pastry dough. Pour the melted butter over the dough and spread it with your hands so that the entire surface is basted. You can brush it on, if you've got oodles of time on your hands, but I like to do it with my hands. Sprinkle with the brown sugar mixture, reserving 2 tablespoons for sprinkling over the loaf just before baking.
Use a pizza cutter to slice the dough into 6 equal strips along its length, so that each strip is about 24" long. Sprinkle the first strip with ⅕ of the plums - it doesn't have to be exact. Next, lay the next strip on top of the first one. I found it easiest to gently raise one end and then the other, and then slide my arm under the entire strip to move it. It won't break, just stretch. Sprinkle with plums. Continue until all of the plums and dough strips are used, and you have a pile of strips.
Using a sharp knife, cut the stack into slabs that will fit standing up in your bread pan. To get the proper width, I lined up the short end of the bread pan to the edge of the dough, and sliced just a little shorter. Stack the slabs vertically in the pan, like they are papers in a filing cabinet, and continue until all the slabs of dough are in the pan. Don't be afraid to shove in the last couple pieces.
Preheat the oven to 350˚ F. Cover the dough with a towel and let rise in a warm place for about 30-45 minutes. Remove the towel, pour out excess plum juices into a cup or bowl to reserve for yogurt or ice cream, and sprinkle the reserved 2 tablespoons of brown sugar mix over the top of the loaf.
Bake for 45 - 50 minutes until lightly browned and cooked through. You may need to cover the bread with foil after 30 minutes to prevent it from over-browning. Insert a thermometer into the bread - it should reach 200˚ F before removing from the oven.
Cool on a cooling rack for 10 minutes before turning out. The parchment paper should prevent any bread from sticking to the bottom. This bread is best when eaten warm, but try not to eat it all in one sitting.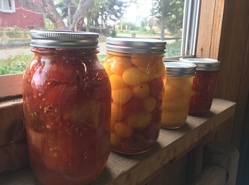 Ladies and Gentlemen - the time is here! Stock up your pantries now with all the great vegetables and fruits of the summer season. There's nothing that beats the winter blues better than cracking open a jar of sweet peaches, or a perfect tomato sauce. Currently this is our selection of produce available for canning:
Red Field Tomatoes 20# case for $30 ($1.50/lb)
Heirloom Tomatoes 10# cases or more for $30 ($3/lb)
Free Stone Peaches 18# case for $45 ($2.50/lb)
Plums 20# case for $55 ($2.75/lb)
Early Apples 20# case for $40 ($2/lb)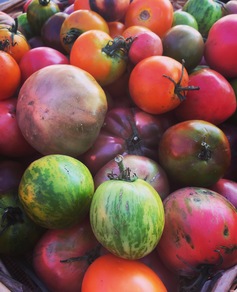 If you are looking for tomato seconds, you are welcome to stop by the Farm Store - there may be a limited supply there on a daily basis. As for the fruit - the free stone peaches are great for canning. Free stone peaches are those that the pit does not cling to flesh, it easily pops right out! The apples we are offering right now are great for canning too. The variety is known as Zestar, one of our favorites! They're sweet, crispy, and tangy, and also have flavor notes of brown sugar. Is your mouth watering yet?
     If you are interested in ordering cases of any of the items above, please email us at:
cureorganicfarm@yahoo.com
Please include the item and quantity desired in the subject line (for example 20# case Red Field Tomatoes - YUM!).
Cheese
   Il Forteto began in 1977 with a group of students and teachers looking to create a cooperative with the power of education, tradition, equality and hardwork, they grew a community based on these tenants. They co-own the land, grew their food, raised the sheep and made cheese. The production has grown but the values remain. The cooperative now includes orchards, bakeries and fields of grain and hay. They also support local farmers who supply their high quality milk. Their cheese are all D.O.P. certified and they are highly involved in the Consortium for the Protection of Pecorino Toscano which helps keep the standards high for this delicious cheese. 
      This 3 month aged Pecorino is both bright and deep with a dense crumbly texture perfect for grating on top of eggplant and tomatoes or shaved over a fresh salad with spicy greens. It is also a favorite for snacking at Cured right now. Notes of tropical fruit, toasted nuts and a pleasant barnyard character make this cheese complex yet accessible.
Wine
Made from respected Chateauneuf du Pape producer Jean-Marie Royer, Le Petit Roy is the wine the estate makes to be enjoyed now and at any meal. This wine is a blend of Grenache and Syrah and benefits from the same magic mix of soils that gives Chateauneuf du Pape its reputation and power. In accordance with French culture, this wine was created to complement most any meal, to give a favorable sheen to even the most ennui-filled evening and is guaranteed to improve even the most lackluster company. A santé, bon appetite and c'est la vie!
     In other news ... 50# bags of non-GMO chicken feed are available in the store once again. We also will have some cuts of goat and a fresh supply of beef from Natural Homestead Beef coming tomorrow! See you soon!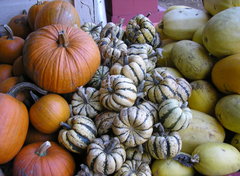 Only one week left until our 2016 Winter Share CSA sign-up! In case you've missed it - here are the details:
 Registration begins on Wednesday, September 7, 2016
Winter Share will begin on Wednesday, October 19, 2016 and continue for 8 weeks until December 7, 2016.
Pick-up will be Wednesdays from 3:00-6:30
The cost of the share is $200 ($25 per week)
     Winter Share offers both salad greens as well as cooking greens each week.  Other root crops like potatoes, carrots, beets, turnips, parsnips, radishes, leeks, onions, garlic and more.  Winter squashes and apples or pears are also included each week.
     The registration link will be available through our CSA newletter beginning September 7th. Please let us know if you have any other questions!
"Life starts all over again
when it gets crisp in the fall."
- F. Scott Fitzgerald



Cure Organic Farm

7416 Valmont Rd.
Boulder, CO 80301
cureorganicfarm@yahoo.com
www.cureorganicfarm.com