FUNDRAISING 
Jill Fairweather has helped to raise over £1000 this year by making Christmas cards, ribbons and car stickers 
Thank you all our fundraising heroes!!
KEEP UP TO DATE
login
 to the Aspergillus Website and check the 'Notifications' tab 
MARK YOUR PAGES
Login to your own account
and click on 'Bookmark this' on any page. Bookmarks are saved to your account under 'Bookmarks' tab.
COURSES
Highlights of this month...
Adding a qPCR test to galactomannan screening to improve specificity
Galactomannan (GM) antigen testing
of serum is often used as a screening test prior to a full diagnostic workup. However, there are concerns over its false positive rate, particularly for groups where the IA prevalence is reduced using prophylaxis. Rather than repeating the GM test on a second serum sample, which would delay treatment, one recent study investigated whether performing qPCR on the same sample could improve the specificity of testing.
Dr Alexandre Alanio
and colleagues at the
Assistance Publique – Hôpitaux de Paris
(AP-HP) used a 28S ribosomal DNA assay specific for
Aspergillus fumigatus
DNA circulating in the serum of patients at risk of IA. It was carried out on 422 samples from 147 patients that had already tested positive for GM using the Platelia kit (Bio-Rad).
Of these samples, 65 were excluded as GM positivity could not be confirmed by re-resting. The remaining 357 showed a quantitative correlation of qPCR Ct value (quantity of
Aspergillus
DNA) with serum GM, as well as with other microbiological criteria. Furthermore, the survival outcomes were poorer among patients for whom more DNA was detected (i.e. had a lower Ct value). The authors recommend adding a PCR test to every confirmed GM-positive serum sample.
Figure from Alanio et al (2017) shows correlation between GM and qPCR test results in samples obtained before initiation of antifungal therapy.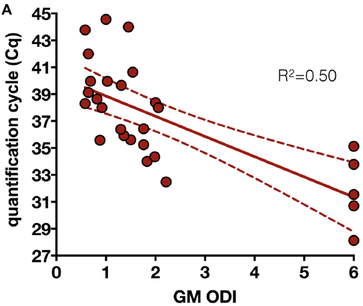 8th Advances Against Aspergillosis
Plans are well underway for the next AAA in Lisbon, Portugal on 1-3 February 2018.  Having run bi-annually since 2004 AAA is established as the biggest and best forum for detailed and dedicated discussion of Aspergillus diagnosis, treatment, and research. 
The 8th AAA
program has been published
.
An extra dinner event on Thursday Feb 1st will held - 'An evening with the FDA and PMDA on clinical development in invasive, chronic and allergic aspergillosis'.
Organisers hope to hold another event at the conference for patients, this time providing translations to the host language for local participants, Portuguese.
Donations to the Fungal Infection Trust in 2017
We can reveal that 2017 was another very successful year for fundraising through our Virgin Money Giving page. Over £10 500 in donations has been collected through the page in the last 12 months. These donations support the work of the Fungal Infection Trust, which supports fungal disease research, education, awareness and patient support.
To keep up to date with the latest fundraising successes, visit our fundraising site - www.fit.care
A team of scientists from Brazil collected samples from 'ornithogenic' soil nests of Antarctic birds, assessing fungal species and potential virulence to humans.
The team isolated 481 different fungal species at 15 degrees centigrade, of which only 50 grew at 37 degrees centigrade. The most common species included Aspergillus fumigatus, Penicillium chrysogenum and Rhodotorula mucilaginosa. Fourteen different species showed virulence traits in vitro, such as the ability to grow at neutral pH and under xerophilic conditions, haemolytic activity, spores <5µm, polymorphism capabilities and resistance to antifungal drugs including amphotericin B.
Many species of Antarctic birds migrate great distances, and so could transfer resistant pathogenic fungi between continents, particularly South America and Oceania. They authors note that a gradually warming Antarctic could allow more fungi living in a latent state to become available to migrating bird populations
.
Patients being treated for leukemia are at particular risk of invasive aspergillosis, and this risk could be amplified in hospitals undergoing construction. The authors of a recent study investigated the cost effectiveness and efficacy of preventative interventions among 86 patients (175 hospitalization episodes). These interventions were: environmental protection measures, antifungal prophylaxis using posaconazole, and hospitalisation in rooms with high efficiency particulate absorption (HEPA) filters. 
Although antifungal prophylaxis proved to be the most effective interventions, it comes at a much higher cost, and was deemed not cost-effective according to World Health Organisation guidelines. However, HEPA filters significantly reduced IA incidence in the patients studied, and was deemed a cost effective intervention.
Clinical indicators for invasive aspergillosis (IA) are often not specific to the disease, and diagnostic techniques are subject to various limitations, according to the authors of a study investigating the possibility of breath-based diagnosis of fungal infections.
The authors identified monoterpene and sesquiterpene metabolites of fungal species in vitro, before analysing breath samples from 64 patients with suspected IA. Of these patients, 34 transpired to have proven or probable IA, and 30 appeared not to have IA.
Monoterpene metabolites were equally present in the breath of patients with and without IA, but sesquiterpene metabolites identified IA patients with a high degree of sensitivity and specificity (94% and 93% respectively). 
Despite technical challenges such as adequate breath samples, the authors emphasise that fungal and human metabolism are sufficiently different to allow species-level breath-based identification of patients with invasive fungal infections. 
Immune therapies show promise in early studies

Researchers from across the UK, USA and Botswana recently reviewed the pipeline for immune therapies that fight invasive fungal infections. Current treatment guidelines recommend reducing immune suppression, except where there is a risk of immune reconstitution inflammatory syndrome, but immune therapies are yet to enjoy the kind of successes seen for cancer immunotherapy. Research into immune treatments for Aspergillus lags some way behind that for Candida or Cryptococcus, but promising results have been seen in animal and cell culture studies for administration of pro-inflammatory cytokines, monoclonal antibodies and leukocytes. In one particularly innovative study, the leukocytes were even loaded with posaconazole before transfusion
A Review of Fungal Infections of the CNS in Small Animals
A new review discusses fungal infections in the central nervous system of small animals. The paper by Bentley et al., published in the journal 'Veterinary Clinics of North America: Small Animal Practice', covers the various presentations of CNS fungal infections in cats and dogs, including multifocal meningoencephalomyelitis, intracranial lesions, ventriculitis and granulomas, along with various clinical signs and diagnostic techniques.
Appropriate treatment is also discussed, including surgery and antifungals such as Fluconazole, Voriconazole (neurotoxic to cats) and Posaconazole, all of which are able to cross the blood-brain barrier. It's also noted that liposomal/lipid-encapsulated formulations of amphotericin B improve distribution to the CNS and minimise renal risk in small animals.  
The Aspergillus community/patient group meeting normally meets on the first Friday of each month at the Altounyan Suite, North West Lung Centre, Manchester at 1.30pm BST/GMT. If you can't make it in person, you are welcome to listen in to our Facebook Broadcast. 

If you want a text reminder when each meeting is approaching (UK only) then send us an email at admin@aspergillus.org.uk with your mobile phone number.
N.B. We will be running a  patient meeting tomorrow Friday 5th January 2018
If you would like to listen or chat with fellow patients and a NAC staff member we are running a successful Skype meeting every week! We are a chatty group of 8 - 12 most weeks but we can accommodate up to 24. If you have a computer or smartphone you will be able to join in - just click on https://join.skype.com/nbubWMUM8teC and you will be asked to register, then taken to the group. The Skype meeting is at 11am GMT every Thursday. 
Join our Facebook Groups
We also have a Facebook group for those who are caring for someone who is affected by the disease -
join here
. 
To find our regional and international groups, search the following terms within Facebook: 'aspergillosis'; 'aspergillus'; 'ABPA'