*please note:  there are no "watch for possible weather closing" asterisks this week!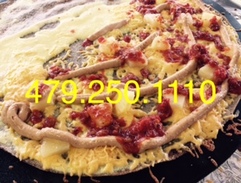 Attn:  We hope you understand why we reserve the right to decline call-in orders on busier days!  :)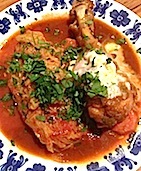 Hands-On Cooking Classes with Karen Gros in Eureka Springs

Saturday, March 14th

or

Sunday, March 15th
---
Oh, yeah, we've got your GLUTEN FREE!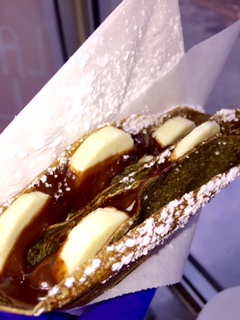 Though they're not explicitly listed on the menu, we can put most of our sweet crêpes into a gluten-free buckwheat crêpe.  Banana and dark chocolate ganache?  Yes, please!

GEARING UP TO THRIVE...
Schedule your hard hat tour now and see just exactly how close you could be to your daily CP fix!

***
Keep up with their progress and their great Bentonville life recs: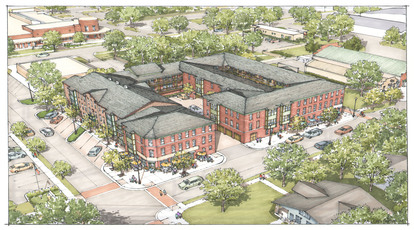 As CP followers, you most likely know the changes coming to our tiniest of crêpe worlds:  we will be adding a brand new, brick and mortar incarnation at the Thrive, the urban-inspired, experience-focused apartment complex opening May 1, 2015.
That's right.  May 1, 2015.
Now, lest we confuse you, that is the Grand Opening date for the apartment complex, not our new restaurant, but rest assured we'll be doing our level best to get open and serving there ASAP. Indeed, the normal vagaries of new constructions had delayed us for a while, but wheels are turning now, and everyone's gearing up to

GET THOSE GRIDDLES GOING!
Here are some tidbits to chew on in the meantime:
There will be SIX(!) crêpe griddles at the new place

We plan to open with a limited menu but quickly offer all CP favorites and more...
We plan to continue operations at the trailer, perhaps with some adjustments to times and menu (please note, we may temporarily close the trailer while opening the new space.  We will keep you informed!)



 

Roving professor and friend of CP Steve Cooper sends this dramatic shot of Italy's Fort Bard

, which towers over the entrance to the Aosta Valley.  For ages, it guarded the passage between Italy and France.  Napoleon's conquering plans were once foiled by the formidable structure, which he subsequently razed. Rebuilt in 1830 and restored in 2006, it now houses a museum and hosts theatre and music performances.






going on locally...
"Dinner and a Concert w Silvermore Trio and THE DOWNTOWN LIVEWIRES! 4 Course Meal by one of the regions most renown Chef's - $45 each seat, only 50 seats available! THIS EVENT WILL SELL OUT, so order your tickets now! Oh...and wear GREEN!" Purchase tickets here
Focus more on your artistic side...
NOW OPEN!

Watercolor for Beginners and Art Book.  Check them out, as well as several cool concerts coming up, on their FB page.