Welcome to CMCA(UK)
The last few months have been particularly busy for CMCA(UK) with the delivery of further Obsolescence Management training courses in both Malaysia and Singapore, and the successful expansion of our Long Term Storage capabilities as a potential solution for mitigating component obsolescence. Summer offers no respite as we will be running a series of Obsolescence Management workshops in North America with a new client. We're also proud to announce a major cooperation agreement with a global company, read on for more details...
CMCA(UK) Signs Co-operation Agreement with ESG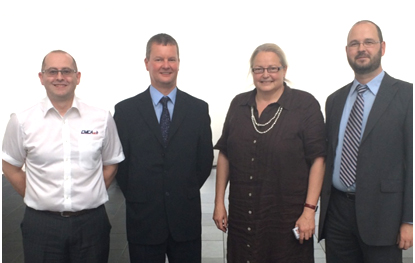 Co-operation partners pictured at ESG's Headquarters in Fuerstenfeldbruck, Germany. From Left to Right: Darren Topley (CMCA(UK) Head of Business Development), Gary Harman (CMCA(UK) Codification Manager), Henriette Schromm (ESG Project Management, Codification) and Traian Iosub (ESG Business Development Manager).
Central Management Catalogue Agency UK Limited (CMCA(UK)) and ESG Elektroniksystem- und Logistik-GmbH (ESG) are pleased to announce the signing of a formal co-operation agreement. With effect from June 2015 the two companies intend to work in partnership to develop a series of innovative codification and inventory management solutions designed to meet the current and future needs of international customers. This is a natural progression for CMCA(UK) and ESG who share a common interest in expanding their joint portfolio of cost-effective products and services in an area of business where many synergies already exist between the two organisations. Further details of specific codification and inventory management solutions will be announced in due course.
CMCA(UK) Expand Workforce with Acquisition of Bristol Premises
CMCA(UK) is pleased to announce further expansion of its workforce and facilities following the acquisition of new premises at Yate in Bristol. The new offices will primarily be used to support the growth of our Codification services following an anticipated increase in domestic and international demand.
Speaking during the formal announcement, CMCA(UK)'s Managing Director, Rob Crawford, expressed his excitement at achieving another company milestone; "I am looking forward to welcoming our new Yate staff members to the CMCA(UK) family and to making the most of the additional benefits that a satellite office close to our customers at DE&S offers. The additional resources and office capacity will also prove invaluable in supporting our rapidly maturing plans for delivering international support services in the areas of Codification, Obsolescence Management, Procurement and Long Term Storage."
We look forward to welcoming clients and business visitors to our Bristol Yate office from late June onwards.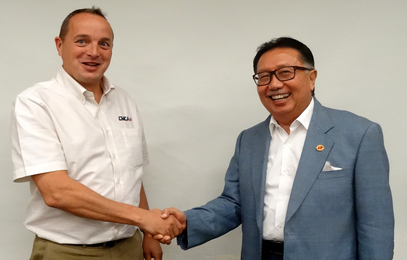 CMCA(UK)'s Managing Director, Rob Crawford with MFDM Holdings' Group Executive Chairman, Dato Sri Mahamad Fathil.
Activities are progressing well in preparation for the Malaysian Operational Expenditure Reduction Team (MOERT) deployment, a joint venture between CMCA(UK) and MFDM Holdings. The team, led by the CMCA(UK) Special Advisors, has now entered the final planning stages ahead of the MOERT pilot phase which will run for approximately 6 months from mid October 2015. Rob Crawford and Darren Topley are continuing to make regular visits to Malaysia to manage all aspects of the deployment. Currently, enhancements are being delivered to the in-country codification software and various processes are being introduced to ensure that all MOERT practices are consistent with CMCA(UK)'s high standards of quality.
CMCA(UK) at Mexico Seguridad Expo
Back in April CMCA(UK) were in Mexico City for the high-profile 'Expo Seguridad Mexico 2015' to raise the company profile and promote a new security system development programme.
During the Expo, CMCA(UK) were hosted in a prime location by Mexican company TSN Security and Telecom on their stand. TSN are a major provider of security products and services to the Mexican Government, law enforcement agencies, commercial sector and private individuals, within Mexico and throughout the region. It was a pleasure to meet the Director General of TSN, Eduardo Vázquez González and his team and to learn more about the specific opportunities and challenges that the Mexican market currently faces.
Over the three days of the show, CMCA(UK) Ltd received a great deal of interest from a broad cross-section of visitors, established new contacts and strengthened existing relationships. Additionally, the visit gave CMCA(UK) Ltd the opportunity to gain a greater understanding of Mexico and the wider region and identify ways in which CMCA(UK) Ltd can contribute to building real solutions in the Latin American market, alongside partners such as Blaythorne Group and TSN Mexico.
May we take this opportunity to thank you for your time and for reading our newsletter, Please don't hesitate to contact us regarding any of our services or to see how we can help you. Contact our Business Development Manager Antony Elliott on;
DSEI brings together the entire defence and security industry to source the latest equipment and systems, develop international relationships, and generate new business opportunities. This year CMCA(UK) will be exhibiting in the Tri-Service Zone at DSEI on stand

N4 191

.

DSEI 2015 is due to be the largest event of its series to date, expecting over 30,000 attendees, featuring 40 larger pavilions, over 100 programmed delegations, 6 dedicated zones for air, land, naval, medical and unmanned technology, each hosting a topical seminar programme and CMCA(UK) is very excited to pitch up our stand for the first time in several years.

Stay tuned for more information regarding the stand and what will be on display.

CMCA(UK) Client Forum 2015

Planning has begun for the 2015 CMCA(UK) Client Forum which will provisionally be held later this year. The annual event has proved a useful tool for enabling us to understand our client's obsolescence support needs which in turn allows us to develop innovative and progressive solutions. With this in mind, one of the aims of the forum is to share what CMCA(UK) is doing to help mitigate the obsolescence risk and to explain the resources and processes we employ in doing so. At the previous forum, we found it was also a great opportunity for us to provide an insight into new products and services on our horizon, which clients would otherwise be unaware of. Of equal importance is the chance to share best practice, personal experience and innovation in overcoming the obsolescence challenges. Please feel free to get in touch if you'd like to express an interest in attending.

Contact our Obsolescence Strategy Advisor Darren Topley to find out more or express an interest in attending.

CMCA(UK) will be exhibiting at the first International Institute of Obsolescence Management (IIOM) conference and exhibition. IIOM is the successor to the previous Component Obsolescence Group and the naugural conference is due to be held in Edinburgh on 16th-18th June, with key industry personnel from around the world coming together to review the latest issues and initiatives in the obsolescence management discipline. We look forward to meeting both existing and potential customers alike.

Once again due to increased business opportunities we have identified the need for an additional

Account Manager

within

Procurement Services

. For further information visit the

career opportunities

area on our website.