Newsletter for January, 2013 for PursePatterns.com and ePursePatterns.com!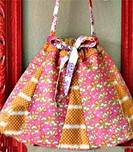 Even more patterns added to our
sale
!
We have just released our Newsletter for January 2013 with new purse patterns that have been added to our site (both printed patterns AND downloadable)!  Just in are downloadable format purse patterns from Indygo Junction, as well as a new bag from Totes By Sandy and Eazy Peazy Patterns.
One of our favorite patterns, the Victory Bags Pattern (a vintage inspired bag based on designs popular in the 1940's) by Charlie's Aunt (released by Indygo Junction) has also been added to ePursePatterns.com in PDF format - click, buy, and begin sewing today!

Henrietta