THE KING'S SPEECH NEARS THE 1 MILLION MARK
RETAIL REACTION: TRADE DELIGHTED
INDIE CELEBRATES BEST EVER WEEK ONE
---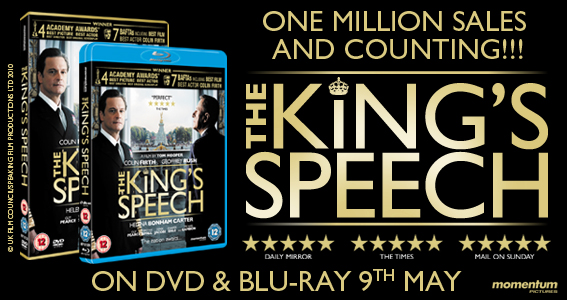 ---
Like our special edition of the newsletter released for The King's Speech, we don't often do this kind of thing, but the film really is something special, and this week we're sharing in Momentum's success with this film which has consistently surpassed expectations… And boy, what a success it's been…

The King is dead. Long live the King…
One million units.
That's the magic mark that will be passed in little more than a week by The King's Speech. After its hugely impressive theatrical performance, the juggernaut that is The King's Speech refuses to stop, and the film is set to sail past the 1 million mark any day now. Its first week, seven-day total topped 900,000 mark, and by the middle of this week it had gone even further. The figure, made up of DVD, Blu-ray and box set sales via the Official Charts Company (OCC) and additional copies sold via non-traditional retailers, as well as downloads, makes it one of the year's biggest and sets the seal on Momentum's remarkable performance with what is now the most successful British independent film ever, as well as one of the most popular homegrown movies of recent years.

We'd already noted its impressive performance in last week's full Raygun newsletter, but the figure hovering around the 1 million mark confirms its standing. With omnipresent marketing, including TV ads and plenty of outdoor, and a well implemented range of point of sale, it represents Momentum's most successful week one ever in home entertainment terms and again illustrates the way the film has captured the public's attention. It has already taken £45 million at UK cinemas and picked up a plethora of gongs, including four Oscars and seven BAFTAs.

Along with 2011's other record seller, Harry Potter And The Deathly Hallows Part 1, it has proved that there's still life in the market yet and many hope it may give further impetus to the business. Where it is believed to have scored particularly is in driving people who don't normally buy DVDs into stores to pick up the Colin Firth starrer. Anything that gets people out into stores or buying online and back into the retail habit can only be a good thing…

Retailers were suitably impressed with its performance.
Sainsbury's head of entertainment Richard Crampton said: "
Regal films are always a hit with our customers and The King's Speech is no exception, with first nine days' sales nearing 1,000,000. Sainsbury's is the number one retailer of the film, responsible for close to a third of all copies sold in the UK."
HMV's Gennaro Castaldo said:
"For what is effectively a period drama to sell nearly a million copies in a little over a week is truly phenomenal - it's something you more readily associate with a blockbuster franchise like Harry Potter if truth be told. We've seen one of our strongest pre-orders online, but what's really stood out for us has been the amazing flow of customers coming into our stores across the week - including a few that I suspect are not regular DVD buyers but have been sufficiently moved by the film to make an exceptional purchase."
---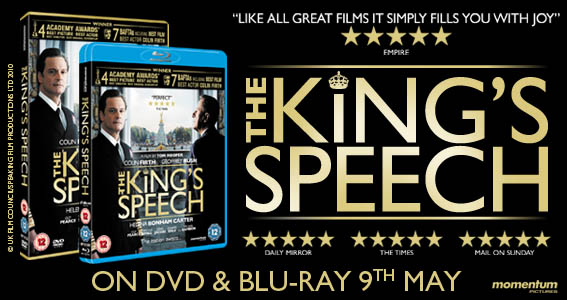 ---

The technology buyer at Marks And Spencer, Steve Hughes added: "Although it comes as no surprise following its success on the big screen, The King's Speech has being flying off the shelves since hitting Marks & Spencer stores nationwide a week ago. It is now the fastest selling DVD sold at M&S in the last four years which we are also attributing to the nation's current fascination with all things Royal."
The timing of the release coupled with the boost given to the monarchy by the recent wedding, which Momentum was perfectly placed to capitalise on, has certainly helped. As Official Charts Company managing director Martin Talbot noted: "Following its Oscars triumph in February, it is no surprise that The King's Speech has immediately become one of this year's biggest video sellers – especially in a year which has been so dominated by all things royal."
Momentum executives were obviously delighted with the news. Sales director Neil Williams said: "We're ecstatic about The King's Speech sales figures. Early on the retailers all saw the opportunity to take this very special and unique film and do something extra-ordinary for the home entertainment release and together that's been achieved."
Marketing director Kristin Ryan said: "With an event sized marketing campaign and exceptionally high profile instore presence week of release you couldn't miss that 'The Nation's Favourite Film' was out to buy on DVD, Blu-ray and download last week. Though the campaign was launched around the Royal wedding, the campaign was multi-faceted, designed to hit both high DVD purchasers and older more infrequent DVD buyers. A special film like this deserves special attention every step of the way."
And svp for home entertainment Ken McMahon added: ""We're absolutely thrilled that the success of this unique and very special film has continued through to the Home Entertainment release. Our week one performance has out-performed some studio franchises and is proof that a film with an older than average demographic can connect with audiences and result in a truly staggering sales performance. The success of The King's Speech is not just a great result for Momentum but also for the Home Entertainment industry as a whole, delivering significant volumes to our retail, rental and on line partners."

So how do you follow The King's Speech? Well, Momentum is now working on its home entertainment slate for the next few months. We'll have a full report on its Q3 slate in our "normal" newsletter later in the week, but forthcoming titles from the independent include recent number one box office hit Limitless. And it is also celebrating with the current box office success of Insidious, which is now the most successful horror film of 2011 and the most profitable film of the year. It continues to buck the trend, with its box office remaining constant through its first weeks of release and it even rose to number one in the UK box office charts on Friday night (the 13th, natch), benefiting from excellent word of mouth. It has now taken £5.7 million in the UK and $66 million worldwide – all on a budget of $1.5 million.

---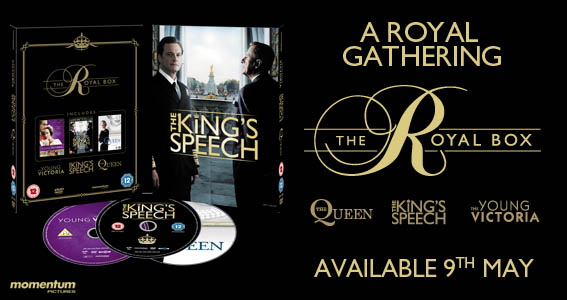 ---
To unsubscribe, email
info@theraygun.co.uk
with unsubscribe in the subject
For editorial or advertising queries, contact
tim@theraygun.co.uk